North Yorkshire Police says it has asked the BBC for its report on the Jeremy Clarkson incident.
In a statement the force said: "North Yorkshire Police is liaising with the BBC regarding the alleged incident in North Yorkshire involving Jeremy Clarkson.
"We have asked the BBC for the report which details the findings of their internal investigation into the matter.
"The information will be assessed appropriately and action will be taken by North Yorkshire Police where necessary."
Today's report said Jeremy Clarkson subjected BBC producer Oisin Tymon "to an unprovoked physical and verbal attack".
It said Tymon was struck by Clarkson, which resulted in swelling and bleeding to his lip, at Simonstone Hall Hotel in North Yorkshire found.
The attack lasted around 30 seconds and only stopped when a witness intervened, the report found.
North East comedy superstar Sarah Millican has announced that she will take to the stage at the Whitley Bay Playhouse.
It will be the smallest venue as part of her 'Outsider' tour, with 633 tickets due to go on sale this Friday.
In just seven years the South Shields lass has gone from winning the Best Newcomer Award at the Edinburgh Fringe Festival to becoming one of the UK's most successful and multi-award-winning comedians.
She also holds the record as the highest selling female comedian in the DVD market.
Her Whitley Bay gig is scheduled for November 17th.
Advertisement
Newcastle stars Cheryl Fernandez-Versini and Ant & Dec are reunited in this weekend's Saturday Night Takeaway.
Read the full story ›
Billed as 'one of the greatest maritime sights in the world', the prestigious event is being held in Northumberland for the first time.
Read the full story ›
It's being reported Cheryl Fernandez-Versini is considering changing her life long allegiance to Labour because of the proposed mansion tax.
Mrs Fernandez-Versini has told the Sunday Telegraph's Stella Magazine:
"It's hard for me because all my friends and family vote Labour."

"I've always been Labour all my life but I want to hear what they've got to say for myself, now that I'm a mature woman. I feel like a greater responsibility now to vote for who runs our country. And I pay a ******* lot of tax. So I think that I need to have a really well informed, well educated opinion."
– Cheryl Fernandez-Versini
But when asked if she would consider voting for David Cameron, she said"
"Not really. I want to hear what everyone's got to say."
– Cheryl Fernandez-Versini
The mansion tax would affect people who own houses worth more than £2 million.
One Direction star Zayn Malik has quit the boyband's world tour after being "signed off with stress" and is coming home to the UK.
It comes after the singer was forced to defend himself online and declare his love for Little Mix fiancee Perrie Edwards from South Shields after pictures emerged of him apparently close to another woman.
Zayn has been signed off with stress and is flying back to the UK to recuperate.
The band wish him well and will continue with their performances in Manila and Jakarta.
One Direction are due to play gigs in Manila and Jakarta before moving on to play three gigs in South Africa next week.
Advertisement
Taking time out from bringing you the forecast, we sent weatherman Ross Hutchinson to meet Shrek!
Read the full story ›
Hartlepool's Kieran Bew has been cast to play the lead role of Beowulf in ITV's epic re-imagining of Beowulf - a series shot in a County Durham quarry.
ITV Studios used the quarry to recreate the mythical Shieldlands, a place of spectacle and danger populated by both humans and fantastical creatures.
This is the first look at the set:
Kieran will star alongside multi award winning actor William Hurt who will play Hrothgar and Joanne Whalley who takes on the role of Rheda.
"Hundreds of years ago our ancestors listened to the story of Beowulf because it was a great adventure story - it scared them, thrilled them, made them laugh and cry. But they also listened because they recognised themselves and their fears in it. By holding a mirror up to them this story helped define them and thus - us. So it's incredibly exciting to have the opportunity to make it relevant again for a wide audience - to let them own it again. To let them see themselves in it."
– James Dormer - Writer and Executive Producer
Stephen Smallwood will produce on location in County Durham and Northumberland.
"Beowulf is a series with a charismatic protagonist at its heart,"

"Equally it's a spirited and fascinating ensemble drama with each character taking their own emotional and sometimes perilous journey. We're delighted to be commissioning Beowulf and to be working with Tim Haines and his production team."
– Director of Drama Steve November
Filming will begin in the North East later this month for transmission on ITV.
Clarence House has tweeted a photo of the Prince of Wales with Geordie presenter due Ant and Dec. They will host the annual Prince's Trust Awards today.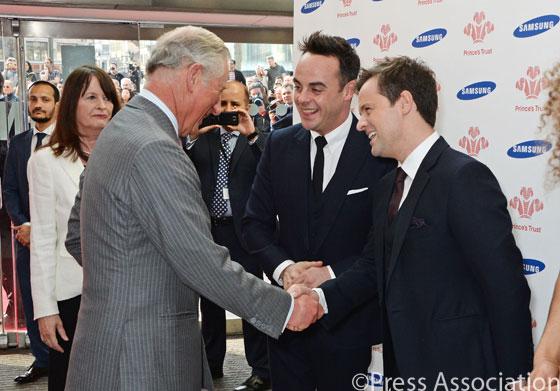 Music fans across the North East have taken to Twitter to express their disappointment at news Split Festival will never take place again.
Read the full story ›
Load more updates