Taking time out from bringing you the forecast, we sent weatherman Ross Hutchinson to meet Shrek!
Read the full story ›
Hartlepool's Kieran Bew has been cast to play the lead role of Beowulf in ITV's epic re-imagining of Beowulf - a series shot in a County Durham quarry.
ITV Studios used the quarry to recreate the mythical Shieldlands, a place of spectacle and danger populated by both humans and fantastical creatures.
This is the first look at the set:
Kieran will star alongside multi award winning actor William Hurt who will play Hrothgar and Joanne Whalley who takes on the role of Rheda.
"Hundreds of years ago our ancestors listened to the story of Beowulf because it was a great adventure story - it scared them, thrilled them, made them laugh and cry. But they also listened because they recognised themselves and their fears in it. By holding a mirror up to them this story helped define them and thus - us. So it's incredibly exciting to have the opportunity to make it relevant again for a wide audience - to let them own it again. To let them see themselves in it."
– James Dormer - Writer and Executive Producer
Stephen Smallwood will produce on location in County Durham and Northumberland.
"Beowulf is a series with a charismatic protagonist at its heart,"

"Equally it's a spirited and fascinating ensemble drama with each character taking their own emotional and sometimes perilous journey. We're delighted to be commissioning Beowulf and to be working with Tim Haines and his production team."
– Director of Drama Steve November
Filming will begin in the North East later this month for transmission on ITV.
Advertisement
Clarence House has tweeted a photo of the Prince of Wales with Geordie presenter due Ant and Dec. They will host the annual Prince's Trust Awards today.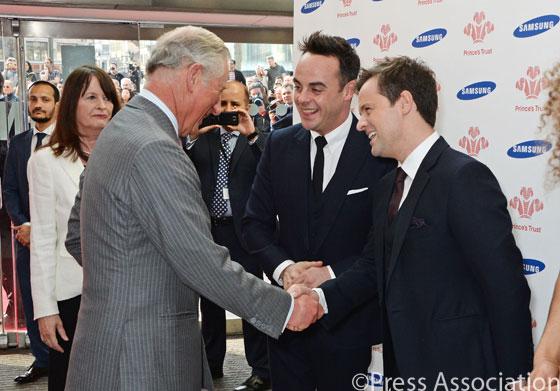 Music fans across the North East have taken to Twitter to express their disappointment at news Split Festival will never take place again.
Read the full story ›
There have been reports that the incident that led to Top Gear presenter Jeremy Clarkson being suspended by the BBC took place at a hotel in North Yorkshire.
Initially it had been reported that 'fracas' between the 54-year-old presenter and programme producer Oisin Tymon took place after filming in Newcastle.
However, a spokeswoman for Northumbria Police said: "It does not appear to have been reported to us and we are not aware of any incident."
It now turns out that the presenters and the crew are believed to have been staying at Simonstone Hall Hotel in Hawes, North Yorkshire, at the time of the incident.
A spokesman for the 15th century hotel confirmed that Top Gear staff stayed in the 18-bedroom property from March 3 to 5.
He added that Clarkson, Hammond and May only stayed for one night, on March 4.
But the spokesman would not confirm whether the alleged incident took place there.
Tickets go on sale on today for an open air concert this summer in Scarborough starring Sir Tom Jones.
The Welsh superstar will headline a show at the resort's at the Open Air Theatre on Wednesday July the 29th.
Sir Tom is the third chart-topping act to be announced to appear at Scarborough's open-air venue this summer following Jessie J and Boyzone.
Advertisement
Paul Brand is joined by four new Parliamentary candidates for a lively debate on the economy and immigration. Watch the programme here:
Read the full story ›
Our political correspondent Paul Brand is joined by four new election candidates for a lively debate on immigration and the economy.
Around The House is on ITV tonight (Thursday 5 March) at 10.40pm.
A dance video created by a Teesside performing arts teacher is being given its international debut this month.
Heike Salzer, who is Dance Programme Leader at Teesside University, was invited to Texas State University to take part in a ten day artist residency earlier this year.
Their brief was to create original choreography about the Greek God Zefiro.
The result is a performance video named 'Extreme Landscapes', which was shot on location in America, Iceland and North Yorkshire.
Teesside University dance graduate Jessica Smith, who was taught Heike, was brought in to perform in the caves of North Yorkshire, while Salzer danced in extreme conditions in Iceland.
Heike Salzer said: "I feel privileged to be able to travel and work with artists from all over the world - it enriches my art and also allows me to bring work from international collaborations to Teesside."
The video will be shown as part of an art installation at Dance City in Newcastle.
ITV Tyne Tees has been named Best News Programme by the North East Royal Television Society.
Tyne Tees picked up the award, at the regional RTS ceremony last night, for its Tour de France Special programme.
Presenter Pam Royle was also named Presenter of the Year Award for the second year in a row.
Load more updates