Highways England wants to hear the views of local people about their proposals. The public have until January 6, 2017 to respond.
Read the full story ›
The High Court has reserved its judgment on a legal challenge against one of the first fracking planning applications in England.
Read the full story ›
Advertisement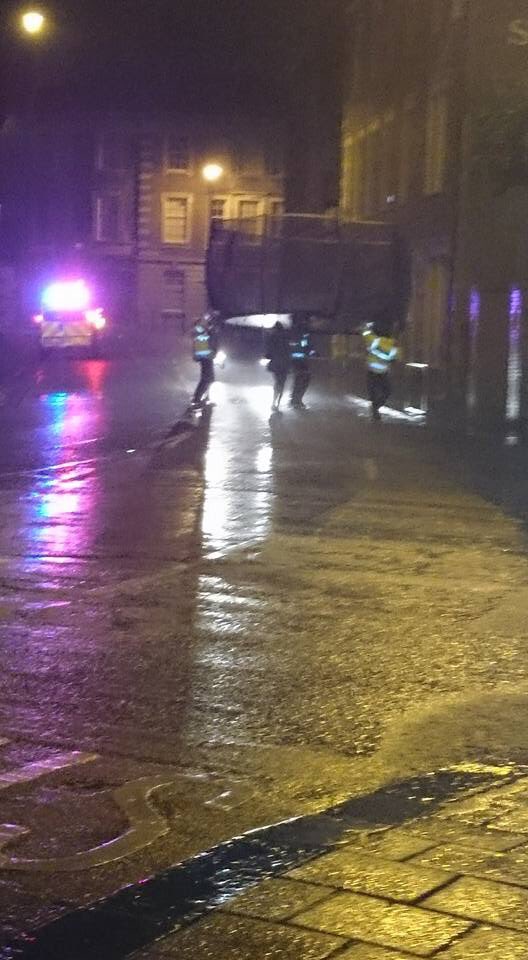 Trampoline returned to a happy owner. We've got to have a caption competition with this one! We'll retweet the best… https://t.co/K2cWVQUSe6
At 11.23am, the gap between the moon and the Earth will be at its shortest point - known as "perigee" - a distance of 221,525 miles.
Read the full story ›
A third runway at Heathrow airport has been given the go-ahead, the Government has confirmed.
It could see a return of the London to Durham Tees Valley route - according to the Government's official release on the decision.
Transport Secretary Chris Grayling said it was the "best option" for post-Brexit Britain.
The other shortlisted options - to extend an existing runway at Heathrow or build a second runway at Gatwick - were rejected in favour of a decision that will see more than 780 homes demolished in west London.
Fierce opponents of Heathrow expansion within Cabinet, Foreign Secretary Boris Johnson and Education Secretary Justine Greening, will both speak out at the decision after being cleared by Mrs May to air their dissent.
The Government announcement ends more than a year of uncertainty since the Davies Commission came out in favour of Heathrow's third runway.
A public consultation will be held on the impact of the expansion before the final decision is put to MPs for a vote in the winter of 2017/18, with the runway unlikely to be in use before 2025.
A third runway will also support new connections to the UK's regions as well as safeguarding existing domestic routes.

Heathrow has proposed a further 6 new routes to Belfast International, Liverpool, Newquay, Humberside, Prestwick and Durham Tees Valley to be added after expansion.

The 8 existing routes offered today are: Edinburgh, Glasgow, Inverness, Aberdeen, Belfast City, Manchester, Newcastle and Leeds Bradford. This would provide 14 domestic routes in total, and spread benefits right across the country.

Government will also take all necessary steps including, where appropriate, ring-fencing a suitable proportion of new slots for domestic routes, to ensure enhanced connectivity within the UK.
– Government statement
Friends of the Earth have 'slammed' the decision.
Today's government decision to give the green light to a third runway at Heathrow airport "makes a complete mockery of government commitments to tackle climate change"
– Friends of the Earth.
More than a thousand homes and businesses across the North East and North Yorkshire flooded in last year's devastating storms, new analysis shows.
In Northumberland 197 homes and 90 businesses were affected, in North Yorkshire it was 404 homes and 96 firms and in York 350 homes and 157 businesses.
The study, by the Local Government Association, says councils are still helping flood-hit homes to recover from the disruption caused by storms Desmond, Eva and Frank.
Ahead of this winter, town halls are encouraging people to be prepared for future flooding, by taking steps such as checking if they are at risk, signing up to free warnings and identifying what to take with them if they need to evacuate their premises.
Councils say they have been working through the year to help people get back on their feet, collecting ruined household items such as carpets and furniture for disposal and advising on flood protection grants and affordable insurance.
Council leaders are calling for future flood defence to be devolved by the Government to local areas so that councils can work with communities and businesses to ensure money goes to projects that best suit local needs.
Martin Tett, a LGA environment spokesman, said: "Councils are doing everything they can to protect households and businesses from the possibility of further devastating flooding this winter.
"Such was the severity of last year's storms, some councils, who have experienced significant reductions to their core funding, are still helping residents to recover even now."
He said devolving funding to local areas would support projects that reflected needs such as protecting key roads and bridges to keep residents and businesses moving."
Advertisement
The Port of Tyne is seeking planning permission to build a 25 megawatt power plant in Howdon.
Read the full story ›
A new report has highlighted just how important heritage sites like Hadrian's Wall and Durham Cathedral are to the North East.
Read the full story ›
The Environment Secretary says she expects improved flood defences at the Foss Barrier in York to hold up in future.
Read the full story ›
The plans include £12.5 million funding for new temporary flood defences ahead of this winter.
Read the full story ›
Load more updates