The Newcastle East parliamentary constituency has been named as one of the worst places in the UK for voters falling off the electoral register.
Figures show that Newcastle East is the 3rd worst in the UK, with more than 9,000 potential voters dropping off the list in the last year.
The recent switch from household to individual electoral registration has meant thousands are now missing from the register and local authorities appear to be struggling with the new system.
Newcastle City Council said that they are doing all they can to urge people to register and are "using many different ways to remind people that they have to register to vote".
The first trains have been running on the East Coast Main Line since services returned to private hands first thing this morning.
Trains between our region, London and Scotland will be operated by a franchise involving the companies Virgin and Stagecoach.
Advertisement
Durham Prison has been named as one of the UK's most overcrowded jails.
The Howard League for Penal Reform analysed figures from the Ministry of Justice. It said the building was designed to hold fewer than 600 inmates but actually has more than 900.
Newcastle is to get ten million pounds to improve cycle routes in the city.
The money, announced by Deputy Prime Minister Nick Clegg, will expand and improve cycle and pedestrian networks to encourage people to cycle to work.
It follows an announcement by the Deputy Prime Minister at a cycling summit last November to extend £115 million of funding for eight cycling cities across the country.
In January this year Newcastle successfully bid for a share of the money.
"We are in the midst of a cycling revolution in the UK but we need to make sure we're in the right gear to see it through. That's why I'm so pleased to announce this investment for Newcastle to make it easier for people to get around on two wheels.

"With the legacy of the 2012 Olympics and the Tour de France in Yorkshire last year still fresh in our minds, this money can help Britain become a cycling nation to rival the likes of Denmark and the Netherlands.

"Research shows us that boosting cycling could save billions of pounds otherwise spent on the NHS, reduce pollution and congestion, and create a happier and safer population."
– Deputy Prime Minister, Nick Clegg
Research commissioned by British Cycling, found if the UK became a cycling nation, like the Netherlands or Denmark, it could:
save the NHS £17 billion within 20 years
reduce road deaths by 30%
increase mobility of the nation's poorest families by 25%
increase retail sales by a quarter
"Cycling is great for your health and good for the environment, and this government is doing all it can to help more people get out on their bikes.

"We have doubled the amount of money available for cycling and taken steps to make sure that future governments plan properly for cycling.

"This investment shows our continued commitment to making cycling even easier and safer, and our ambition to help make these cities better for cycles."
– Robert Goodwill MP, Cycling Minister
The first trains have been running on the East Coast Main Line since services returned to private hands first thing this morning.
Trains between our region, London and Scotland will be operated by a franchise involving the companies Virgin and Stagecoach.
Helen Ford reports.
The East Coast rail line becomes privately run from today after more than five years in the public sector.
The route which links London with Edinburgh has been operated by the Department for Transport since 2009. But it has now been jointly taken over by Virgin and Stagecoach.
Protests were held yesterday by the RMT union, which has described the handover as an "act of gross national betrayal of the British people".
A Department for Transport spokesman said they were confident that the new East Coast franchise gave the best deal for passengers - providing more seats, more services, new trains and over £140 million of investment along the route.
The skills and experience that the private sector provides drives forward innovation and investment, and has helped to transform our rail network into a real success story.
– – DEPARTMENT OF TRANSPORT SPOKESMAN
Shadow Transport Secretary Michael Dugher said the ending of the state-run East Coast company was "a hammer blow for passengers, taxpayers and employees alike".
David Cameron's ideological sell-off has ended a public sector service which has delivered over £1 billion to the Treasury, kept fares down, had record passenger satisfaction and engaged the workforce with unparalleled success. It is clear that when it comes to transport, people have a straight choice - the status quo or Labour's better plan. Labour will start the process of legislating in the first 100 days of a new parliament to allow a public sector operator to be able to take on lines and challenge the private sector on a genuinely level playing field.
– – SHADOW TRANSPORT SECRETARY MICHAEL DUGHER
Advertisement
Trains on the East Coast Main Line are back in private control today, as services are taken over by a consortium involving Virgin Trains and Stagecoach.
The line, which links the North East with London and Edinburgh, was brought into public hands in November 2009. It has since been run by a company under the control of the Government.
From this morning, trains will operate under the name Virgin Trains East Coast. Services carrying the new livery will be unveiled tomorrow, Monday 2nd March.
The decision to re-privatise East Coast has been criticised by the rail union, the RMT, and some North East Labour MPs, who said the arrangement had been working well for passengers and taxpayers.
The eight year deal includes a promise of new trains, more services and extra seats.
Police said 375 people attended a rally in Newcastle by the anti-Islam group Pegida, while 2000 people joined a counter-demonstration.
Read the full story ›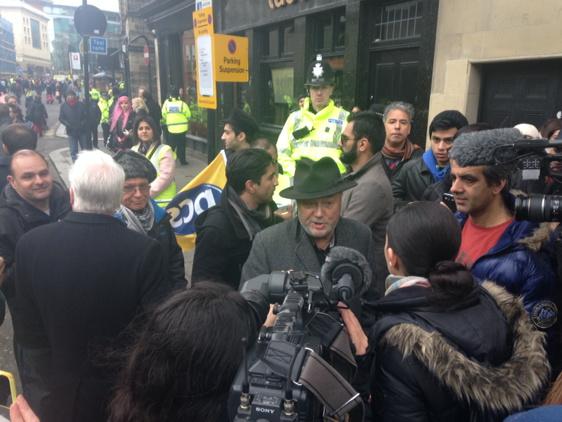 Both demonstrations in #Newcastle city centre have now finished and all roads are open.
Load more updates