Northern Powerhouse Minister James Wharton has expressed his disappointment at Boris Johnson's decision to pull out of the race for the Conservative Party leadership.
The Stockton South MP said yesterday's announcement was disappointing as Mr Johnson had given him assurances regarding the future of the party and Britain after its exit from the European Union.
Mr Wharton said he would be speaking to all the party's leadership candidates before deciding who to back.
Boris broke the country for personal ambition then pulls out? At least we're spared the indignity of him as Prime Minister
Advertisement
James Wharton says he is backing Boris Johnson for the Conservative leadership because only he can unite the north.
Read the full story ›
Newcastle MP Chi Onwurah has further revealed why she voted against Jeremy Corbyn.
It follows a motion of no confidence in Labour leader Jeremy Corbyn, which was passed by the party's MPs in a 172-40 vote.
The vote is not binding, but it follows resignations from the shadow cabinet and calls on Mr Corbyn to quit.
Now, Chi Onwurah has elaborated on why she voted against the Labour party's leader.
The last few days have been some of the most difficult since I was given the honour of being your voice in Parliament. I joined the Labour Party aged 16 but I was born into the Labour Movement and benefited personally from its struggle for equality, decent housing, education, health service and all the precious fruits of decades of activism.

To oppose the elected leader of the Labour Party is not in my nature...

...Having worked in business and the public sector across three continents and many different cultures, I have experience of many types of effective leadership. Jeremy's leadership is not effective. The lack of leadership following the Brexit vote was emblematic of this.
– Chi Onwurah, Newcastle MP
North West Durham MP Pat Glass has stood down as shadow education minister - just days after being appointed by Jeremy Corbyn.
The resignation has heaped more pressure on the Labour leader who has refused to resign despite overwhelmingly losing a vote of no confidence.
Pat Glass had been handed the education brief as the Labour leader struggled to find sufficient loyalists to form a team in the wake of a mass walkout and massive vote of no confidence.
She is due to stand down as an MP at the next general election.
She was joined by South Shields MP Emma Lewell-Buckwho said she was "heartbroken at the state of the party" and could no longer continue as shadow local government minister.
It is with a heavy heart that I have today resigned as Shadow SoS Education. My dream job but the situation is untenable
South Shields MP Emma Lewell-Buck has confirmed on Twitter that she is resigning from Labour's front bench team.
Today I'm stepping down as Shadow Minister heartbroken at state of Party & recent events so sorry things have came to this, statement later
In her resignation letter to Mr Corbyn, she said: "I am appalled at what is happening to our party and they way in which you have been treated by some in the Parliamentary Labour Party not just recently, but since your election.
The Party is shambolic and divided at a critical time rather than providing effective opposition to a Government that has so badly damaged the prospects of the people in South Shields.
The situation has now become untenable and is an impossible environment to work in."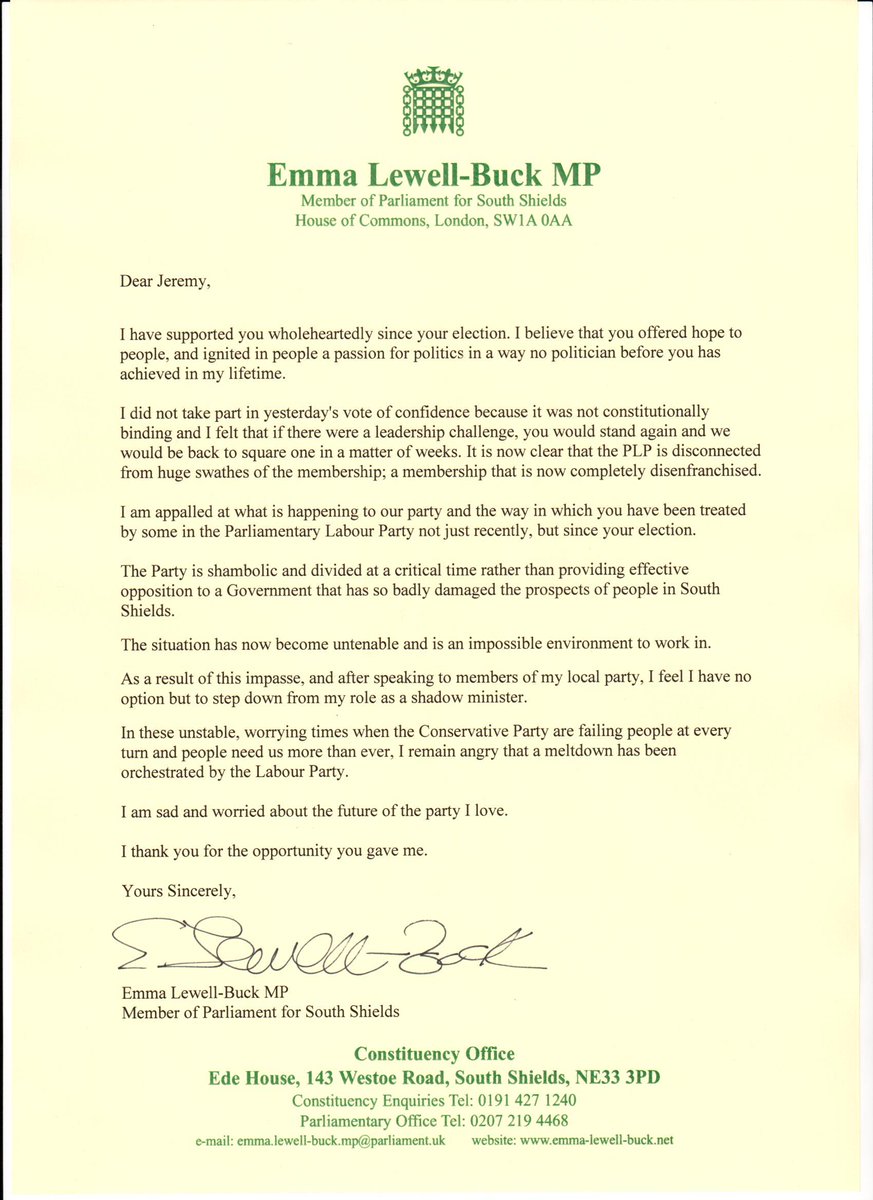 Advertisement
Police say they received death threats relating to North West Durham MP Pat Glass who then made the decision to stay away from the EU count.
Read the full story ›
Blaydon MP Dave Anderson has backed his under-fire leader Jeremy Corbyn after 172 MPs gave him a vote of no confidence
Read the full story ›
Jeremy Corbyn has refused to step down despite losing a no confidence vote from his party.
The Labour leader, who was elected nine months ago, said he would not resign and "betray" those who voted for him.
His full statement said:
In the aftermath of last week's referendum, our country faces major challenges. Risks to the economy and living standards are growing. The public is divided.

The government is in disarray. Ministers have made it clear they have no exit plan, but are determined to make working people pay with a new round of cuts and tax rises.

Labour has the responsibility to give a lead where the government will not. We need to bring people together, hold the government to account, oppose austerity and set out a path to exit that will protect jobs and incomes.

To do that we need to stand together. Since I was elected leader of our party nine months ago, we have repeatedly defeated the government over its attacks on living standards.

Last month, Labour become the largest party in the local elections. In Thursday's referendum, a narrow majority voted to leave, but two thirds of Labour supporters backed our call for a remain vote.

I was democratically elected leader of our party for a new kind of politics by 60% of Labour members and supporters, and I will not betray them by resigning. Today's vote by MPs has no constitutional legitimacy.

We are a democratic party, with a clear constitution. Our people need Labour party members, trade unionists and MPs to unite behind my leadership at a critical time for our country.
– Jeremy Corbyn
Berwick-on-Tweed MP Anne-Marie Trevelyan said she favours Boris Johnson or Theresa May in the Tory leadership challenge
Read the full story ›
Load more updates