Durham Cathedral will host a screening of an award winning documentary about the life of the late Labour politician Tony Benn.
Mr Benn, who died in March, was well known for his staunch support of the Durham Miners' Gala.
Proceeds from the screening will be donated to Durham Miners' Association, which is raising funds to secure the future of the annual gala.
Tony Benn: Will And Testament includes candid interviews, archive footage and personal video and photo collections from the Benn family.
The film won the Audience Award at the 2014 Edinburgh International Film Festival.
We wanted to screen the film in Durham Cathedral because it played such an important part in Tony's life through the Miners' Gala - the film even includes footage of Tony processing through the cathedral on one of those famous Gala days.
– Skip Kite, Director
The cathedral is delighted to host the screening knowing that it is in aid of an occasion that would have been very close to Tony Benn's heart.

I fondly recall Tony Benn giving a sermon in the cathedral in July 2003. He spoke about how much the Labour movement owed to the prophets of the Old Testament.

It was met with a rousing round of applause, a rare plaudit indeed as far as cathedral sermons go!
– The Very Reverend Michael Sadgrove, Dean of Durham
Northumberland's policy cabinet has approved moving 1,300 council jobs out of Morpeth, and mostly to Ashington
Northumberland County Council has in the last few minutes approved plans to move its HQ from Morpeth to Ashington, forcings its 1300 staff to transfer their base. Our news correspondent Dan Ashby is at the council meeting and has confirmed the decision, revealing also that Northumberland's existing county hall will be demolished and the land sold.
The council says it can save £10 - £14m by changing HQ to Ashington. Chamber of Trade in Morpeth say it's bad news http://t.co/TNJxRQAgl6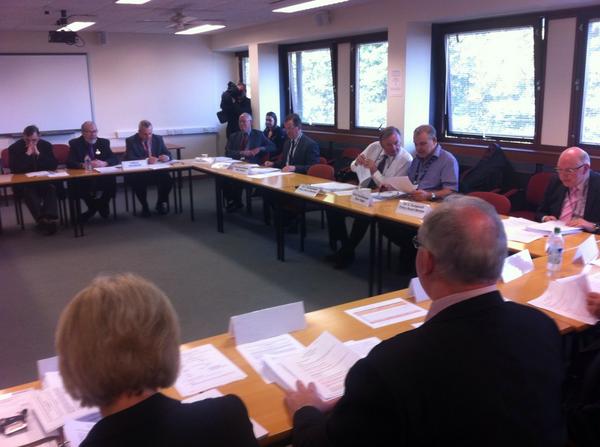 Northumberland's county hall will be knocked down and sold to developers. 1,000 jobs to go to Ashington, plus other smaller hubs
Advertisement
The Liberal Democrat leader Nick Clegg has denied giving up on the North East before the General Election, despite admitting his party will put more resources into some regions than others.
Speaking to ITV Tyne Tees at his party's conference in Glasgow, he said he'd fight to keep the two Lib Dem seats of Redcar and Berwick.
Political Correspondent Paul Brand has been speaking to him:
Northumbria Police and Crime Commissioner Vera Baird has responded to the announcement 54 rape cases are to be re-opened.
This is after a recent audit by Her Majesty's Inspectorate of Constabulary (HMIC) found some reports of rape in the North East may have been incorrectly recorded as "no crime".
Vera Baird says the force took immediate action, acting before the publication of the report, and are the only force which has taken such a strong stance on the issue, though many forces have far higher rates of 'no criming' than Northumbria.
"The action being taken is right and will get to the root of the issues and I am confident that progress is being made and victims are being dealt with sensitively and appropriately.

"I am continuing to monitor the situation closely and receive weekly updates from the Chief Constable. Where mistakes have been made and, all the more if there has been any falling short of duty, the police will learn the lessons. The Chief Constable and I are determined to ensure the service offered to victims of serious sexual crime is of the very highest standard."
– Vera Baird, Police and Crime Commissioner
Northumbria Police has re-opened 54 rape cases for further investigation. It follows an audit by Her Majesty's Inspectorate of Constabulary (HMIC) which showed some rape cases may have been incorrectly recorded as 'no crime'.
The Chief Constable of Northumbria ordered further checks to be made on all such reports since October 2011. A team of experienced officers looked at 153 cases and have decided 54 require further investigation.
"Each case will be reinvestigated by the review team. This will include contacting the victims in these identified cases and our main priority is to support them through this process.

"We are progressing this speedily but thoroughly, mindful of the impact this can have on victims when we speak to them again about their experiences.

"I want to reassure anyone reporting such crimes to us that we will listen to them, take them seriously, investigate thoroughly and bring offenders to justice whenever we can."
– Superintendent Neil Adamson
48 officers who were involved in the cases identified in the audit, and those who supervised the investigations, have been served with formal notifications and those in the Rape Investigation Team have been moved to other teams. Northumbria Police says this is standard procedure and a temporary measure.
"This does not necessarily mean they are guilty of serious issues. This is entirely dependent on the findings of the investigation. If any officer has failed to reach the high standards expected of them rest assured this will be dealt with through the proper procedures.
– Superintendent Neil Adamson
Following the re-opening of cases a 50 year old man has been arrested in the Slatyford area of Newcastle in connection with a rape in March this year and has been bailed.
"North Tyneside Council is committed to delivering our ambitious priorities for residents as set out in the Our North Tyneside Plan.

"To do that against some tough challenges the organisation needs to change.

"It is expected that the Council's budget will reduce by £46 – £50m over the next three years.

"As part of this process we are required to issue an HR1 notice, which is a formal legal document which confirms the possible reduction in posts/ redundancies expected over a period of time.

"This is normal practice each time we approach restructuring of services across the Council.

"The HR1 notice, which has been issued, confirms that up to 350 posts may be lost between now and June 2016 given the financial challenges facing the Council.

"The Council has a good track record in minimising the number of compulsory redundancies. "In previous years we have managed to consistently keep redundancies under those noted in the HR1 Notice and the majority of redundancies have been voluntary.

"We will once again put our efforts into working with trade unions on any measures which will mitigate or reduce the number of compulsory redundancies necessary."
– Patrick Melia, North Tyneside Council chief executive
Advertisement
Up to 350 jobs could go at North Tyneside Council.
The posts will go by June 2016. The council is in discussion with unions to work to minimise compulsory redundancies.
Ex-soldier Jason Wilkes, who has Post Traumatic Stress Disorder, says that the Government and army need to do far more to deal with the mental health problem.
He has handed in his service badge in protest at the way he says he has been treated.
Former Royal Engineers soldier Jason Wilkes said: "I would just like someone to wake up and smell the coffee."
"Mental health problems and PTSD are going on. It is real."
"People in Whitehall need to know this is a problem, and it is going to be for many years."
A former soldier from County Durham has handed in his veteran's badge in protest at the way he says he has been treated by the army.
Jason Wilkes, from Haswell, has Post Traumatic Stress Disorder, but says he has been 'let down' by the army and Veterans UK.
He has asked his local MP to return his veteran's badge to the Government.
Load more updates