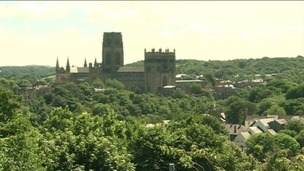 North East devolution: is it time to think again?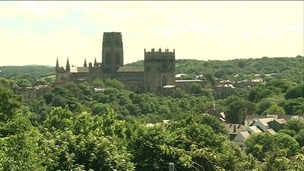 As Scots prepare to vote in the independence referendum, opinions differ on whether the North East should look again at devolution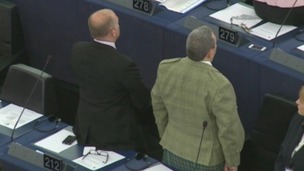 As the North East's three new MEPs were welcomed into the European Parliament, UKIP's representatives turned their backs.
Live updates
EDL protest and counter-protest on Teesside
Cleveland Police thanked members of the public and local businesses in Middlesbrough for their co-operation during a protest by the English Defence League and a counter-protest held earlier in the day by those opposing the EDL.
Police are continuing to provide a presence in the town centre as it is still busy. Cleveland Police would like... http://t.co/LNrTCIjEKQ
All roads are back open following the demonstration in Middlesbrough.
EDL protest and counter-protest on Teesside
Members of the English Defence League (EDL) have gathered for a protest in Middlesbrough.
Earlier, a counter-protest was held in the town by those opposing the EDL.
Cleveland Police warned those on both sides that would not tolerate anyone attempting to conceal their identity with a mask, hand out leaflets in the town centre, wave banners or placards that could incite disorder or carry anything that could cause injury or damage.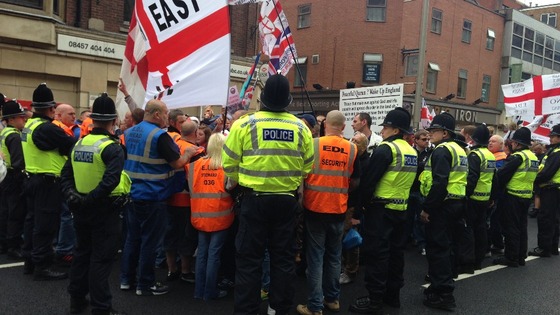 Advertisement
EDL protest and counter-protest on Teesside
Demonstrators have begun marching from Middlesbrough's Ayresome Gardens towards the centre of the town, where they will rally against the English Defence League.
The EDL themselves will host a separate march later. Police have warned people on both sides that criminal behaviour would not be tolerated.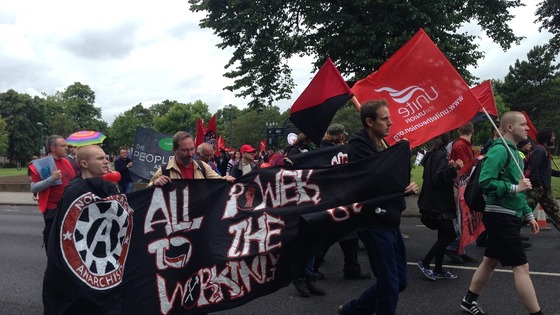 EDL protest and counter-protest on Teesside
About 200 people, representing several different groups and organisations, are estimated to be taking part in a protest against the English Defence League (EDL) on Teesside.
The demonstration, in Middlesbrough's Ayresome Gardens, was organised to coincide with a protest by the EDL, which is due to take place later.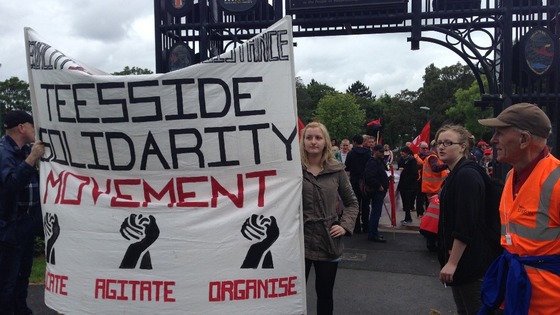 Dr John Sentamu, the Archbishop of York, has called for the government to pay all its employees, including care workers, the so-called living wage. He called for the number of low-paid workers to be cut by one million by 2020.
The living wage is currently calculated a £7.65 per hour, outside London. Dr Sentamu said it would be morally justified and could make financial sense for the country.
Durham County Council is introducing a fee for drivers of electric cars to use its chargepoints, to try to stop people hogging the spaces.
Until now, charging an electric car has been free, and any electric car can occupy a space as long as it is plugged in, even if it already has a full battery.
From now on, it will cost £1 per visit to use the standard parking sites and £5 to use a rapid charging point at Belmont park and ride.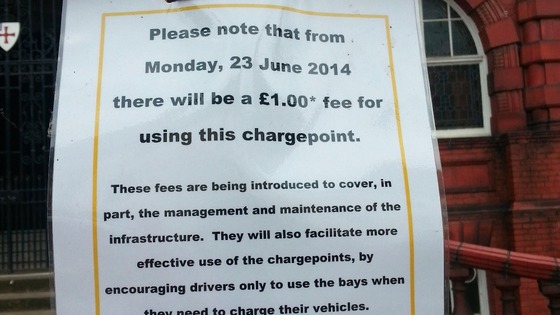 Advertisement
Osborne: New Manchester-Leeds rail link would 'boost North'
The North East Chamber of Commerce *(NECC) *has welcomed the Chancellor George Osborne's call for a new high-speed rail network between Manchester and Leeds, even though there was no suggestion of extending it to the North East.
The organisation, which represents businesses, said the plan was a "good start" but warned that the government should ensure it amounted to more than a just words.
"The Chancellor's speech is good news and provides an indication that effort is being put into connecting the North of England. High speed rail will increase capacity and speed up our vital rail links and as such we welcome its development.

"The prospect of a high-speed east-west link across the North is a good start, but the North of the country does not stop at Leeds. This announcement must be part of a larger effort to create a full high speed northern rail network.
"The Chancellor's ambition for a Northern 'HS3' is positive and this project could play a large part in strengthening and balancing growth across the whole of the country

"Of course we want to see a firm commitment from to include the North East in future plans for high speed rail, but for now the Government must ensure that the Chancellor's words amount to more than just a political speech. They must form the basis of a regional strategy that has been missing in recent years."
– Ross Smith, Director of Policy
Osborne: New Manchester-Leeds rail link would 'boost North'
The Institute of Economic Affairs *(IEA) *has dismissed George Osborne's idea of a new high-speed rail network for the North, calling it a "costly vanity project".
"The relatively short distances between northern cities mean high-speed rail is an expensive and inefficient way of linking them. Because northern conurbations are spread out geographically and include numerous different towns, high-speed trains between the largest city centres would make little difference to door-to-door journey times for a high proportion of travellers.

"The Chancellor should focus on smaller-scale schemes that deliver high returns for the taxpayer or, better still, that can be financed privately, rather than concocting a headline-grabbing vanity project to attract votes.
"Not content with wasting tens of billions on the loss-making HS2 scheme, George Osborne is now threatening to compound the error by forcing taxpayers to fund HS3."
– Dr Richard Wellings, Deputy Editorial Director

Read full story: Osborne says new Manchester-Leeds rail link would 'boost' the North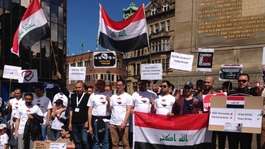 Iraqi students, who are all studying in the North East, have held a demonstration to highlight the ongoing turmoil in their home country.
Read the full story
Firefighters stage 14th walkout in pension dispute
Your average firefighter will not be able to achieve 60 years old and if they retire earlier than 60 years old they'll be severely penalised with their pension. Up to nearly 50% loss of their pension if they went at 55 say. It's dangerous. It's dangerous for firefighters, it's dangerous for the public. It's silly really.
– Alan Race, Fire Brigades Union
Load more updates