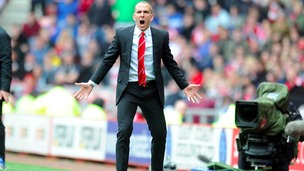 Newcastle United host Arsenal while Sunderland travel to Tottenham in the final day of this season's Barclays Premier League campaign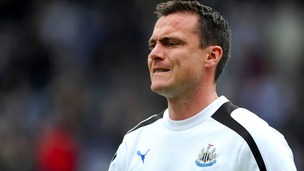 Past and present Newcastle United stars have taken to Twitter to pay tribute to Newcastle United goalkeeper Steve Harper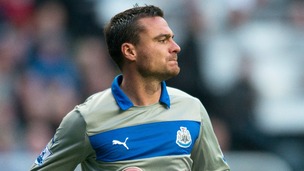 Newcastle United's veteren goalkeeper Steve Harper is set to make his final appearance for the club against Arsenal today
Live updates
Calendar
Yorkshire cricketers head for Headingley Test
Three Yorkshire cricketers - Joe Root, Tim Bresnan and Jonny Bairstow - have been named in England's 12 man squad for the second test against New Zealand at Headingley, which starts this Friday.
Freedom of Gateshead for Paralympian Stephen Miller
Tyneside Paralympian Stephen Miller is to be given Honorary Freedom of Gateshead after councillors voted to give him the highest honour they could.
Former Northumbria University student Stephen Miller has won three gold medals, one silver and one bronze.
"I've always been incredibly proud to be from the North East and the support I've received from Gateshead Harriers and the borough as a whole has been invaluable to me. I'm delighted that Gateshead has agreed to honour me in this way. This year was always going to be special as I'm getting married in August but this will be the icing on the cake."
– Stephen Miller

Stephen's greatest achievement was coming from fourth place to win a silver medal with his last throw at the 2008 Beijing Paralympic Games. He trained in Gateshead for more than 15 years and is a lifetime member of Gateshead Harriers.
"Stephen is an outstanding individual. There are very few people in the whole world who have competed at five Paralympic Games and even fewer with such an impressive list of medals. He has been and continues to be an inspirational athlete and I think that this honour is greatly deserved."
– Council Leader Mick Henry

Stephen joins Jonathan Edwards, Brendan Foster and Bob Moncur on the list of sporting Freemen of Gateshead. Stephen will be formally awarded Freedom of the Borough during a ceremony at Gateshead International Stadium on June 25.
Advertisement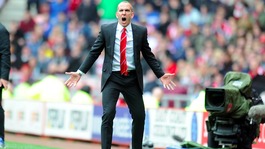 Newcastle United host Arsenal while Sunderland travel to Tottenham in the final day of this season's Barclays Premier League campaign
Read the full story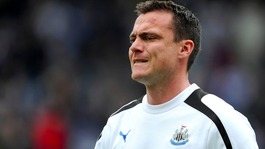 Past and present Newcastle United stars have taken to Twitter to pay tribute to Newcastle United goalkeeper Steve Harper
Read the full story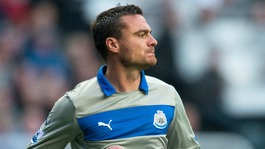 Newcastle United's veteren goalkeeper Steve Harper is set to make his final appearance for the club against Arsenal today
Read the full story
Pardew: "We owe a performance"
Newcastle United manager Alan Pardew says his side owe their fans a performance when they host Arsenal in the the final day of the Premier League season today.
The Magpies were beaten 6-0 by Liverpool in their previous home game.
Advertisement
Falcons boss Richards rues cup final mistakes
Newcastle Falcons' Director of Rugby Dean Richards says mistakes "cost us dear" after his side's defeat to Leinster in the British & Irish Cup Final last night.
The Falcons were beaten 18-17 after extra-time at Kingston Park, with Noel Reid scoring a dramatic penalty at the death.
Davide Santon escapes driving ban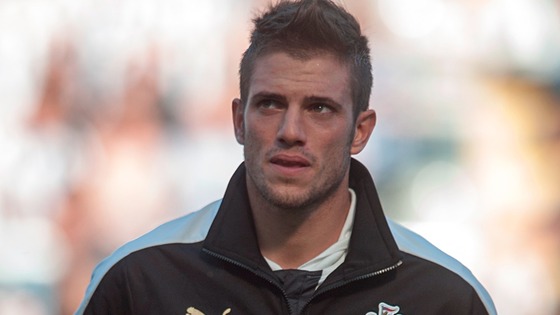 Newcastle United's Davide Santon has been spared a driving ban for speeding after a court heard his girlfriend is due to give birth next week.
Accompanied by his heavily pregnant partner Chloe Sanderson the 22-year-old pleaded guilty to driving at 99mph in a 70mph zone on December 3 of last year.
The city's magistrates' court heard Santon had been 'anxious' to get to his home in Ponteland.
At Newcastle Magistrates' Court chairman of the bench John Phillips handed the Italian footballer five penalty points plus a fine costs of £325
He told the footballer: "You have got to calm your driving down."You have got to remember that you are a beacon for a lot of young male drivers in this country.
"They look up to you as a hero and you must be a good example to them."
Defence barrister Chris Mitford told the court that it 'had been the end of a very long day'.
"It is not a case where he was showing off, he was anxious to get home.
"If he had not been Italian he would have just got three penalty points and not be facing the possibility that you might disqualify him.
"A disqualification for him will be very difficult. His current circumstances are that his girlfriend is about to give birth,"
Harper to make final Newcastle appearance
Harper to bid Newcastle United farewell
by Simon O'Rourke
Newcastle United's longest serving player Steve Harper is set to bid farewell to the club.
The 38-year-old has been with the Magpies for 20 years and on Sunday he will play his final match at St James' Park.
Harper has always been a popular figure and as Simon O'Rourke reports, he's had a distinguished and unusual career on Tyneside.
Football fans charged over pre-match fighting
Police have charged more than 30 Sunderland and West Ham fans who are alleged to have been involved in a fight before a Premier League game.
Trouble flared outside Revolution Bar in Sunderland at around 2.15pm on January 12, ahead of the Hammers visit to the Stadium of Light.
Northumbria Police said 10 fans associated with West Ham have now been charged with violent disorder.
They are aged between 18 and 28 and come from St Albans, Peterborough, Romford, Hornchurch, Basildon, Harefield, Bury St Edmunds and Chelmsford.
They are due to appear before Sunderland Magistrates' Court later this month.
A total of 24 Sunderland fans have already been charged following a lengthy investigation by police.
All of those charged have strict bail conditions restricting their attendance at football matches.
"This has been an extensive investigation and we received an excellent response from the public when CCTV images of the incident were released.

"There are 24 Sunderland and 10 West Ham supporters charged with offences, bringing the total number of people charged in connection with the incident to 34.

"They are all going through the court process and currently have stringent bail conditions.
"As we've said previously the vast majority of football supporters just want to enjoy the match.

"However, when any kind of violence takes place we will do everything possible to make sure those suspected of being involved are traced and the appropriate action is taken."
– Chief Superintendent Kay Blyth, Sunderland Area Commander
Load more updates