Opposition to Northumberland biomass plant
Residents maintain opposition to a proposed Biomass plant being built in North Blyth.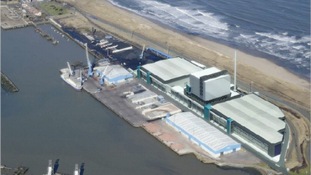 A multi-million pound renewable energy plant could be built in North Blyth. Is it green enough for the people of North Blyth?
Read the full story
Paul Crossland, who is campaigning against the plant claims it's too close to the residential area.
"It's too close to the residential area. It's too close to the school. It's on a site with loads of toxins on it. And it's all been sold with that magic word in the North East: 'jobs'. The jobs are illusory. As for the local jobs, these plants require a handful of local people."
– Paul Crossland, campaigner against Biomass Plant
Advertisement
Plans for a new renewable energy plant in the North East could get the go ahead.
Renewable energy company RES submitted plans to build a Biomass Plant in Northumberland.
If given the go ahead it could convert between up to 900,000 tonnes of biological matter into fuel and electricity each year.
RES say the plant would bring significant benefits to the area; creating jobs in the green sector and opportunities for local contractors as well as generating electricity for the equivalent of 150,000 homes annually.
The company say carbon dioxide emissions would also be reduced, but campaigners against the site claim the plant may worsen the problem of climate change.
The Infrastructure Planning Commission is due to deliver their decision on whether it will be approved next month.
Back to top