Jobless Alcan workers offered internal fair
Hundreds of Northumberland workers who have been made redundant at Alcan are being offered their own jobs fair.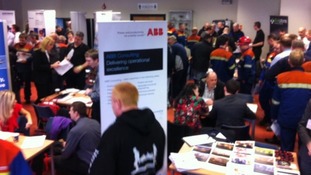 The big companies headed into Alcan to lend a hand. But how many handshakes will come out of it?
Read the full story
Rio Tinto's John McCabe, has given his responded to Ian Lavery's criticism. He said: "The workforce has known since June 2011 that the plant was under review and that closure was an option. We had to keep searching for a buyer for the plant for as long as we possibly could."
Advertisement
Workers say they feel happier about their prospects after Nissan and Nestle, among others, headed into Alcan for a special jobs fair. But off camera, the local MP is being told the atmosphere is not upbeat at all.
Wansbeck MP Ian Lavery says that the atmosphere at Alcan is 'far from upbeat' and that Rio Tinto should have informed workers about their redundancies sooner.
Representatives of Rio Tinto Alcan say some workers have already secured jobs at other firms.
Six who faced redundancy with the imminent closure of the smelter have been recruited by Nissan.
It's still early days. Some people have left us and got into other roles. Six have been recruited by Nissan. But this is about getting our guys into the biggest and best employers.
– John McCabe, Rio Tinto

Hundreds of workers are at an internal jobs fare being held at the site in Lynemouth today.

Mick Bate, a process operator, said 'it's not all doom and gloom'.
It's a good fair, but it's a bit daunting. If you're prepared to move there's a lot of opportunity. But I have a family here...but there's things out there.
– Mick Bate, Alcan worker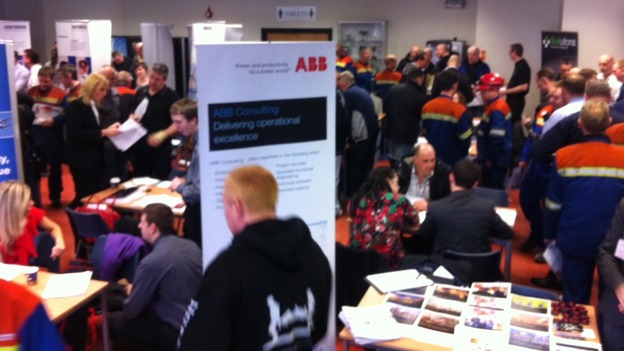 Hundreds of workers at the Rio Tinto Alcan plant are expected to an internal jobs fair.
It was confirmed recently that more than 500 people will be made redundant when the smelter closes. Nissan and Huntsman are among the firms that will try and create opportunities for them.
Advertisement
Caroline Kennedy, from Rio Tinto Alcan's, said: "We have a vast range of skills and experience here. Our workforce can hold their heads high and compete with the best when it comes to securing new employment."
Nissan and Huntsmen are among the firms on their way into Lynemouth to try create job opportunities for laid-off Alcan workers.
The companies are gathering to hold an internal jobs fair at the smelter.
Rio Tinto confirmed it is closing the smelter and would make more than 500 people redundant.
Back to top