DFC 1883 Ltd relegation appeal dimissed
DFC 1883 Ltd have had an appeal against an FA decision to place them in the Northern League dismissed.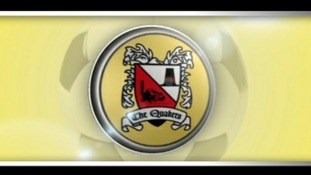 Darlington FC new owners have decided on new name for club. The team will play next season as Darlington 1883.
Read the full story
The Chairman of DFC 1883 Ltd, Dennis Pinegar, says the FA's decision to place the club in the Northern League is not what the interim board wanted.
Following a hearing at Wembley Stadium this morning the FA dismissed an appeal against the decision on all counts.
The club will now be playing in level 5 of the football pyramid next season and not be allowed to play under the name Darlington FC.
I know there is nothing else that could have been done in order to get the result of the appeal changed, the FA have decided that we are to be viewed as a new club and as much as we can challenge that and argue the case we have to now accept that.

There has been a lot of uncertainty around this club in recent times, and the fans deserve better. It's our job now to work with the fans, get the fans to back the club and get the club back playing in Darlington - at the highest level we can, as soon as we can.
– Dennis Pinegar, 1883 Ltd Chairman
Advertisement
Darlington FC 1883 Ltd have lost their appeal against their relegation to the Northern League.
Back to top