Sex attack victim speaks out
Northumbria Police are appealing for witnesses following an attack on Stephanie Hewson in Whitley Bay in 2009.
A reward of £3000 is being offered for information that leads to the arrest of those responsible for a serious sexual assault on a woman three years ago.
Stephanie Hewson was approached by a man in Whitley Bay in 2009. He dragged her into the rear lane of Beach Avenue and sexually assaulted her.
Miss Hewson, who was 23 at the time, had been walking alone towards Park Avenue around 2.30am on Sunday 2 August 2009. Police found her with serious facial injuries and broken nose.
The man is described as a white, in his mid-to-late 20s with short hair. He was wearing a blue short sleeved T-shirt, dark jeans and white trainers.
Anyone with information can contact Crimestoppers anonymously on 0800 555 111 or through an online form on the Crimestoppers website.
It has taken immense courage for the victim of this crime to come forward, who has been left badly shaken and afraid to leave her home at night as a result of her ordeal.

I would urge anyone with information on this crime to come forward with information, no matter how insignificant they might think it is, to help bring this callous individual to justice. We only want to know what you know, not who you are.
– Dave Hunter, North East Regional Manager for Crimestoppers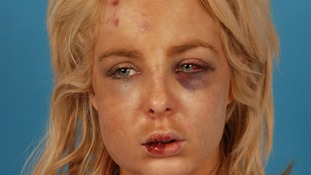 Stephanie Hewson, from North Tyneside, was the victim of a violent sexual assault in Whitley Bay in 2009.
Read the full story
Advertisement
Back to top