More flooding hits the region
Wet weather brought more floods to the North East and North Yorkshire over the weekend.
Flood alerts have been removed across large areas of the NE but more rain due this afternoon. Keep aware http://t.co/fzLVzYLZ
Durham Police have issued a statement for motorists travelling on roads affected by flooding and standing water.
Motorists are urged to drive with extreme care through surface water. They should moderate their speed, keep a safe distance from the vehicle in front and be aware that surface water may be deeper than it looks. People should also look out for their neighbours, especially those who may be elderly or vulnerable.
– Supt Graham Hall, Durham Police
Advertisement
25 #flood warnings and 43 flood alerts remain in place across Yorkshire and North East.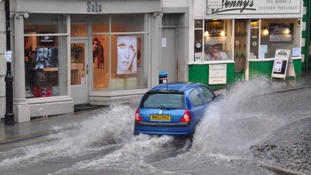 The North East is on flood alert as a month of rain is set to fall in the next 24 hours.
Read the full story
Dave Wilson, Wilson's Hardware Shop, Barnard Castle.
Perry Clifton, The Orchard Greengrocer's, Barnard Castle
Advertisement
Filey RNLI lifeboat lifeboatcrews have evacuated six people, some with special needs, from a flooded caravan park in Cayton Bay, North Yorkshire.
Assisted by the Coastguard, the RNLI crew lifted people from the caravan that was surrounded by 2 feet of water.
"We take great pride in helping the local community in times of extreme weather and were pleased to be able to offer our assistance."
– Barry Robson, Coxswain at Filey RNLI lifeboat station
Six people were evacuated from a caravan park by the RNLI following heavy rain.
Around 50 of Cayton Bay Park's 600 caravans in North Yorkshire were affected by the water although damage is reportedly limited.
Rescuers waded through around 2ft of water to get to the stranded group who were unharmed.
Dave Baker, The Moody Baker, Barnard Castle.
Load more updates
Back to top