Labour leader speaks at Miners' Gala
Ed Miliband has become the first Labour leader since 1989 to address the Durham Miners' Gala.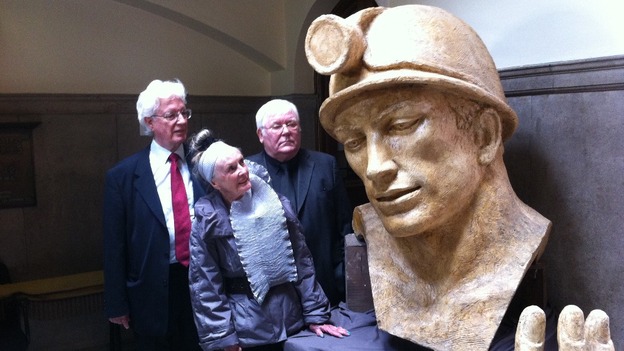 The original plaster cast of a famous sculpture has been donated to Durham ahead of tomorrow's Miners' Gala.
'The Miner' by Arthur Fleischmann, was commissioned by the National Coal Board in 1963, and first unveiled in bronze two years later.
Now his widow, Joy, has donated the cast to the Durham Miners' Association, for its offices.
David Hopper, the general secretary, said it would be "a permanent reminder of the heroism and courage of Britain's miners and their communities."
There are planned road closures expected tomorrow due to the 128th Durham Miners Gala celebrations.
South Bailey
North Bailey
Bow Lane
Dun Cow Lane
Palace Green
Owengate
Saddlers Street
Market Place
Silver Street
Framwellgate Bridge
Pellaw Leazes lane
New Elvet Bridge
New Elvet
Church Street
Hallgarth Street
Court Lane
Elvet Crecent
Old Elvet
Territorial Lane
Elvet Waterside
Elvet Bridge
Advertisement
A miners' leader has urged people to give Ed Miliband a chance when he becomes the first Labour leader to address the Durham Miners' Gala in more than 20 years.
Dave Hopper, general secretary of the Durham Miners' Association, said he hoped people would welcome his attendance, after his predecessors John Smith, Tony Blair and Gordon Brown refused to visit.
"I've heard rumours that there might be some demonstrations planned, but I hope not. I really hope people listen to what he has to say."
– Dave Hopper, general secretary, Durham Miners' Association

A record crowd is expected for the 128th annual Gala on Saturday. Organisers are expecting up to 50 bands and 70 banners, including five new ones.

The Gala is Britain's largest trades union event, attracting around 50,000 people each year.
Durham is preparing for the 128th Miners Gala today.
To support it police are banning cars from the city centre from 6pm this evening (Friday 13 July).
50,000 people are expected to attend the event, also known as the Durham Big Meeting.
Load more updates
Back to top