Anger at new homes
Residents in Dunston Hill in Gateshead are campaigning against the potential construction of 751 new homes on greenbelt land.
Campaigners say plans to build hundreds of homes in Gateshead will destroy greenbelt land, harm a wildlife park and have a huge impact on A1 traffic.
The council says they need to build more houses to support the town's growing population.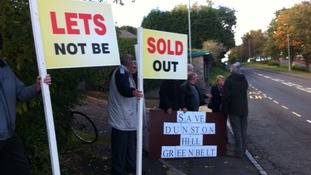 Nearly 4,000 people have signed a petition against a council proposal to build 751 new homes in the Whickham area of Gateshead.
Read the full story
Advertisement
Gateshead Council says that its population has grown by 9,000 people in the last 10 years.
Paul Dowling, said: "We understand that a developer owns land close to Whickham Highway but any house building would be subject to the results of the decision next year."
Gateshead Council wants to build 13,200 new homes across the borough over the next 20 years to meet population growth.
It is considering building some of the houses on greenbelt land, but still says it has to decide which sites are the most appropriate.
Back to top