The Chancellor's Autumn Statement
Businesses have revealed their Christmas wish list for George Osborne, ahead of his 'mini-budget' in the Commons.
Private companies welcome Chancellor's statement
The Chancellor, George Osborne, said he wanted to support people who are working and businesses to take more people on.
While he continues to squeeze the public sector, his Autumn Statement sounded more like a Christmas list for private companies.
He announced a number of tax cuts and schemes, which he hopes will create jobs.
Our Business Correspondent, Ben Chapman, watched the speech with members of the ITV Business Club and got their reaction.
Watch the full report here:
Fears 'most vulnerable' will be hardest hit after Government's plans on benefits
The Chancellor's plans to increase benefits by only one per cent over the next three years means they will be outstripped by inflation, which is forecast to be 2.7 per cent.
George Osborne's announcement has led to fears that the most vulnerable people will be hardest hit.
Watch Rachel Bullock's report from Teesside, which already struggles with high levels of deprivation and unemployment:
Advertisement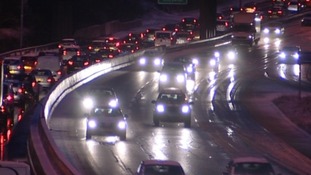 The Chancellor has committed to upgrading the A1 all the way between London and Gateshead.
Read the full story
North East Chamber of Commerce welcome Autumn Stament
The North East Chamber of Commerce (NECC) has hailed the Government's pledge to upgrade the A1 to Motorway from London to Newcastle as a "major boost for regional firms".
The business membership organisation also says it is backing the Chancellor's commitment to support exports, invest in Local Enterprise Partnerships (LEPs) and reduce the tax burden on businesses.
"This is the first budget announcement from the Coalition Government that business in the North East can really get behind. The Chancellor has clearly listened to many of the regional priorities we asked him to address, on behalf of NECC members.

"The £378million upgrade of the A1 to motorway from London to Newcastle is a huge success for those of us who have lobbied long and hard for infrastructure investment and will help our firms deliver more for UK PLC, as well as alleviate congestion at pinch points on the Western Bypass.
"With the North East's excellent export performance, we are also pleased the Chancellor has listened to calls for greater investment in overseas trade support, which can help companies break into new markets across the globe.

"Exporting businesses will welcome the commitment of £70million in new funding, so long as it is used to help them strengthen their exporting capability and to exploit opportunities in fast-growing markets overseas.
"With the removal of the January fuel duty rise, the annual investment allowance for firms investing in equipment increasing tenfold and the reduction to Corporation Tax, there is positivity to be taken from the Chancellor's budget statement.

"We also called for more money to be available through the Regional Growth Fund and for LEPs to have a greater say in regional infrastructure and business priorities so the decision to provide them with additional investment must be welcomed."
– Ross Smith, Director of Policy, North East Chamber of Commerce
Autumn Statement: Regional breakdown
10,000 people to be lifted out of income tax and 961,000 to pay less income tax as a result of Personal Allowance reforms.
Cancelling the planned rise in fuel duty in January
£64 million upgrade on the A1 at Lobley Hill, Gateshead.
£61 million to build over 3,300 new homes for affordable rent.
Business support measures will benefit 130,000 small and medium enterprises in the North East.
£17 million to return over 1500 empty homes to use in the North East and Yorkshire.
Government will provide a grant for councils that freeze council tax in 2013-14.
Autumn Statement: Lunchtime Headlines
The Chancellor has committed to upgrading the A1 to motorway from London to Tyneside as far as the Team Valley in Gateshead.
George Osborne made the announcement in his Autumn Statement this afternoon. There was no mention of upgrading the road further north.
Other headlines from the Chancellor's statement include cancelling the planned 3 per cent rise in fuel duty.
Mr Osborne also announced an increase in support for businesses, including more help for local enterprise partnerships which promote regional businesses.
Advertisement
North East Chamber of Commerce claims victory over A1 upgrade to motorway
Motorway standard for A1 between London and Newcastle - great victory for our campaigning on this #AS2012
From
@Ross_Smith_NECC
on Twitter:
...suspect the Chancellor probably means Gateshead rather than Newcastle though unless there's a big new scheme on the Western Bypass
From
@Ross_Smith_NECC
on Twitter:
A1 will be motorway between London and Newcastle
The Chancellor has committed to upgrading the A1 to motorway all the way between London and Newcastle.
Local government to make savings of 2% in 2014
Local government budgets are already being held down next year so will not be expected to make further 1% savings - but they will need to make 2% savings the year after, the Chancellor said in his Autumn Statement.
Chancellor: "Transfer of Northern Rock added to national debt"
The transfer of liabilities of the Newcastle-based Northern Rock and Bradford & Bingley to the national balance sheet is one of three measures which has had a "significant impact" on the public finances, George Osborne told Parliament in his Autumn Statement - adding £17bn to the national debt.
For further updates see the national ITV News.
Load more updates
Back to top