Latest horse meat fears
A drug with cancer-causing potential might have entered the food chain through horse meat slaughtered in UK abattoirs, Labour has claimed. Two batches of beef burgers contaminated with horse DNA were produced at a food factory in North Yorkshire.
Calendar
Anne McIntosh, MP for Thirsk, Malton and Filey has announced that the Environment, Food and Rural Affairs Select Committee will be examining the contamination of beef products sold in UK supermarkets later this month.
Following the discovery of equine and porcine DNA in a number of supermarket beef products, the Environment Food and Rural Affairs Committee will hold a public evidence session on contamination of beef products on Wednesday 30 January. The session is intended to focus on the effectiveness of traceability, labelling and hygiene standards in the food supply chain and the role of government, food processors and retailers.
– Anne McIntosh MP
Tesco have taken out full-page adverts in several national newspapers to apologise to customers after horsemeat was found in some beef burgers, including those at a North Yorkshire plant.
The advert reads:
"You have probably read or heard that we have has a serious problem with three frozen beef burger products that we sell in stores in the UK and Ireland.
The Food Standards Agency of Ireland has told us that a number of products they have recently tested from one of our suppliers contained horsemeat.
While the FSAI has said that the products pose no risk to public health, we appreciate that, like us, customers will find this absolutely unacceptable.
We have immediately withdrawn from sale the products from the supplier in question, from all our stores and online.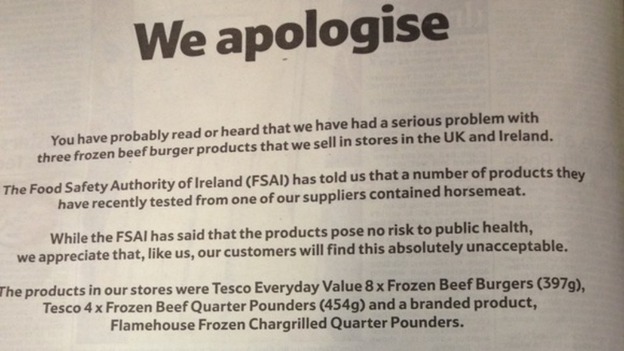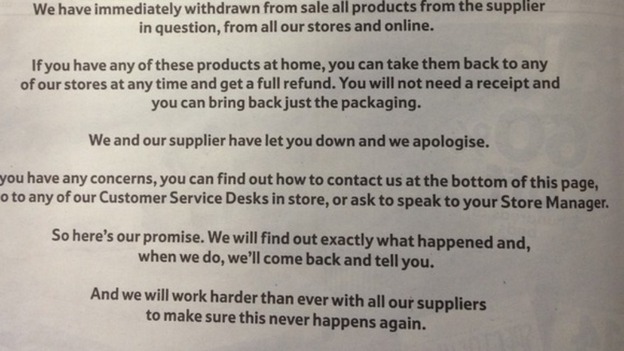 If you have any of these products at home, you can take them back to any of our stores at any time and get a full refund. You will not need a receipt and you can bring just back the packaging.
We and our supplier have let you down and we apologise.
So here's our promise. We will find out exactly what happened and when we do, we'll come back and tell you."
Advertisement
A food processing plant in North Yorkshire is at the centre of a food scandal spanning two countries tonight.
It is one of three factories whose beef burgers were found to contain horse meat.
The owners of Dalepak Hambleton, at Leeming Bar, believe their suppliers in continental Europe may be the source of the contaminated meat, which until last night was on sale in British supermarkets.
You can watch the full report from Ben Chapman below.
The owners of a food processing factory in North Yorkshire are investigating how traces of horse meat ended up in their beef burgers which were sold in Iceland supermarkets.
The processing company says its suppliers in Europe may be responsible.
You can watch the report from Ben Chapman below.
Calendar
The Food Safety Authority of Ireland has identified porcine and equine DNA at trace levels in two consignments of burgers produced at the Dalepak production facility at Hambleton in Yorkshire. The FSAI stress that there is no food safety issue with these burgers. A spokesman for Dalepak said:
Following tests carried out by the Food Safety Authority of Ireland, we have been alerted to two batches of frozen beef burgers which have been potentially contaminated with traces of pork and equine DNA measured at less than 0.1% of the meat content. Dalepak are co-operating fully with the Competent Authorities and have launched a full-scale investigation.
– Dalepak spokesman
Calendar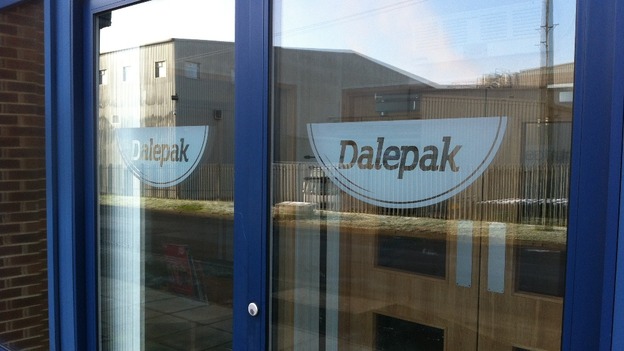 This is the meat processing plant in North Yorkshire which is at the centre of a food safety probe after beefburgers supplied to leading supermarkets were found to contain horsemeat.
Products from the Dalepak Hambleton plant in Northallerton and two other facilities in Ireland were investigated by a food safety watchdog. The burgers were on sale at Tesco, Lidl, Aldi, Iceland and Dunnes Stores, but it is not known which plant supplied the contaminated meat.
Advertisement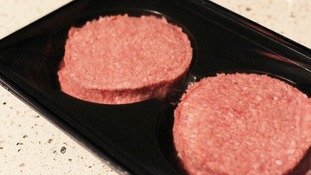 Traces of horse DNA have been discovered in a beef burgers sold in supermarkets across the UK. A Tesco burger was found to be 29% horsemeat
Read the full story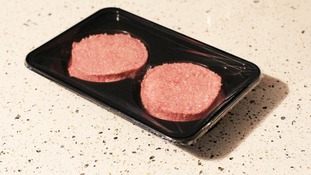 A list of the beef burgers, sold in UK supermarkets, that were found to contain traces of horsemeat.
Read the full story
National
The presence of horse DNA has been found in some beef burgers sold in UK and Irish supermarkets, according to a study by the Food Safety Authority of Ireland.
Of the 27 beef burgers tested, 37% tested positive for horse DNA and 85% tested positive for pig DNA. The products were sold in Tesco, Lidl, Aldi and Iceland. The FSAI said:
"In one sample from Tesco, the level of horse DNA indicated that horsemeat accounted for approximately 29% relative to the beef content."
National
Tim Smith, group technical director of Tesco has apologised to customers after beef burgers sold at the supermarket were found to contain horse meat.
He said that there is no way to know until investigations have been completed how this could have happened. He added "there are only two ways that this could happen, one of them involves illegality by suppliers or the suppliers of those suppliers or gross negligence."
Load more updates
Back to top