Flooding in the North East
A report into flooding, published by MPs, has concluded that they were too slow to bring in changes that could have helped stop communities at risk of flooding being flooded again.
The Flood Warning for the River Ouse at Acaster Selby is no longer in force.
No further flooding is expected in this area but other warnings and alerts may still be in force for surrounding areas.
Calendar
A draft bill aimed at tackling both flooding and water shortages doesn't go far enough, according to the North Yorkshire MP, Anne McIntosh. She says the Government has been too slow to act. Chris Kiddey reports from Malton in North Yorkshire.
Advertisement
Calendar
Anne McIntosh, the Conservative MP for Thirsk and Malton has criticised the government over how long it has taken to implement flood protection measures.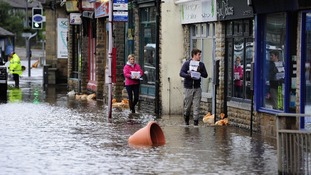 The Government has been too slow bringing in measures to protect from the "shattering" impact of flooding, a Yorkshire MP has warned.
Read the full story
Back to top