Gazza "wants to recover"
Former England footballer Paul Gascoigne is out of intensive care after suffering a bad reaction to the detox process in a treatment centre in the United States.
National
FA chairman David Bernstein has told ITV News the organisation will reach out to Paul Gascoigne in the next 24 hours following the latest reports of the former England star's ill health. He said the 45-year-old remained a "valued member of the football family."
Terry Baker, an agent for Paul Gascoigne, says the player's life is in danger and he needs immediate help for his alcohol addiction.
Gascoigne's old friend, Steve Wraith, has told Dan Ashby it's heart wrenching to see him in so much trouble.
Advertisement
Gazza's friend @stevewraith told me the star is 'withering away' but that he hopes Gazza will beat his problems soon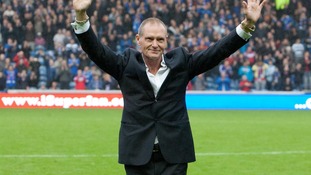 Paul Gascoigne's agent has warned that the former footballer's life is in danger, due to alcoholism.
Read the full story
Former Manchester United goalkeeper Peter Schmeichel has urged the Professional Footballers' Association to help Paul Gascoigne, who is struggling with alcoholism and depression.
This is not fun watching. Gazza needs help. Come on PFA & Gordon Taylor, time to step up.
– Peter Schmeichel, Former Footballer
Load more updates
Back to top