Di Canio row continues
The row over Paolo Di Canio being appointed as the new Sunderland manager continued today because of his links with the Italian Fascist movement.
The Durham Miners Association says it hopes it's banner will remain at the Stadium of Light now that the new Sunderland Manager Paolo Di Canio has said he is not a fascist.
The group had threatened to remove the banner after Di Canio's appointment.
The North East-based campaign organisation 'Show Racism The Red Card' says it accepts at face value the statement by Sunderland manager Paolo Di Canio, in which he denies being a fascist, and now want to draw a line under the issue.
Advertisement
Sunderland's new manager Paolo Di Canio released a statement clarifying his political views after four days of speculation.
Watch Lucy Taylor's full report below.
National
Asked whether he still considers himself a fascist, Paolo Di Canio says: "I don't have to answer any more this question, there was a very good statement from the club".
"I don't want to talk any more about politics ... I'm not in the House of Parliament," he adds.
A press officer is cutting off any further questions on the subject.
Read: Di Canio calls claims of racism 'stupid and ridiculous'
National
PDC: 'The players worked very hard in my first training session. My arrival is good motivation for them.'
National
Sunderland's new manager Paolo Di Canio has taken his first training session at the club since his appointment on Wednesday.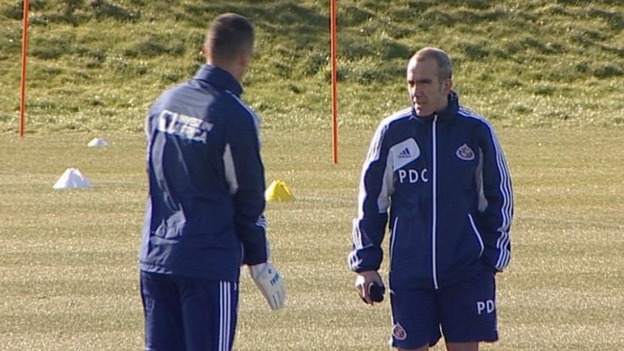 The session happened before the Italian released a statement saying he was "not a racist" and did "not support the ideology of fascism."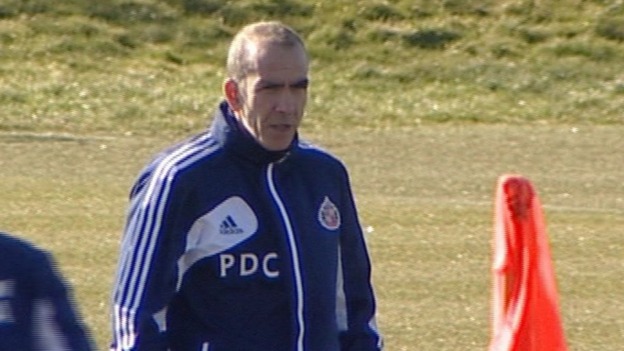 Read: Paolo Di Canio - when sport and politics collide.
Watch: Di Canio dodges ITV News' question on fascist beliefs.
Advertisement
National
Sunderland's new manager Paolo Di Canio has released a statement on the club's official website where he says "I am not a racist and I do not support the ideology of fascism."
I have clearly stated that I do not wish to speak about matters other than football, however, I have been deeply hurt by the attacks on the football club.

This is a historic, proud and ethical club and to read and hear some of the vicious and personal accusations is painful. I am an honest man, my values and principles come from my family and my upbringing.
I feel that I should not have to continually justify myself to people who do not understand this, however I will say one thing only - I am not the man that some people like to portray.

I am not political, I do not affiliate myself to any organisation, I am not a racist and I do not support the ideology of fascism. I respect everyone.

I am a football man and this and my family are my focus. Now I will speak only of football.
– Paolo Di Canio statement
National
I expressed an opinion in an interview many years ago. Some pieces were taken for media convenience. They took my expression in a very, very negative way - but it was a long conversation and a long interview.

It was not fair. I know it is a part of my job to do interviews because I am well-known, but sometimes it suits their purpose to put big headlines and a big story.
What I can say is that if someone is hurt, I am sorry. But this didn't come from me, it came from a big story that people put out in a different way to what it was.
– Paolo Di Canio statement

Watch: Paolo Di Canio's first interview as Sunderland head coach
National
Anti-fascism campaigners have called for Paolo Di Canio to publicly retract comments about his political views.
Unite Against Fascism's joint national secretary, Weyman Bennett, said his appointment was "an insult" to the people of Sunderland:
If he wants to be a manager and wants to be a public figure, he needs to make it clear he accepts these views are completely inappropriate.

Football has made great strides in opposing fascism. It's simply not true that you can say you agree with fascism and that's okay. It's something that isn't acceptable.
– Weyman Bennett, Unite Against Fascism
National
Paolo Di Canio is telling reporters: "With my energy I am sure we can get something from the next seven games.
"I hope my ways give the team more confidence on the pitch."
Load more updates
Back to top