EDL march in Newcastle
Police say they expect an EDL march and counter demonstration to pass peacefully, despite admitting the Woolwich murder "may have heightened community concerns." A police horse who was punched during the derby day violence will be back on duty.
Newcastle Area Commander Chief Superintendent Gary Calvert, Northumbria Police.
Police are maintaining a heavy presence in Newcastle, after around 2,000 English Defence League (EDL) supporters marched through the city and met head on with hundreds of anti-fascist campaigners who had organised their own rally.
EDL members travelled from across the country. The demonstrations from each side were kept under control, however pockets of violence broke out, with 24 arrests.
Watch Rachel Bullock's report here:
Advertisement
Northumbria Police say extra police will remain in Newcastle city centre after today's protests.
Police say there were no major problems connected to this afternoon's protests by the English Defence League (EDL) and Newcastle Unites.
Police have also confirmed between 1,500 and 2,000 people took part in the EDL protest and around 350 to 400 in the Newcastle Unites protest.
"I am pleased this protest passed off without major incident. Disruption was kept to a minimum and we are grateful for the support we received from local communities.

"There were a number of arrests over the course of the day, mainly to do with alcohol or to prevent public order offences, however the vast majority of those taking part were well behaved.
"Most of the arrests took place before the protests started and were part of a proactive strategy by police to avoid disorder and to minimise disruption.

"I would like to thank all those officers, and staff at partner organisations, who have worked so hard to make today a success.

"Extra officers will continue to be in the city for what is a busy weekend for Newcastle."
– Newcastle Chief Superintendent Gary Calvert
Police say demonstrations from today's EDL march was kept under control, but pockets of violence broke out. There were 24 arrests.
Dipu Ahad, Labour Councillor for Newcastle.
Advertisement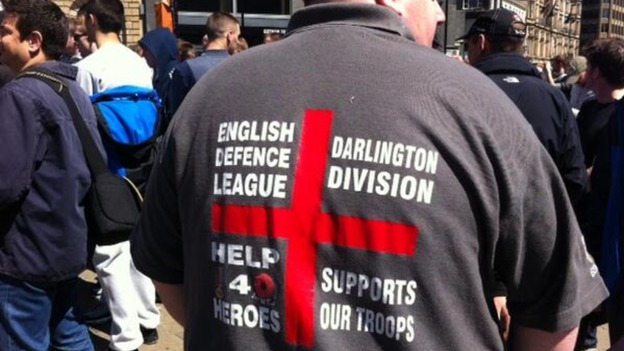 National
A small group of protesters opposing the EDL tried to intercept their march in Newcastle today, but were bundled away by police.
Load more updates
Back to top