3D map of the universe shows what space looks like
A 3D map of the universe created by researchers at Durham University shows what galaxies look like from within.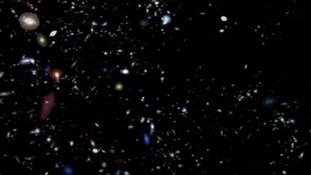 Durham University researchers created a map of the universe, which has scientific value and makes an entertaining trip through the stars.
Read the full story
On the day scientists in the United States announced they may have detected echoes of the Big Bang at the start of the universe, researchers in the UK showed off a unique image of the cosmos in more recent times.
The team from Durham University used data from telescopes and satellites to put together a detailed map of thousands of galaxies, which Dr Peder Norberg compared to the view Captain Kirk and his team in Star Trek would have from their flights around space:
Advertisement
Back to top