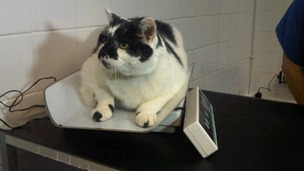 The PDSA has launched a campaign to find the regions fattest pets to help them slim down.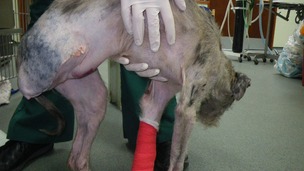 The region yet again tops a league it should never even be in. This report contains distressing images.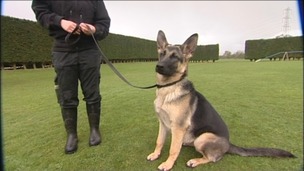 Two German Shepherd dogs were donated to Northumbria Police but are too nervous for front line policing.
Live updates
Fan apologises for horse punch
Full interview with Newcastle fan who punched horse
Barry Rogerson made national headlines when he was filmed punching a horse during disorder after Sunday's Tyne-Wear derby.
You can watch his full interview with ITV News below.
Police release apology after police dog kills pet rabbit
North Yorkshire Police have apologised after a pet rabbit was killed by a police dog which was searching for three suspected thieves in York.
Officers were using a police dog to track three men on the evening of 9 April as they ran off along Bell Farm Avenue, where they ran into residential gardens.
The dog grabbed the rabbit, which was out of sight in the corner of the backyard, when it was searching the garden of a house on the street.
The rabbit was still alive when the dog handler commanded the dog to release the animal, but died after being taken to a vets for treatment.
Three men - two aged 18 and a 19-year-old - were arrested on suspicion of stealing power tools from a car. The two 18-year-olds have since been bailed.
"We all feel terrible for the woman and her family and we have apologised profusely for the distress this has caused.

"The poor rabbit was completely out of sight when the dog handler checked the garden during the search for one of the suspects. The police dog simply acted on its natural instincts and grabbed hold of the rabbit."
– Sergeant Simon Whitby, head of the force's Dog Section
Advertisement
Newborn micro pig and guinea pig stolen in Middlesbrough
Police are appealing for information after a newborn micro pig and a guinea pig were stolen from Newham Grange Country Farm in Middlesbrough.
The black micro piglet, which is just four days old, was snatched when a woman poured water on the mother of the piglets to get her to move away from them.
"We are concerned that the piglet won't survive as it has been taken away from its mother and needs to be with her.

"The piglet is one of four born last week and the mother has been looking around for it amongst the other three since the incident happened. "
– Mark Saunders from Newham Grange Country Farm

She also stole a guinea pig before running from the farm into an awaiting silver Ford Focus Zetec.

Police believe that the woman had entered the pens on a number of occasions and had been asked to leave.

The woman was accompanied by another woman, a man wearing a blue tracksuit, a small blonde child and a baby.

One of the women is described as having red hair, is white and of heavy build.

Anyone with any information is asked to contact PC Lyndsay Dale on 101 or Crimestoppers on 0800 555 111.
"This has been extremely distressing not only for the mother of the piglet but also for the staff who work at the farm.

"I would like to hear from anyone who has information; even if they don't think it is significant as it could help us to locate the people responsible."
– PC Lyndsay Dale
Meg the dog: Free runner, surfer and internet sensation
by Rachel Sweeney
One man from the North East has gone a step further than most dog owners - and he has taught his dog free running.
Meg has been an internet hit since Sam Davis posted videos of her doing tricks on YouTube. She is now the talk of Saltburn-by-the-Sea.
Rachel Sweeney went to see her - watch the full report below.
Search for region's fattest pets
Full Report: North East pets off to Pet Fit Club
A slimming contest with a difference is underway in the North East after an animal charity found nearly ninety percent of the region's pets are being over-fed.
The PDSA is so concerned by the problem and the dangers it poses that it is starting another Pet Fit Club to help the most overweight animals slim down.
You can watch the full report from Claire Montgomery below.
Search for region's fattest pets
"I tend to think of her like a human being - not a dog"
Dog owner, Rita Dunn, admits it is difficult not to give in to her pet Keira's demands.
Advertisement
Search for region's fattest pets
"We really do need to get the pounds off"
Stephanie Williams, the Head Nurse a the Middlesbrough PetAid hospital has told ITV News that the problem of pet obesity needs urgent action.
Search for region's fattest pets
Cookie cat taking part in Pet Fit Club competition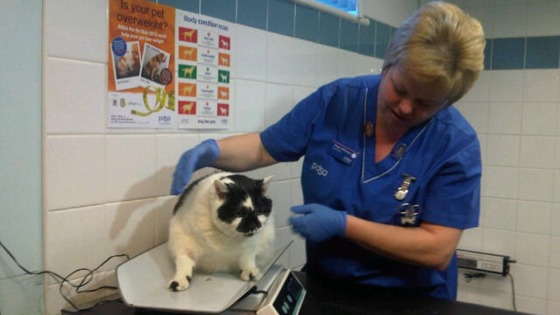 Among those taking part is 15-year-old Cookie from Middlesbrough, who tips the scales at 8.4kg (1.3 stone), approximately 70% heavier than she should be.
Cookie's owner, Laura-Jane Bradford, said:
"My parents got Cookie as an 11-week-old rescue kitten, and she's always been a big cat. She is very spoilt, but also very fussy - the only food she begs for is prawns and the finest haddock!
She used to be really active, but now that she's older, she's not as mobile.
We love her to bits, so we want to get her weight down to make sure that she's around for a long time to come."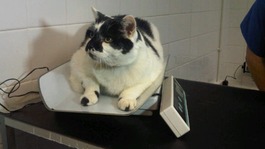 The PDSA has launched a campaign to find the regions fattest pets to help them slim down.
Read the full story
Pair of reptiles set owners' conservatory on fire
Two loved-up reptiles are being blamed for starting a fire that destroyed their owner's conservatory in Stockton-on-Tees and led to their own demise.
Henry the tortoise, who had just awoken from hibernation, had only one thing on his mind as he emerged from his den - his mate Alice.
But tragically as he chased her around their nest, it is thought he knocked over a heater which set fire to wood shavings.
The blaze destroyed the conservatory of Alf and Gayner Clayton, from Thornaby, who had to run out of the house to escape. The fire also damaged their garage and car.
The couple said they did their best to save their beloved pets after a neighbour spotted smoke coming out of the garage.
But neither pensioner could save them and two fire crews were called to put out the blaze, which happened on Saturday night.
Load more updates
Back to top