Live updates
The Chancellor's Autumn Statement
The Chancellor has committed to upgrading the A1 to motorway all the way between London and Newcastle.
The Chancellor's Autumn Statement
Local government budgets are already being held down next year so will not be expected to make further 1% savings - but they will need to make 2% savings the year after, the Chancellor said in his Autumn Statement.
Advertisement
The Chancellor's Autumn Statement
The transfer of liabilities of the Newcastle-based Northern Rock and Bradford & Bingley to the national balance sheet is one of three measures which has had a "significant impact" on the public finances, George Osborne told Parliament in his Autumn Statement - adding £17bn to the national debt.
For further updates see the national ITV News.
The Chancellor's Autumn Statement
North East business leaders have called on the Chancellor to invest in improving the A1 in North Yorkshire. The North East Chamber of Commerce says it would boost the region's economy for the future.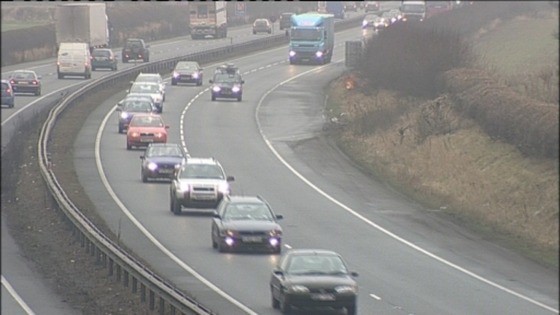 George Osborne will deliver his annual Autumn Statement at 12.30 pm. The speech is regarded as a 'mini-budget'.
Announcements are expected on increases to welfare benefits, fuel duty and pensions.
But businesses are looking for early Christmas presents that will help them create jobs.
Ross Smith, from NECC, said: "We'd like to see some better connections into our ports in particular and we think that there's a road scheme on the A1 in North Yorkshire which would better connect us into markets elsewhere in the UK.
"But perhaps one of the biggest things is getting more flights into and out of this region, particularly to the United States and some changes around tax and regulation on aviation could really assist with that."
The Chancellor's Autumn Statement
There might be snow on the ground, and just three weeks until Christmas, but the Chancellor will deliver his Autumn Statement tomorrow lunchtime.
Businesses are hoping the festive spirit may have got to him, as they look for early Christmas presents to boost their firms.
The North East Chamber of Commerce is calling for investment in big infrastructure projects, including upgrading the A1 in North Yorkshire. It also wants more help for businesses to get ambitious plans off the ground.
There is also support for the idea of a government-backed 'Business Bank' to boost lending to small companies.
We spoke to members of the ITV Business Club to find out what's on their Christmas list for the Chancellor.
Load more updates
Back to top