Cleveland Fire Brigade is urging those planning to celebrate bonfire night to 'Be Safe, Not Sorry' and go to organised firework displays.
Read the full story ›
Advertisement
The Walker Park event has been cancelled & a councillor has revealed the funds set aside for the event will be used to pay for CCTV instead
Read the full story ›
Fire crews have warned that lives are still being put at risk on Bonfire Night because too much time is spent putting out nuisance fires.
Wheelie bins and rubbish piles are constantly set alight, which diverts resources from major incidents.
Jonny Blair joined one team from Tyne and Wear Fire & Rescue Service for a night which stretches them to the limit:
Cleveland Police are warning people ahead of Bonfire Night that 'crime should not be mistaken for mischief'. Officers have visited families of known offenders to tell them that crime and criminal damage is serious and will not be dismissed. It comes as senior officers highlight the importance of parental responsibility around this time.
"Mischief night" traditionally occurs on 30th October each year and has historically been a busy period for police. In 2014, police received an additional 750 calls for service in the week leading up to 'mischief night', when compared to other typically busy weeks in the summer of that year.
"Our message is clear – unofficial bonfires aren't mischief. They're arson."
– an Hayton, Chief Fire Officer of Cleveland Fire Brigade
"We want our communities to be safe and pleasant places to live and we hope people recognise there is a distinct line between crime and anti-social behaviour, and being mischievous. "We take a tough stance and we will take appropriate action when it is necessary."
– Gilly Marshall, Anti-Social Behaviour Manager for Thirteen
Advertisement
Cleveland Fire Brigade say they want residents to "Be safe not sorry" after a six percent increase in deliberate fires this time last year.
Read the full story ›
Fire crews are currently dealing with 13 deliberate fires on Bonfire Night across Tyne and Wear.
A bonfire at Raby Way in Byker, Newcastle had to be put out earlier by firefighters.
TWFRS are attending 13 deliberate fires. Officers are also attending 5 other fires to establish if a fire engine is required #consequences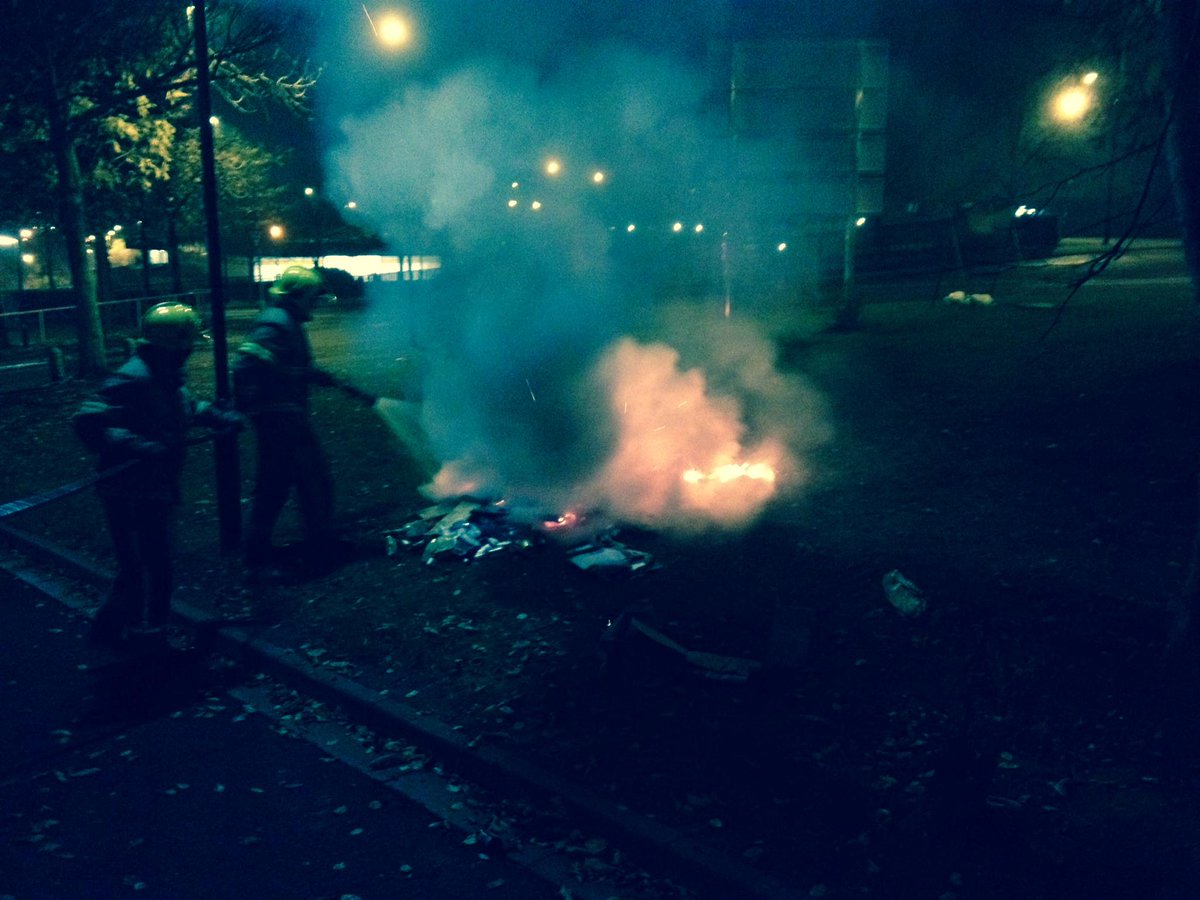 Bonfire Night is always one of the busiest times of the year for fire crews and yesterday was no different.
Tyne and Wear Fire & Rescue Service received more than 400 calls, most of them to put out illegal, unsupervised bonfires.
Jonny Blair joined one crew on the night shift.
Police are appealing for information after a firework was posted through the letterbox of a flat in North Shields on Bonfire Night.
It happened at a property in Chirton West View about 6:20pm. Nobody was injured but the fire caused damage to the door and broke a window inside the property.
"Thankfully no-one was injured in this incident. This is a reckless and dangerous act and the consequences could have been far more serious."
– Det Sgt Peter Morgan, Northumbria Police
Anyone with information is asked to contact Northumbria Police on 101, extension 69191.
Load more updates