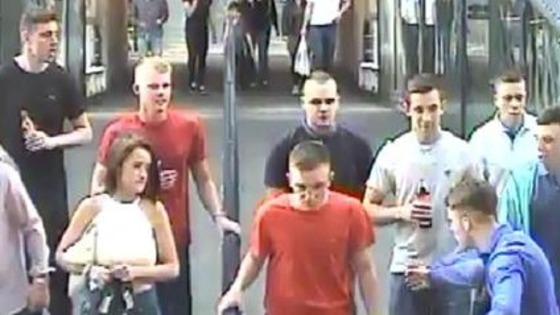 Do you know these travellers? That is the question being posed by officers from British Transport Police investigating an outbreak of anti-social behaviour on a rail service between Newcastle and Carlisle, which culminated in the train guard being assaulted. The incidents happened at about 8.40pm on Saturday, 5 July, on board a Northern Rail service between Newcastle and Carlisle.
"Two groups of men boarded the 7.25pm train at Newcastle. One group was particularly argumentative and was clearly trying to goad the other. The aggressive group were spoken to a number of times during the journey and were asked to calm down. When the train reached Brampton, at about 8.40pm the train manager asked the rowdy men to leave the train as he believed they were becoming too aggressive. Two of the men tried to get back onto the train and, when the train manager stopped them doing so, one of the men kicked him to the groin."
– PC Darren Rogers, British Transport Police

British Transport Police have isolated a number of CCTV images featuring men they believe will have information about what happened.
"The train guard was carrying out his duties in the proper manner and was trying to protect other passengers by asking the men to leave the train. No-one should be subjected to abusive behaviour or violence and train staff should expect to be able to work in a safe environment. What happened on Saturday, 5 July, was completely unacceptable and I am determined to trace those responsible.
– PC Darren Rogers, British Transport Police

In a separate incident, at Newcastle prior to the men boarding the train, two groups of people were involved in a fight at Central Station.
"We believe the people captured on CCTV in relation to the incidents on-board the train will have information about the fight at Newcastle too and would like to hear from anyone who witnessed this early incident."
– PC Darren Rogers, British Transport Police

Anyone with information can contact British Transport Police on 0800 40 50 40 or ring Crimestoppers, anonymously, on 0800 555 111.