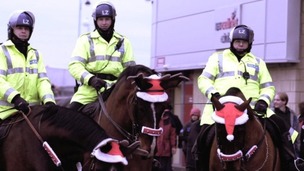 Cleveland Police have confirmed that the disbanding of the force's mounted section will continue as planned.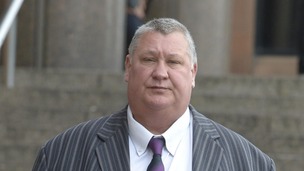 Dave McLuckie, the former chairman of Cleveland Police Authority, has been sentenced to eight months for perverting the course of justice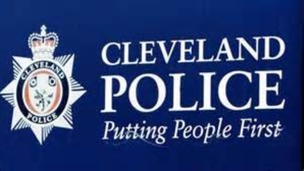 A report by a group of MPs is calling for a police code of ethics and says officers guilty of misconduct should have pensions cut
Live updates
Durham's PCC investigated
The Independent Police Complaints Commission (IPCC) is investigating employee benefits provided to Durham's Police and Crime Commissioner Ron Hogg during his final period as a senior officer with a neighbouring force.
The allegations were passed to the IPCC after the Panel received information from officers working on Operation Sacristy.
Cleveland's Police and Crime Commissioner Barry Coppinger has called for a debate to be held after Durham's Chief Constable said Class A Drugs should be decriminalised.
In a statement, Mr Coppinger said:
"I think it is a good idea to have a public debate on this very complex issue and there are various aspects which need to be considered.

"The Chief Constable of Durham Constabulary has set out his experience and I am sure others will have quite different views. It would be good to have something like a Royal Commission looking at all aspects as things stand now, so people are fully informed and I would call on the government to set one up.
"All aspects need looking into very carefully, but one area I feel strongly about is that we must fully support the treatment and rehabilitation of drug users and ensure they have the services available to them to help them with their drugs habit."
– Barry Coppinger, Cleveland Police and Crime Commissioner
Advertisement
A major drugs ring which flooded the North East with cocaine and heroin has been jailed for more than 53 years.
Two of the gang's main leaders met while in prison on Teesside where they were already serving sentences for previous drugs offences.
One of them even used his day release to co-ordinate his street level operators.
The eight-strong gang were arrested following months of a joint undercover operation between Cleveland Police and the Regional Crime Unit.
A 12-year-old girl, who was reported missing from her home in Hartlepool, has been found safe and well.
Sophie Dunn left her home to go to her grandparents' home last night but didn't arrive.
Cleveland police confirmed she has been found.
Arrest over Teesside death
A 20 year old man has died after an incident in the Ellerby Green area of Middlesbrough.
It happened at about 7.30am today (Sunday) and a local man was taken to the James Cook Hospital, where he died from his injuries.
A man in his late teens has been arrested, and remains in police custody.
Anyone with information is asked to contact Cleveland Policve on 101, or phone the independent Crimestoppers anonymously on 0800 555 111.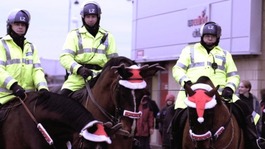 Cleveland Police have confirmed that the disbanding of the force's mounted section will continue as planned.
Read the full story
Advertisement
Serious assault on Teesside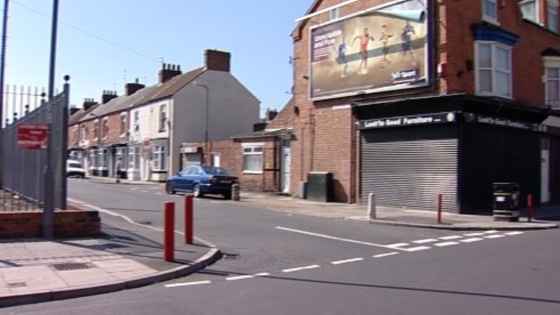 Cleveland Fire Brigade says there have been 534 grass fires between April and June this year - up from 121 last year.
The brigade says arson is down, but deliberate fires such as the one below still account for 7 out of 10 of all fires in the area.
Cleveland officer's resignation
The police watchdog has said it was "completely unacceptable" for a police finance officer to quit ahead of a disciplinary hearing.
Ann Hall was suspended following an allegation of potential gross misconduct relating to the misuse of public funds.
She was allowed to resign by Cleveland Police, despite a disciplinary hearing by the force being due to happen this month.
The decision has been criticised by the Independent Police Complaints Commission which has been carrying out a separate investigation into her conduct.
It has now vowed to go on with its own inquiry into an allegation that unauthorised payments amounting to thousands of pounds were made to an executive coaching company, and says its findings will still be published.
"I am very mindful that the public are extremely concerned when officers and staff resign or retire while under investigation, thereby escaping a misconduct sanction.

"I find it completely unacceptable that individuals take this option rather than face up to the case against them.

"The IPCC cannot prevent this happening and that is frustrating.

"The misconduct process should be seen through to conclusion - if it is not it will inevitably leave unanswered questions and erode public confidence.
"While we cannot bring this case to a misconduct conclusion now, I believe it is in the public interest for our investigation to continue and we will publish the evidence and our conclusions, so that the public can judge the actions of Ann Hall for themselves."
– Cindy Butts, IPCC Commissioner
Cleveland officer's resignation
A senior civilian officer at Cleveland Police has resigned ahead of a disciplinary hearing for gross misconduct, her employers said.
Ann Hall was suspended following an allegation of potential gross misconduct relating to the misuse of public funds between June 2010 and October 2011.
The disciplinary hearing was due to take place this month.
The new Chief Constable appointed an independent investigator to look into matters at Cleveland Police and it was found there was a potential case for gross misconduct.
The Independent Police Complaints Commission was investigating an allegation of potential misconduct relating to the misuse of public funds between July 2010 and October 2011.
She was suspended for this matter in February 2013 and the IPCC investigation continues.
"Three Chief Officers have now left the Force; two have been dismissed and one has resigned. This brings to an end the conduct issues raised into those previously at the helm of the organisation.

"I was recently appointed as permanent Chief Constable, there is a new Deputy Chief Constable in place and around 60% of the current leadership team are new in post.

"Cleveland Police has considered the issues raised by the actions of the previous top team.
"We have and will continue to amend practices, policies and procedures to prevent such things happening again and we will ensure that our police officers and police support staff receive the good and ethical leadership they deserve as they do their difficult and challenging work.

"I would ask that we are now given the opportunity to put these misconduct issues behind us so we can get on with our job of keeping the public safe and protecting them from harm."
– Jacqui Cheer, Chief Constable of Cleveland Police
Load more updates
Back to top