A hairdresser from Seaham has been left without a finger after she was bitten by a False Widow spider in a field. She had been playing with her children and ended up in hospital for ten weeks. Doctors say Andrea Wallace's injury could have killed her.
A hairdresser from Seaham had to have a finger amputated after catching a flesh-eating bug from a spider bite. Andrea Wallace was bitten by a False Widow spider. Doctors said the bite could have killed her.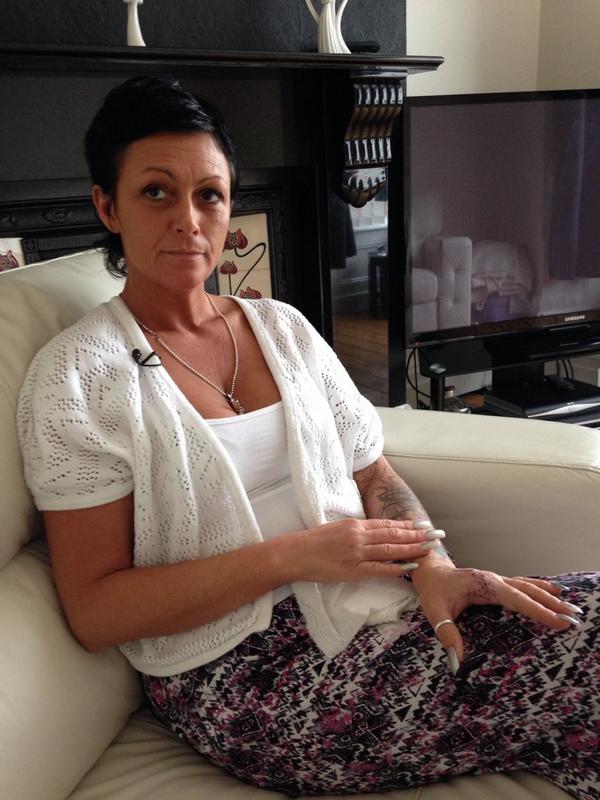 Advertisement
Comedian Russell Brand has come under fire for mocking the North East star of a Barclay's television advert in a web video he uploaded criticising the bank.
The advert showed 75-year-old Sam Wright learning about the internet and online banking.
Brand pokes fun at the advert - and Mr Wright - while criticising Barclay's banks links to an Israeli defence firm.
Mr Wright suffered a stroke and died five weeks after the advert first aired on television.
Speaking to the Sun newspaper, Mr Wright's son, Stephen, said: "When I saw Brand's show I felt sick. It was so insensitive.
"I don't think he knows how much hurt he has caused us. When the advert was on TV it coincided with my dad having a stroke. He died five weeks later. He was chosen as he used the scheme. He was just trying to help."
Mr Brand has not commented on the report.
Mist and fog will quickly clear. Most parts will see some sunshine, but cloud will increase at times, especially in the south.
Scattered, locally heavy showers or rain possible later. Highs to 18 °C
Variable cloud with bright or sunny spells. Warm by day. Misty by night. Cloudier by midweek with a colder night into Thursday
Read the full story ›
Advertisement
Generally dry with bright spells or sunny periods. There is a chance of a little more cloud in the west with an odd shower over hills.
Rather warm for the time of year, especially in the east, with highs to 19 °C
Bright with sunny spells. Cloudier over high ground in west. Less cold overnight into Sunday - where it will be dry with warm September sun
Read the full story ›
The next generation of footballers will be showing off their skills at the official opening of a state-of-the-art third generation (3G) artificial grass pitch.
The new all-weather pitch at the Active Life Centre at Coxhoe, County Durham will be officially 'christened' on Saturday with Roberta Blackman-Woods MP opening the new facility.
Black Cats mascot Samson will also be a special guest, along with Sunderland FC coaches hosting football for children.
The Active Life Centre at Coxhoe was among 324 local sports projects to secure a share of £17 million of National Lottery funding from Sport England's Inspired Facilities fund.
Centre Manager, Melanie Adams, said: "We are delighted to now be officially opening our new 3G pitch, after securing this investment from Sport England, which means we have been able to upgrade the quality of our outdoor sports facilities as part of our overall vision to create a wide range of sports and fitness programmes for all ages in our community. We will be opening up the space to local clubs, individuals and families for sports training and recreation."
A handful of North East Labour MPs have voted against British military involvement in Iraq.
Government plans to join air strikes against Islamic State (IS) in Iraq were backed in a commons ballot by 524 votes to 43.
Amongst those who voted no were Easington MP Grahame Morris, Ronnie Campbell, who represents Blythe Valley, and Jarrow MP Stephen Hepburn.
Load more updates