The Chief Constable of Durham Constabulary, Michael Barton QPM, will have his contract extended for a further three years.
Initially appointed to the role in February 2013, Mr Barton's term of office was due to end in February 2018.
Ron Hogg, Durham's Police Crime and Victims' Commissioner, who appointed Mr Barton, has decided to extend the contract to February 2021.
"I feel honoured and privileged to have the opportunity to extend my stay at such an outstanding force.

"The key ingredient to our success at Durham Constabulary is the people; the family of dedicated individuals who work tirelessly to make County Durham and Darlington a safer place to live and work.

"There will be challenges ahead as we work hard to maintain our position as the country's leading force, but I am delighted to continue to be a part of the team that meets those challenges and continues to improve."
– Mike Barton
Police have charged two people in connection with an attempted robbery at a corner shop in Darlington.
A masked gunman burst into Seema News and off-licence on North Road and threatened a shopkeeper on the night of July 23. The offender left empty handed and no-one was injured.
Lee David Roberts, 34, and Lucy Brack, 24, of Eldon Street in Darlington have both been arrested and charged with attempted armed robbery.
The pair will appear before magistrates at Newton Aycliffe this morning.
Advertisement
A 17-year-old boy was among two people taken to hospital after being stabbed at an Indian restaurant in Darlington
Read the full story ›
Helen McMillan has become the first female Chief Officer in Durham Constabulary's 177 year history.
Read the full story ›
Durham Police has adopted a cat as an official mascot after a five-year-old girl suggested the force use cats as well as dogs
Read the full story ›
Police say they received death threats relating to North West Durham MP Pat Glass who then made the decision to stay away from the EU count.
Read the full story ›
Advertisement
A man has died in a motorbike crash that happened last night.
The 49-year-old from Spennymoor was riding a Suzuki 843cc bike and was with a group of other motorbikes travelling from Barnard Castle to Spennymoor when the collision took place.
It happened just before 10am on Brusselton Lane in Shildon between the A68 Royal Oak and the A6072 Shildon bypass.
A 57-year-old woman, also from Spennymoor, and the pillion passenger, was taken to Darlington Memorial Hospital with injuries to their faces.
Police are investigating after the woman was found at an address in West Cornforth near Ferryhill on Saturday night.
Read the full story ›
Durham Police's Deputy Chief Constable Stephen Watson has been selected as the new Chief Constable of South Yorkshire Police.
Mr Watson will join South Yorkshire Police later this year having been with Durham Police since June 2015. Mr Watson began his career in 1988:
1988- Joined Lancashire Constabulary.
2006- Joined Merseyside Police as Chief Superintendent
Worked for Metropolitian Police as Commander of the East Area (6,000 officers and staff)
2012- Senior member of the Olympic Command
2015- appointed Deputy Chief Constable for Durham Constabulary
Mr Watson said:
"I have thoroughly enjoyed my time as Deputy Chief Constable in Durham and have met and worked with some fantastic people.
"The force is truly deserving of its outstanding status and I know Durham will continue to deliver the best possible policing service to the people of County Durham and Darlington."
Ron Hogg, Police, Crime and Victims' Commissioner said:
"Stephen Watson is one of the outstanding police leaders of his generation. He has been an exemplary Deputy Chief Constable for Durham, relentlessly committed to delivering the best service possible for the public. Whilst I am sorry to see him go, his talents will be put to good use in South Yorkshire Police, and Durham's loss is very much their gain. "The Chief Constable and I will begin our search for a new Deputy Chief Constable immediately".
– Ron Hogg, Police, Crime and Victims' Commissioner
A driver who was stopped by Darlington Special Constables after swerving across lanes on the A1 was found driving on only three tyres.
The person in charge of the car failed a breath test and was taken into custody this morning.
Driver stopped A1M for weaving across lanes.Stopped & only had 3 tyres!Now in custody for failing breath test #3586 https://t.co/ncEzTIz0dv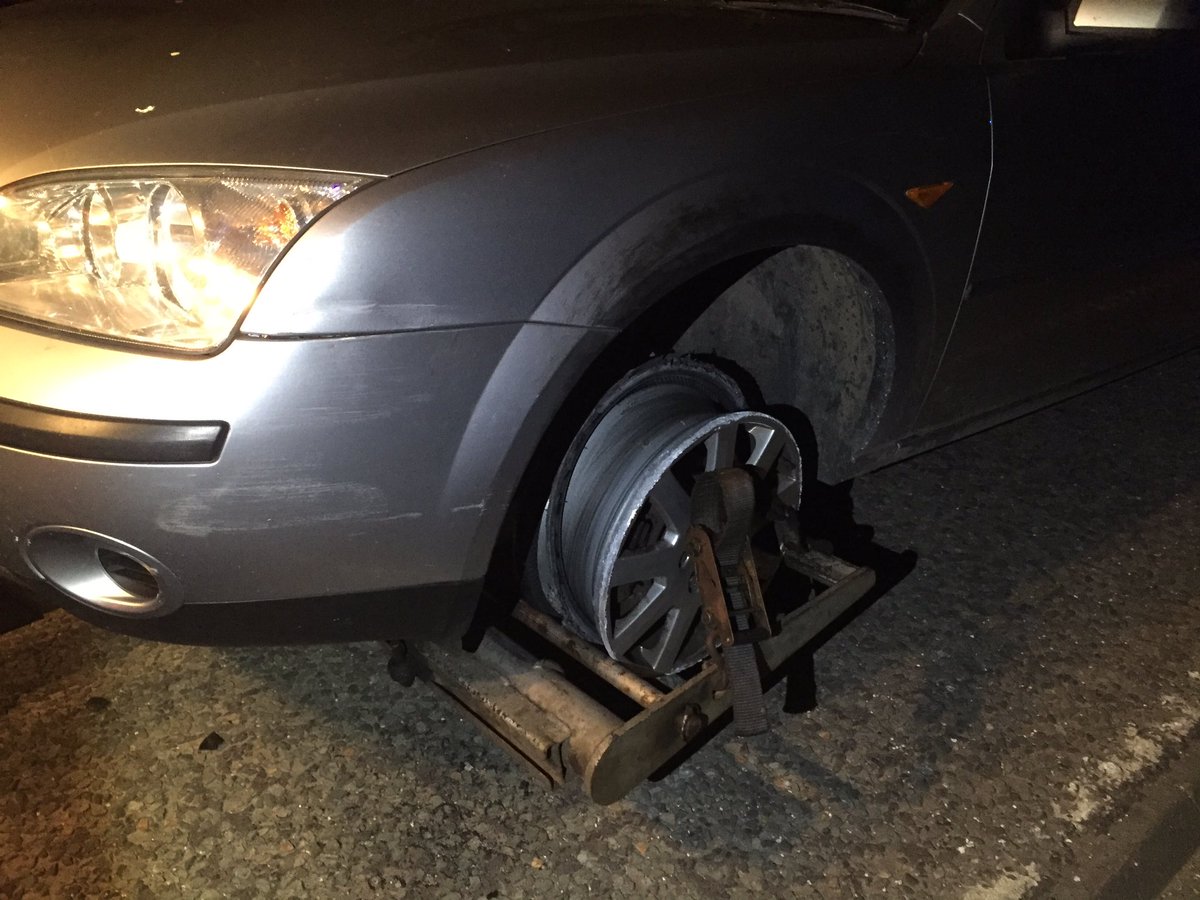 Load more updates