Durham Police's Deputy Chief Constable Stephen Watson has been selected as the new Chief Constable of South Yorkshire Police.
Mr Watson will join South Yorkshire Police later this year having been with Durham Police since June 2015. Mr Watson began his career in 1988:
1988- Joined Lancashire Constabulary.
2006- Joined Merseyside Police as Chief Superintendent
Worked for Metropolitian Police as Commander of the East Area (6,000 officers and staff)
2012- Senior member of the Olympic Command
2015- appointed Deputy Chief Constable for Durham Constabulary
Mr Watson said:
"I have thoroughly enjoyed my time as Deputy Chief Constable in Durham and have met and worked with some fantastic people.
"The force is truly deserving of its outstanding status and I know Durham will continue to deliver the best possible policing service to the people of County Durham and Darlington."
Ron Hogg, Police, Crime and Victims' Commissioner said:
"Stephen Watson is one of the outstanding police leaders of his generation. He has been an exemplary Deputy Chief Constable for Durham, relentlessly committed to delivering the best service possible for the public. Whilst I am sorry to see him go, his talents will be put to good use in South Yorkshire Police, and Durham's loss is very much their gain. "The Chief Constable and I will begin our search for a new Deputy Chief Constable immediately".
– Ron Hogg, Police, Crime and Victims' Commissioner
A driver who was stopped by Darlington Special Constables after swerving across lanes on the A1 was found driving on only three tyres.
The person in charge of the car failed a breath test and was taken into custody this morning.
Driver stopped A1M for weaving across lanes.Stopped & only had 3 tyres!Now in custody for failing breath test #3586 https://t.co/ncEzTIz0dv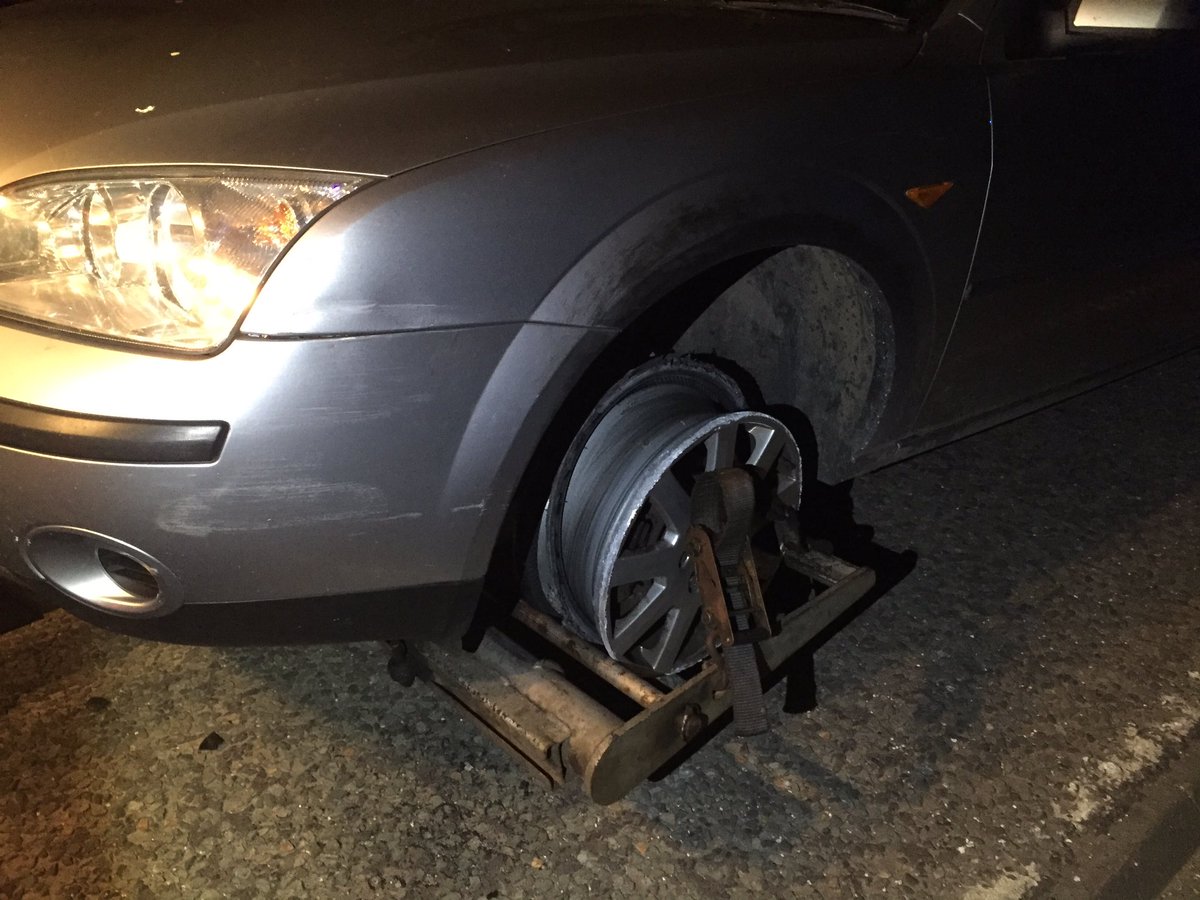 Advertisement
A controlled explosion has been carried out on what is believed to be a live hand grenade near Chester-le-Street.
Durham Police were called this afternoon after an off duty police officer located the device on Waldridge Lane. Police bomb disposal teams then attended.
Durham Police say they are unable to comment on the type of device and or how it came to be there.
Police have released dramatic footage of a car crash on the A19 which happened because a motorist was busy looking at another accident.
Craig Harding was distracted by another collision happening on the opposite side of the road in which an elderly driver had driven the wrong way down the carriageway.
60-year-old Marilyn McKnight was travelling in her Ford Ka with her son, Kevin, and daughter-in-law, Rachael, when their vehicle was hit by a Volkswagen Polo being driven by Mr Harding on 15th March 2015. Ms McKnight suffered severe injuries.
Craig Harding was charged with causing serious injury by dangerous driving.
The pictures were released as part of a national campaign to remind drivers to be more aware on the roads.
Senior Investigating Officer, Inspector Harry Simpson, from the Cleveland and Durham Specialist Operations Unit, said:
This footage shows what could happen should you not be giving your full attention to the road ahead. Marilyn's life has been altered beyond recognition and her son and daughter-in-law are still suffering from the effects of that day. It's worrying to think that a family day out could end up in such carnage."
– Senior Investigating Officer, Inspector Harry Simpson
An off duty Durham police officer who wrestled an armed robber to the ground has been nominated for a national bravery award.
Read the full story ›
Police are searching for a woman in Durham who was last seen just after 4.30pm on Thursday 12th May leaving the Marriot Hotel.
She is believed to have walked towards the city's Riverside area, to the rear of the Cellar Door Restaurant on Saddler Street.
It's thought she is in her 40's and wearing peach clothing.
Advertisement
Durham Police have confirmed that the A19 northbound carriageway has reopened following a serious accident.
The road was closed in both directions earlier to allow an air ambulance to land.
The A19 northbound carriageway in County Durham is still closed after an accident earlier.
The road was closed in both directions for a short time to allow an air ambulance to land. The southbound carriageway reopened at around 2pm.
Recovery operation underway for vehicles involved in rtc on A19 but n/b still closed at present and maybe another hour.
The southbound carriageway of the A19 has now reopened following a serious accident. Traffic is heavy but moving.
The northbound carriageway remains closed.
The A19 in County Durham is closed in both directions following a road traffic accident.
Both carriageways are shut between Seaham and Murton to allow the Air Ambulance to land. All three emergency services are on the scene.
Load more updates