Rain overnight should clear most areas for Monday. Here's your North East forecast as we head into the new working week
Read the full story ›
Advertisement
Dry with a decent dose of September sunshine for most areas this weekend. Fresher days than recently, cooler nights
Read the full story ›
Power has been restored to more than 36,000 homes after lightning strikes caused a massive powercut.
The lightning, which struck parts of Northumberland, Tyne and Wear, County Durham and Teesside, caused power cuts for around 38,000 customers.
Engineers from Northern Powergrid, the company responsible for running the power network across the North East, Yorkshire and northern Lincolnshire, said they have now restored power to more than 36,500 customers.
Northern Powergrid's helicopter has carried out patrols to help spot any damage and its front line staff are carrying out emergency repairs to the damage caused by the lightning.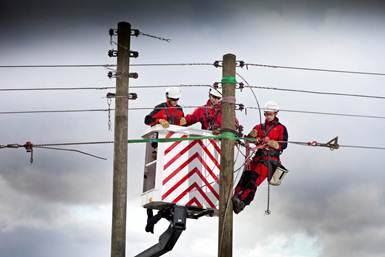 Advertisement
Storms hit the region in the early hours of Thursday - and some viewers were lucky enough to catch these dramatic pictures
Read the full story ›
Northern Powergrid says ten thousand customers are still without electricity following power cuts across Northumberland, Tyne and Wear, County Durham and Teesside.
During the night a total of 38,000 properties experiences power cuts, caused by thunder storms and lightning.
Supplies have now been restored to 28,000 of them.
A spokesperson for Northern Powergrid, the company that deals with the distribution of electricity to homes across the region, said that engineers were working to restore supplies to those still without.
If you want to find out more about the power cuts where you live you can use a smart phone to go to the company's website and check out their Power Cuts Map.
You can also find out more on social media, or by calling their new three-digit phone number 105.
Load more updates