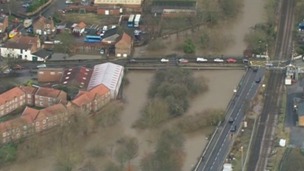 An investigation is starting into this year's flooding in North Yorkshire.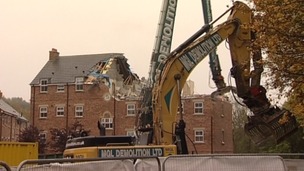 Former residents of a block of flats that was badly damaged by last month's floods have finally seen their homes demolished.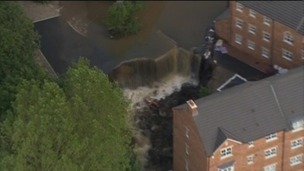 Residents on a Tyneside housing estate which will be partially demolished are no nearer finding out who is responsible for what's happened.
Live updates
Calendar
Road repairs programme announced by council
A programme of road improvements to repair the damage caused by last year's severe flooding has been announced today by North Yorkshire County Council.
The Council is to spend an additional £857,000 tackling highways drainage issues – on top of a £723,000 programme already agreed. In addition, the council had already allocated £2 million to pay for road repairs.
Anne McIntosh comment on draft water bill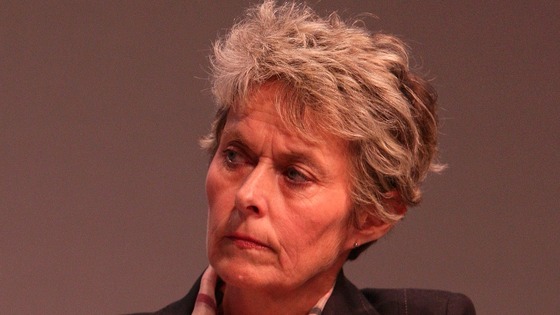 Anne McIntosh MP for Thirsk and Malton, gave a qualified welcome for the Government's plan for more competition in the water market but said more urgency was required to push through changes to improve flood resilience.
She said: "The Government has been too slow to implement changes that would protect homes and businesses from the shattering effects of flooding.
"Government must get on with implementing changes that would reduce flooding - many of which were recommended nearly five years ago.
"Widespread flooding has once again wrought devastation and heartache in communities across the country, including my constituency.
"Solutions that would reduce the impact of flooding are out there and would make a difference but successive Governments have not had the mettle to put them into practice."
Advertisement
Government too slow to prevent flooding
More should be done to help communities affected by flooding, a group of MPs said today.
The Environment, Food and Rural Affairs select committee, said the Government were "too slow" to implement changes that would help people when flooding occurs.
Chair of the committee Anne McIntosh, MP for Thirsk and Malton, said the Government must get on with implementing changes that will prevent flooding.
And she added many of the changes were recommended five years ago.
National
130 flood alerts in place as snow melts
The Environment Agency (EA) has issued seven flood warnings across England and Wales, with six in place for south-west England, after snow covering much of Britain is giving way to rapid thaw.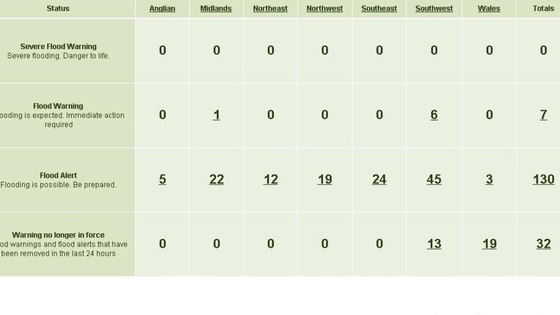 130 flood alerts meaning flooding is possible, are also in place after the agency warned of an increased risk of surface water and river flooding.
For more flooding information, follow the Environment Agency.
Tyne Tees Weather
National
Environment Agency warns of flood risk
The Environment Agency warned there is a risk of surface water and river flooding this weekend across England and Wales, particularly in the Midlands and north east England.
Emergency teams from the Environment Agency will be out in force throughout the weekend to shore up defences, monitor river levels and clear blockages from watercourses.

Those in areas at risk should check the Environment Agency website for the latest information - environment-agency.gov.uk/flood - and sign up for free flood warnings on the Environment Agency's website or by calling the Environment Agency Flood Line on 0845 988 1188.
More snow to fall across region
National
Final heavy snow falls before wet weekend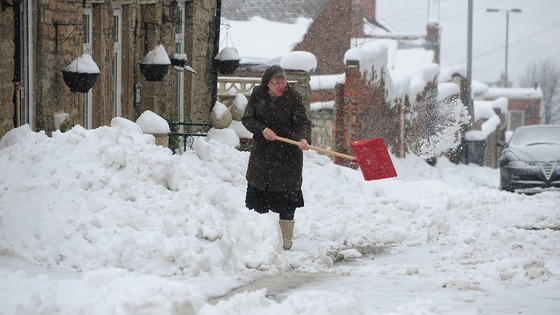 Heavy snow fell again today in several parts of the UK today: in the north and east of England, in the Midlands and in Scotland and Wales.
Temperatures are due to rise from tomorrow, hitting 4 degrees and reaching up to 10 degrees in parts of the south of the country on Sunday. Forecasters are warning of the high risk of flooding, as temperatures rise, the snow begins to melt, and rain begins to fall later this evening.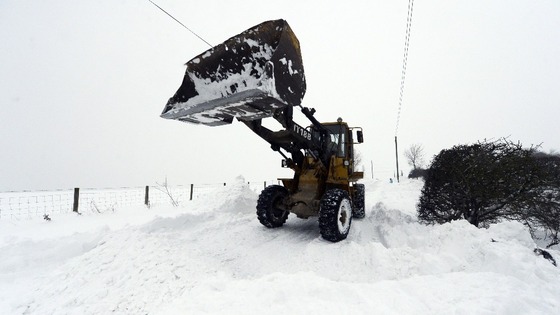 Read More: More snow on the way, but a warmer, wetter weekend to follow
Advertisement
More snow to fall across region
National
Final snowfall set to hit UK before flooding fears
Britain will be hit by one final fall of heavy snow today ahead of flooding fears over the weekend.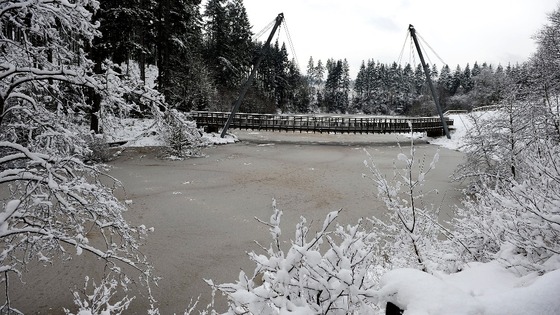 Scotland, northern England, the Midlands and the east will see the worst of the snow, with up to seven inches predicted over high ground, which is likely to cause more disruption for schools and travel networks.
Weather experts have warned of the risk of flooding tomorrow, as heavy rain moves in and rising temperatures spark a rapid thaw of the built-up snow and ice.
Temperatures will steadily rise from tomorrow to an average of 4C before reaching more than 10C in the south on Sunday followed by wet and windy weather next week.
More flooding misery
National
Yorkshire battles floods after Ouse spills over its banks
The River Ouse in central York, which has flooded several times in the past few weeks, is currently more than 13ft (4m) above its average summer level after spilling over its banks again.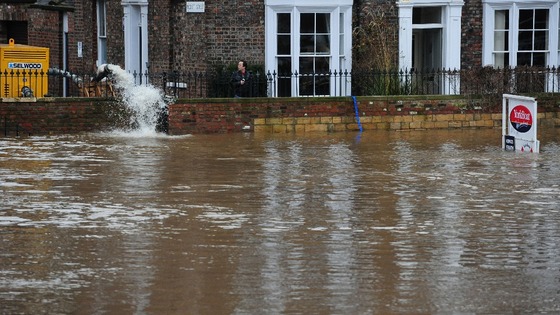 Pumps were being used to clear water from pubs, restaurants, homes and hotels along its banks today.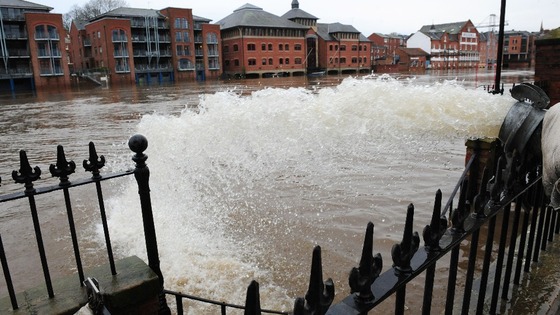 Many of the businesses hit were in the process of being renovated, having been shut since November's deluge.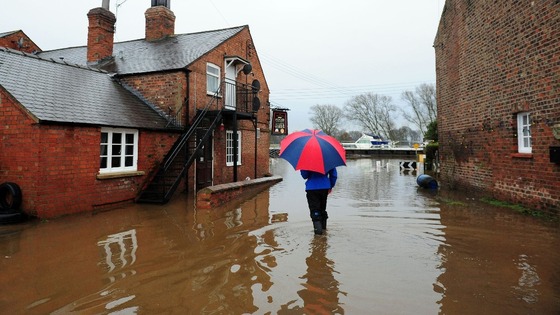 Flood warnings for North East
National
Flood warnings in place across UK
There are 210 flood alerts (where flooding is possible) and 93 flood warnings (where flooding is expected) in place as heavy rain continues to batter Britain.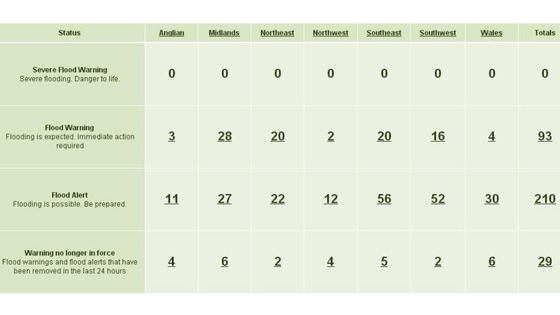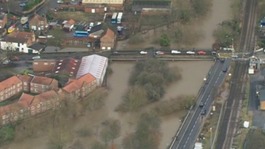 Load more updates
Back to top