The Highways Agency said the £61m scheme to increase the number of lanes from two to three will tackle congestion
Read the full story ›
Advertisement
The Special Olympics is for children and adults with intellectual disabilities - and the country's fastest growing club is in Gateshead.
Read the full story ›
A quarter of households in the tiny village of Bowburn, County Durham, were affected by the battle with nearly 50 men killed.
Read the full story ›
Newcastle MP Chi Onwurah has further revealed why she voted against Jeremy Corbyn.
It follows a motion of no confidence in Labour leader Jeremy Corbyn, which was passed by the party's MPs in a 172-40 vote.
The vote is not binding, but it follows resignations from the shadow cabinet and calls on Mr Corbyn to quit.
Now, Chi Onwurah has elaborated on why she voted against the Labour party's leader.
The last few days have been some of the most difficult since I was given the honour of being your voice in Parliament. I joined the Labour Party aged 16 but I was born into the Labour Movement and benefited personally from its struggle for equality, decent housing, education, health service and all the precious fruits of decades of activism.

To oppose the elected leader of the Labour Party is not in my nature...

...Having worked in business and the public sector across three continents and many different cultures, I have experience of many types of effective leadership. Jeremy's leadership is not effective. The lack of leadership following the Brexit vote was emblematic of this.
– Chi Onwurah, Newcastle MP
Hundreds of images have been unearthed of soldiers who posed for photos before they went into battle at the Somme.
Read the full story ›
Advertisement
North West Durham MP Pat Glass has stood down as shadow education minister - just days after being appointed by Jeremy Corbyn.
The resignation has heaped more pressure on the Labour leader who has refused to resign despite overwhelmingly losing a vote of no confidence.
Pat Glass had been handed the education brief as the Labour leader struggled to find sufficient loyalists to form a team in the wake of a mass walkout and massive vote of no confidence.
She is due to stand down as an MP at the next general election.
She was joined by South Shields MP Emma Lewell-Buckwho said she was "heartbroken at the state of the party" and could no longer continue as shadow local government minister.
It is with a heavy heart that I have today resigned as Shadow SoS Education. My dream job but the situation is untenable
South Shields MP Emma Lewell-Buck has confirmed on Twitter that she is resigning from Labour's front bench team.
Today I'm stepping down as Shadow Minister heartbroken at state of Party & recent events so sorry things have came to this, statement later
In her resignation letter to Mr Corbyn, she said: "I am appalled at what is happening to our party and they way in which you have been treated by some in the Parliamentary Labour Party not just recently, but since your election.
The Party is shambolic and divided at a critical time rather than providing effective opposition to a Government that has so badly damaged the prospects of the people in South Shields.
The situation has now become untenable and is an impossible environment to work in."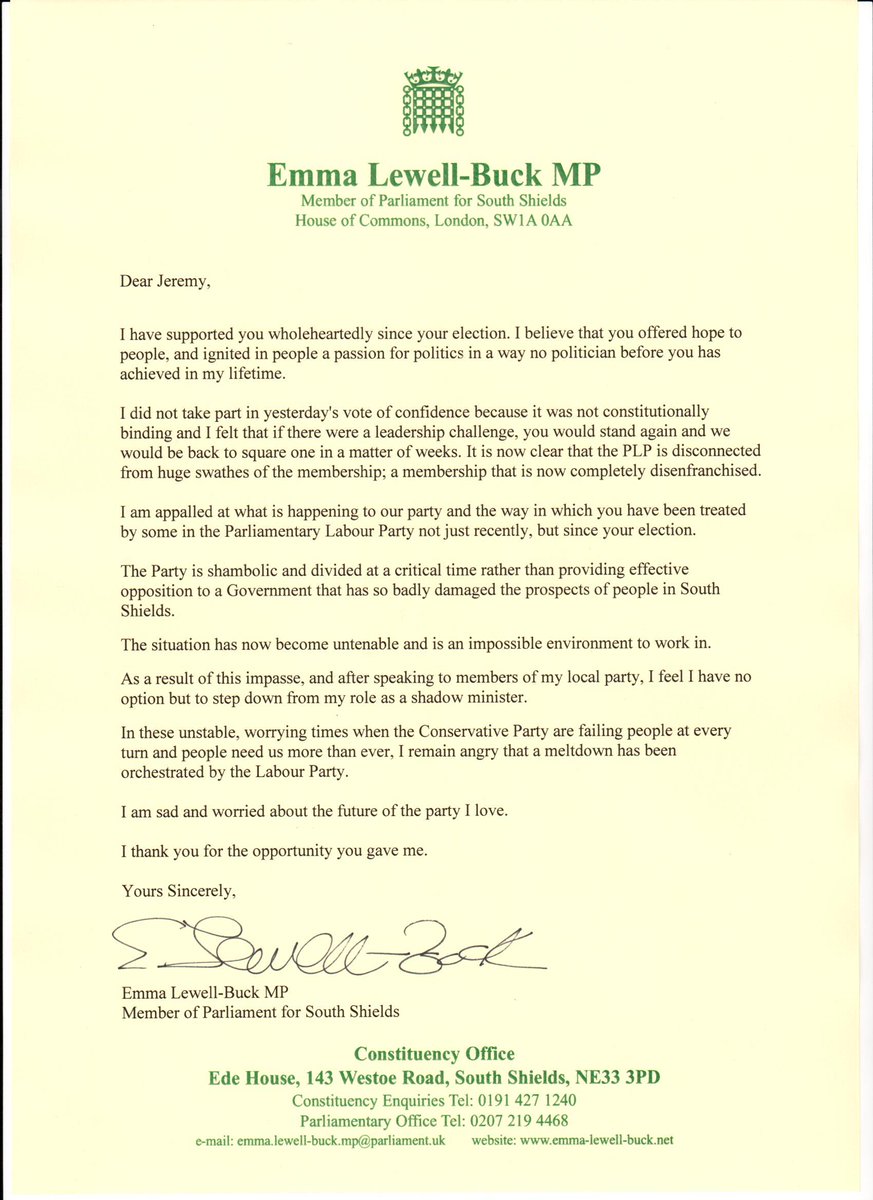 The northbound A1 near Newcastle and Gateshead between junctions 67 (Coal House) and 68 (Lobley Hill) is now fully open after repairs to a hole on the carriageway were completed overnight.
The hole, which was 3m deep, has now been filled with a specialist concrete mixture and holes were drilled to pump more material underneath the repair to prevent further collapse.
Lynne Biddles, Highways England Project Manager, said:
We have been working hard since the hole was discovered and we have now re-opened the road in time for this morning's rush hour. I want to thank drivers for their patience as we carried out the urgent repairs.
– Lynne Biddles
Highways England worked with key partners to put measures in place to help ease congestion.
These included installing a contraflow on the southbound section of the A1 and putting local diversion routes in place. Toll barriers were also lifted for the Tyne Tunnel but are now back in place.
The large hole under the A1 was discovered on Saturday night when a slight dip in the road surface became apparent. Workers then cut around the dip to investigate and discovered a large void underneath the road surface.
Thankfully it was in a coned off stretch due to roadworks elsewhere on the A1, so there was no traffic using the road at the time.
Load more updates