Local bus company Go North East will be running a dedicated service between Haymarket Bus Station in Newcastle and the finish area in South Shields throughout the day of the Great North Run for the 55,000 people expected to take part.
The R1 service will link the start and finish of the race with buses running at least every 10 minutes. From 06.15-10.30 buses will run between the finish area at Bents Park Road at South Shields to Haymarket Bus Station in Newcastle, which is only a short walk to the start.
From 07.00-12.00 buses will run between Haymarket Bus Station to the finish area and from 12.30-17.00 buses will run from the finish area to Newcastle.
There will also be extra buses running between South Shields Town Centre and Newcastle on the X27 route between 13.00 & 17.00 to help to make sure that everyone gets home quickly.
John Robson is a veteran runner and adventurer, but his biggest challenge was bouncing back from an illness that left him unable to move.
Read the full story ›
Advertisement
The former Olympian Lord Coe will officially start this year's Great North Run, organisers have confirmed.
57,000 runners will take part in the half-marathon on Sunday 7th September. One of them will be the millionth finisher of the iconic event.
More details have been released about the Great North Run Million Opening Ceremony, due to take place on September 4th.
Organisers Nova International say the event on the Newcastle-Gateshead Quayside will include fireworks and man-made lightning strikes.
The fireworks will be provided by pyrotechnic wizards, Alchemy, who have lit up the skies above some of the UK's most iconic venues, including Tower Bridge for the Queen's Diamond Jubilee celebrations.
They will create a large-scale fire sculpture, close proximity pyrotechnics and aerial fireworks in a variety of locations on the river, bridges, and the Quaysides.
A group called Lords of Lightening will also make an appearance.
Described as one of the most unique and fascinating shows on the planet, this show was created by New Zealand born Carlos Van Camp.
The crackle of Lightning Bolts will crash into the Tyne from two towers as two people, dressed in metal suits, interact with the power of lightning.
Harnessing 4 million volts of electricity, this performance has seared itself into the memory of audiences
worldwide and is set to dazzle and amaze the audience at this year's Great North Run Million Opening Ceremony.
Described by organisers as the biggest party in the North East, the Great North Run opening ceremony will also feature live performances from local hero and Dire Straits legend Mark Knopfler, plus multi-platinum selling dance duo, Chase & Status.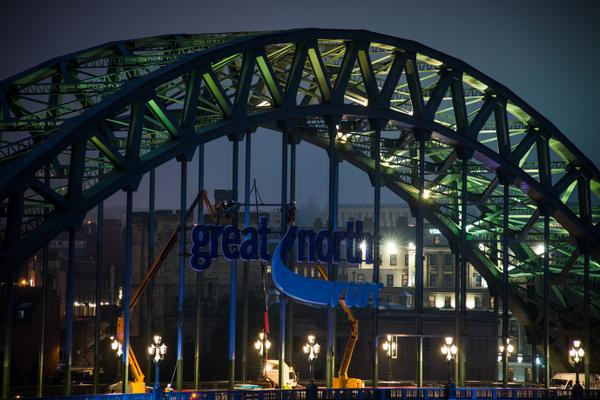 It's just around the corner, the nerves are kicking in - it's time to ask the experts!
Ahead of the Great North Run on September 7th 2014, we ask personal trainers what you should be doing to prepare for the half marathon.
"Find yourself a training buddy as it is the competitive element which spurs you on - especially on the days when you're not feeling it. Keep it simple and eat clean - you can't go wrong with fresh, whole foods. But do remember to treat yourself once every couple weeks as it'll keep you sane!"
– Rachael Jackson
"Keep to your routine, nutrition, clothing and footwear - don't shock your body into change before the big day."
– Graham Irving
Advertisement
The Tyne Bridge is receiving a bit of a make over ahead of the Great North Run on September 7th 2014. A sign is currently being put up to promote the half marathon. Ray Scott has been along to see it. He has run every race so far!
Organisers of The Great North Run Million Opening Ceremony have announced that Chase & Status will now perform alongside Mark Knopfler who was previously confirmed to be on the bill.
Organisers of the Great North Run are recruiting for 1500 volunteers to perform at a special opening ceremony on the Newcastle and Gateshead quayside, three days before the race.
In 2014, the millionth runner to finish the run since it began in 1981 will cross the line. To celebrate, the opening ceremony will include music, dance, film projections onto the Sage Gateshead, a giant floating sculpture and pyrotechnics, to tell the history of the North East.
Organisers want 1500 performers to form a circle around the Quayside, performing at key moments during the show. No experience is required.
Volunteers - who must be aged 16 or older on 8th August - will be required to attend two weekend rehearsals in August, and be available from 2pm into the evening on Thursday 4th September.
The deadline for applications is 18th July. See the Great North Run website for details.
Geordie rock legend Mark Knopfler will perform at the Great North Run Million Opening Ceremony on Thursday 4 September. Organisers say a spectacular opening ceremony this year will herald the race which will see a millionth person complete the course.
This is believed to be a world first, and the milestone will be celebrated with an opening event which will feature live music, film and a dance performance, as well as star appearances, all held on the Newcastle-Gateshead Quayside.
Organisers say it will transform the River Tyne into an outdoor arena ahead of the Great North Run three days later.Mark Knopfler said: "I'm proud to have been a supporter of this great event from the beginning and am looking forward to being there to play 'Local Hero' "
Mark Knopfler is best known as the lead guitarist, vocalist, and songwriter for the global rock legends Dire Straits, who have sold over 120 million albums to date, and he was ranked number 27 in Rolling Stone magazine's list of 100 Greatest Guitarists of All Time.
Load more updates