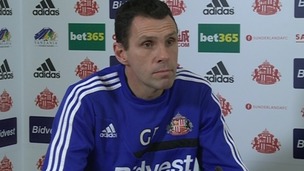 Sunderland boss Gus Poyet doesn't understand FA decision not to retrospectively punish Man City midfielder Yaya Toure.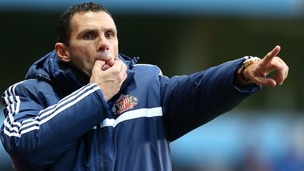 Sunderland will host Chelsea at the Stadium of Light this evening.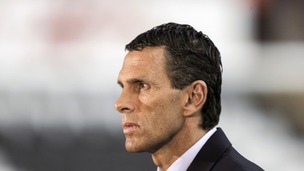 Gus Poyet has been handed the task of dragging Sunderland out of relegation trouble after being named as Paolo Di Canio's successor
Live updates
Sunderland manager, Gus Poyet, on their Premier League clash against Manchester City at Etihad Stadium on Wednesday night (April 16).
Final score: Man City 2, Sunderland 2.
Sunderland Head Coach Gus Poyet has dismissed rumours surrounding his future at the club.
Speculation emerged on social media that the Uruguayan had left the Black Cats. But speaking at his pre-match press conference ahead of Wednesday's Premier League clash with Manchester City, he said: "I'm still here".
Poyet was also quizzed over his recent comments about the club's underlying "problem".
Advertisement
Sunderland boss Gus Poyet said his side's 1-0 Premier League defeat to Everton was "difficult to take".
Watch the full post-match press conference here:
Sunderland boss Gus Poyet says he will continue to play midfielder Jack Colback and defender Phil Bardsley despite the pair rejecting new contracts with the club.
Both players will be out-of-contract in the summer and free to leave the Black Cats.
Sunderland boss Gus Poyet has insisted that his players aren't feeling sorry for the themselves despite the club being bottom of the Premier League table.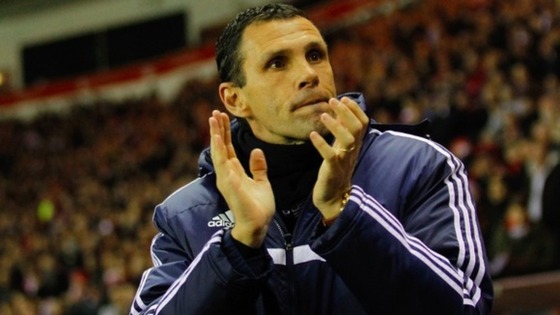 Sunderland head coach Gus Poyet will return to former club Tottenham expecting no favours from old friend Tim Sherwood.
The 46-year-old Uruguayan spent three years at White Hart Lane as a player and had a spell there as a coach too before launching his managerial career.
He played in the same Spurs side as current manager Tim Sherwood, a man he hopes is given the chance to make his mark on the team amid speculation that a replacement is already being lined up.
However, he knows will receive no sympathy from his one-time team-mate as he looks for the victory he so desperately needs to give the Black Cats renewed hope that they can out of Premier League relegation trouble.
Poyet said: "No chance. From Tim Sherwood? No, no, no, no favours."
Advertisement
Bruce: Sunderland could be in serious trouble
Sunderland boss Gus Poyet says the situation surrounding Ji Dong-won "wasn't easy" for the club.
The Black Cats have been fined by the Football Association for playing the South Korean earlier in the season without international clearance. The club said in a statement the issue was a result of a "technical fault".
The 22-year-old is now with German side FC Augsburg and is joining Bundesliga giants Borussia Dortmund in the summer.
Sunderland AFC's Premier League survival hopes suffered another blow when they lost at home to West Ham. The opening goal was scored by former Newcastle striker Andy Carroll. West Ham doubled their lead in the second half when Mohamed Diami's shot deflected in.
Adam Johnson gave Sunderland fans some hope when he reduced the arrears. But it was too little too late.
Sunderland face a tough trip to title-chasers Liverpool tomorrow. The Black Cats have slumped deeper into relegation trouble since their League Cup Final defeat at the start of March.
With just ten games to go, Gus Poyet says his team cannot afford to let a single opportunity pass them by:
North East Premier League football
Sunderland's Head Coach Gus Poyet believes only the strong will survive the Premier League's closest relegation battle in years.
The Black Cats are third from the bottom of the table and face another vital game away to Norwich City on Saturday. The bottom ten teams are all still in danger.
Poyet believes bravery is the key to survival this season.
"I think that's going to be the main thing, from now to the end of the season. I think the team that is more brave as a team, which means most individuals, is going to be the one that is going to stay up.
"I am pretty sure because the difference between the teams is very little. So the idea here is to maintain that level of concentration all the time and be the team who is the bravest from the bottom ten."
Load more updates
Back to top