Gateshead have named former Hartlepool United and Darlington defender Neil Aspin as the club's new First-Team Manager.
The 50-year-old joins the Heeds on an 18-month contract and takes over from Malcolm Crosby, who was sacked last weekend after a poor run of results.
It is Aspin's first managerial post since leaving National League side Halifax Town in September.
Apsin, who was born in Gateshead, said:
This means a great deal to me. I was born here and left to pursue my football career and it's fantastic to come back.
– Neil Aspin, Gateshead FC Manager
Aspin began his managerial career with Harrogate Town half-way through the 2004-05 campaign. He remained at Wetherby Road for four-and-a-half years, guiding the club to a series of top-half finishes before being appointed Halifax boss in 2009.
Hartlepool United manager Ronnie Moore insists his team won't fear an FA Cup giant killing after being drawn against Salford City in next month's second round.
Salford, who are owned by five members of Manchester United's Class of '92, stunned Notts County in their first round tie on Friday.
Meanwhile, Hartlepool were far from convincing as they edged past Conference Premier outfit Cheltenham Town 1-0.
They'll now face the Northern Premier side with confidence that they won't be the victims of an upset.
"I think it's a nation against Hartlepool isn't it? I mean everybody will want Salford to win, the Class of '92 being involved is a big thing," Moore told ITV News.

"But we've just got to go and try and enjoy it, if it's not a TV game I don't know what is – it's there for everybody who is looking for upsets.

"But not only that both teams are probably thinking they've got a chance of winning and if you do win it well third round the big boys are there for you and maybe Salford or ourselves will get the proper Man United and that'll be an interesting cup game won't it?"
– Hartlepool United manager Ronnie Moore
Advertisement
York City starting line-up v Hartlepool: Flinders, Lowe, Winfield, Zubar, McCoy, Summerfield, Penn, Berrett, Tutonda, Oliver, Thompson
Pools unchanged: Bartlett, Duckworth, Harrison, Worley, Carroll, Magnay, Featherstone, Woods, Fenwick, Paynter, Bingham.
The new owners of Hartlepool United have spoken for the first time about their plans to take the club forward.
JPNG took charge at Victoria Park this week.
The group is hoping to bring stability to the club and says 'it's in good hands'.
New chairman Gary Coxall said it would be "business as usual" on the football side of things.
Hartlepool United are expected to reveal more details about the club's new owners.
Its majority shareholder, IOR (Increased Oil Recovery) has announced that a takeover has been agreed.
A sale had been decided last December to TMH2014 Limited but it was revealed in February that the deal had fallen through.
Chairman Ken Hodcroft has stepped down and IOR, which bought the club in 1997, will relinquish control.
Hartlepool will start the new season with new owners at the helm after the team's dramatic escape from relegation.
Pools fans are hoping the changes will bring new investment.
Hartlepool will reveal their new owners on Monday after majority shareholders announced a takeover of the club has been agreed.
Read the full story ›
Advertisement
Hartlepool United have tonight confirmed that the club has been sold. It's been owned by the firm Independent Oilfield Rentals (IOR) since 1997.
They say the decision to sell is in the club's best interests.
Meanwhile current Chairman Ken Hodcroft has also stepped aside in the move.
The club's new owners haven't been revealed, although a statement will be released on Monday.
IOR released the following statement a short time ago:
For approximately 18 years IOR have owned Hartlepool United but today they can announce that new owners will be taking over the Club and Ken Hodcroft will step down as Chairman from today.

IOR believe this will be in the best interests for taking the Club forward into hopefully some exciting years ahead.

IOR would like to thank everybody for working together from January onwards to pull off 'The Great Escape' at the end of last season, including all members of staff and particularly the fans who gave their full support to the Club and IOR through what was a very critical period for the Club."
– Hartlepool United
The club has said a further and more detailed statement will be made on Monday, June 22.
Newcastle v Swansea
Stoke v Sunderland
Fulham v Middlesbrough
Hartlepool v Exeter
York v Newport
All matches kick off at 3pm.
A North East school are competing as Hartlepool United in this year's Football League Girls Cup final at Wembley.
The girls, from Northfield School and Sports College in Billingham, are playing against Brentford (Elthorne Park High School) in the final which is taking place ahead of today's Johnstone's Paint Trophy final.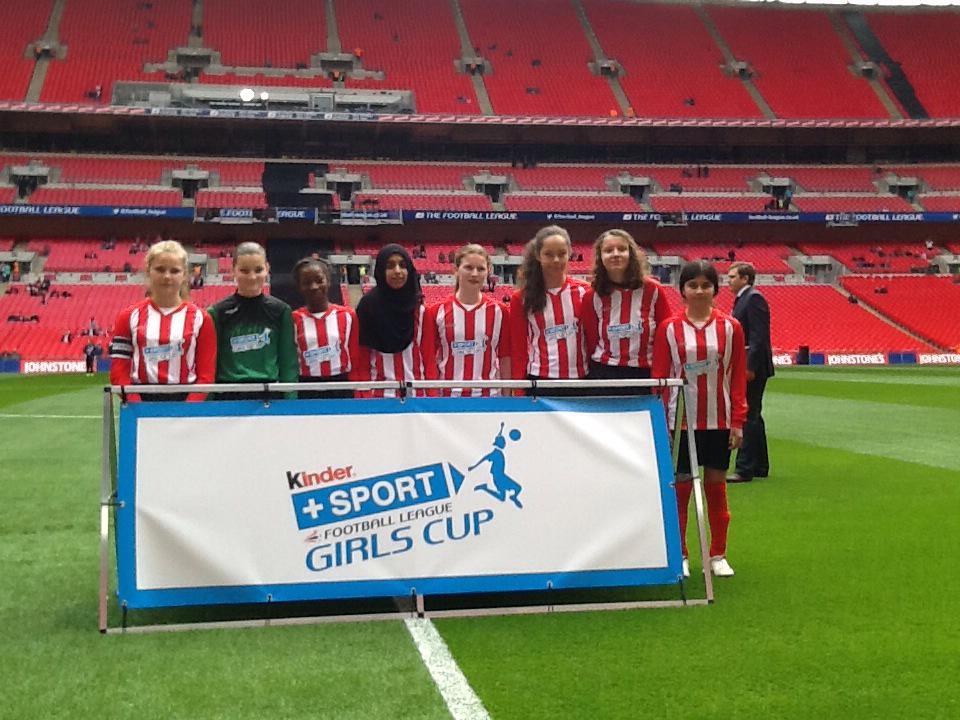 Hartlepool United boss Ronnie Moore says his side must improve their away form in order to stay in the Football League.
Despite a 1-0 defeat at home to Burton Albion yesterday, Pools have won four of the last six games at Victoria Park. In contrast, they have only taken one point from their previous six away games.
Pools are eight points adrift at the bottom of League Two and Moore says Hartlepool need to start earning points on the road to stay up.
Load more updates