The 31-year-old was walking with his pregnant girlfriend when he was assaulted with a tree branch and had his t-shirt ripped.
Read the full story ›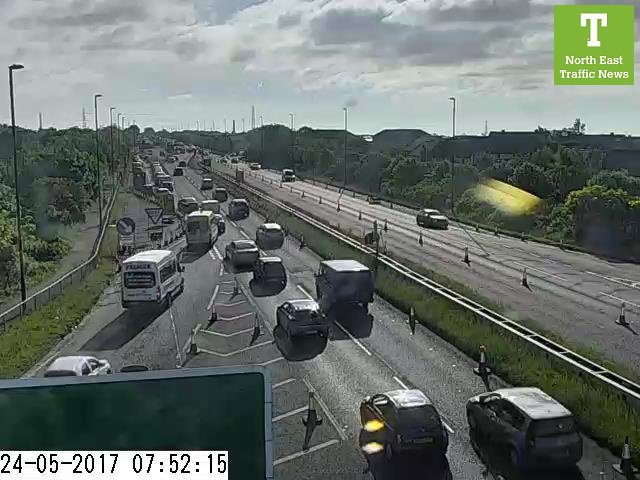 Advertisement
North East drivers face delays as they head into work on Friday morning as commuters continue to suffer the aftermath of two burst pipes on Wednesday 17 May.
Drivers are warned to expect "significant congestion" in Newcastle as a result.
Jesmond Dene road is down to one lane with temporary traffic lights in place to allow roadworks to take place.
Northumbrian Water update customers and North East drivers following burst water pipes on Wednesday.
A spokesperson for the supplier says water has been restored to customers and damage to water pipes has been repaired:
Following the two burst water pipes yesterday repairs are now complete.

On the A189 Jesmond Dene Road, a temporary road surface has been laid and one lane has been re-opened.Two-way traffic lights are in place to allow traffic to flow in both directions.

The repair to the road has been agreed with Newcastle City Council's highways team, and only one lane will remain open until Sunday. This is to ensure the repair being carried out will remove the need to return at a later date to install a permanent surface.

There will still be significant congestion in this area.

The repair on Heaton Road is complete, residents may see our teams in the area as they are carrying out checks on the pipes.

Once again we are very sorry for the severe disruption these bursts have caused our customers and commuters and we thank them for their patience and understanding.
– Northumbrian Water spokesperson
Northumbrian Water customer are encouraged to refer to the company's twitter for updates.
Customers can keep up to date on our Twitter account, @nwater_care."
– Northumbrian Water spokesperson
The A189 Jesmond Dene Road has now reopened following a burst water main in the area on Wednesday.
Temporary traffic lights are in place while roadworks continue.
Repair works is yet to be completed.
A189 Jesmond Dene Road has now been reopened and under temporray traffic light control until the works are complete… https://t.co/kHT6J0aj7u
Commuters can continue to expect delays and diversions this morning, after two burst water mains in Newcastle yesterday, Wednesday 17th May.
The burst main on Heaton Road has now been fixed. However, repairs to the burst on Jesmond Dene Road are ongoing and the road will remain closed with diversions.
Metro bosses said trains were back up on running last night. A statement by a Northumbria Water spokesperson last night said:
We are continuing to work hard to repair the pipes and reinstate roads from today's two bursts in Newcastle.

The burst main in Heaton Road has been fixed and the road is being repaired. Our traffic management at that location is expected to be removed in time for Thursday morning's commuter period.

Repairs to the burst in Jesmond Dene Road are ongoing. We will be working through the night to reinstate the carriageway in the anticipation of re-opening the road at some point on Thursday, however, people should expect the road to remain closed and diversions in place this evening and during the morning's rush hour.
– Northumbrian Water spokesperson
Advertisement
Roadworks remain in place, as work continues to repair the pipes affected, with road closures are likely to run into tonight.
Read the full story ›
Commuters faced long delays after flooding in Newcastle. Two water mains burst in Heaton and Jesmond leaving 1,500 homes without power.
Read the full story ›
A hundred students were partying in a back alley in Jesmond. Officers described their behaviour as "some of the worst" they've ever seen.
Read the full story ›
There are possible delays of 30 minutes on Metro trains running from Jesmond, South Shields and South Hylton.
A failed train has had to be removed from the Jesmond station.
Load more updates