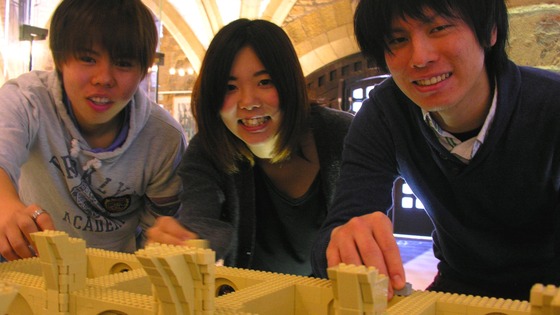 A group of students from Teikyo University, Japan have been volunteering at Durham Cathedral as part of a scheme to improve their English language skills.
For the last four months, Japanese undergraduate students from Teikyo University have been volunteering alongside LEGO volunteers at Durham Cathedral to help with the Durham Cathedral LEGO Build, a fundraising venture which will raise funds for the Cathedral's Open Treasure project.
The students have experienced different aspects of the Durham Cathedral LEGO Build from sorting and selling bricks to helping members of the public place their bricks on the model itself.
"I have really enjoyed being part of the LEGO project at Durham Cathedral.

"I have met many different people and my English skills have improved greatly. I can't wait to see the LEGO model when it is finished!"
– Yu Hannahira, Volunteer
"Thanks to the Durham Cathedral LEGO Project, our undergraduate students from Japan are not only contributing to a worthy project but they are also benefiting linguistically.

"Five students have successfully completed voluntary placements over the last 4 months and I am hopeful we can continue this from September when our new students arrive from Japan."
– Helen McAree, Deputy EFL Co-ordinator