Sonia Samuels and Aly Dixon to take on new half marathon a month before they head out to Australia for the Commonwealth Games
Read the full story ›
We've been speaking to North East marathon runner Aly Dixon as many people make New Year fitness challenges
Read the full story ›
Advertisement
Tony Phoenix-Morrison, the fundraiser who carries a 42kg fridge, has been forced to abandon his latest challenge - which he had said would be his last - because of sickness.
Tony, known as 'The Fridge', was trying to run four marathons within 24 hours, starting with the London Marathon.
However, he has suffered sunstroke and sickness overnight, including fainting. He called the race off after his second marathon.
I don't care about records of challenges. I started this to raise thousands of pounds for charity, which I have. I had a magnificent reception from the Londoners and that is what counts. What will be, will be.
– Tony 'The Fridge' Phoenix-Morrison
Tony the Fridge has 'just a few miles to go' and is hoping to complete his challenge of four marathons in 24 hours within the hour.
Advertisement
Thanks everybody for all the lovely messages, I'm exhausted and emotional but I'm still going because you x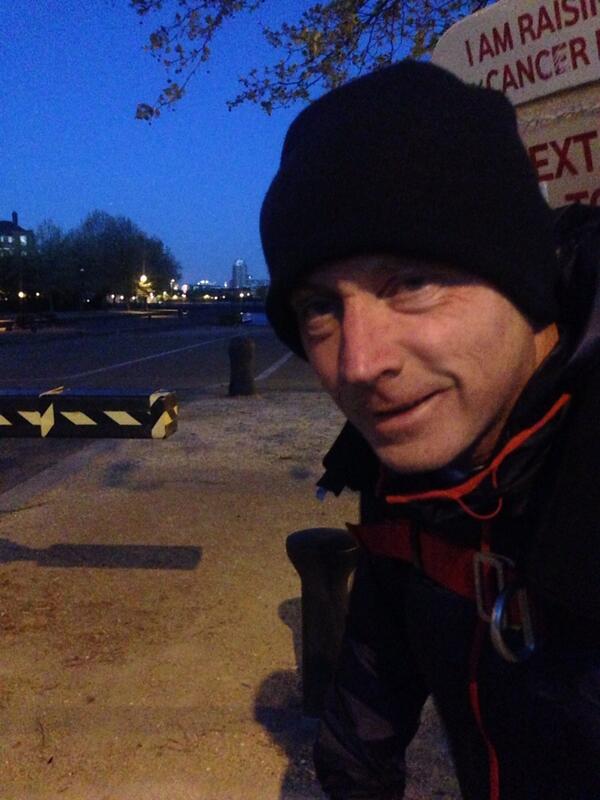 Tony 'The Fridge' Morrison says he has been overwhelmed by the support from people across the country.
The fundraiser, who is on his last charity run with a fridge on his back, says the London Marathon was harder than he thought. He spoke to Kenny Toal after crossing the finish line.
Tony 'the Fridge' Morrison has finished the first part of his gruelling challenge. He completed the London Marathon at around 4.30pm.
The fundraiser, from South Tyneside, will have a short break before starting again on his second of four marathons.
Tony 'The Fridge' Morrison has spent the past few years raising thousands of pounds for cancer charities running the length and breadth of the country with a 42kg fridge on his back.
His efforts have taken their toll on his body and today he's embarking on his final challenge.
Tony, from South Tyneside, is running four marathons in one day. His first was with thousands of others as he took part in the London Marathon.
But while the other runners will be nursing sore limbs and blisters, Tony will continue to run.
Over the last four years he has ran 30 half-marathons in 30 consecutive days and trekked from John O'Groats to Land's End for the Sir Bobby Robson Foundation.
This final challenge will raise thousands for Cancer Research.
Follow Tony's progress every step of the way here
Load more updates