Thursday June 28 2012 was the day the rains came down across the North East.
Thunder Thursday: Your memories of that day in pictures
Advertisement
Cloud has been increasing through the morning with outbreaks of rain arriving from the southwest.
Some heavy bursts of rain are possible, especially this afternoon.
Maximum Temperature 19 °C.
After a dry start with some sunny spells, cloud will thicken from the west to bring outbreaks of rain across the region through the afternoon.
Maximum Temperature 17 °C.
Grahame Morris has been appointed as shadow secretary for communities and local government, and shadow minister for the constitutional convention.
Jeremy Corbyn has been fighting through a rebellion of his front bench MPs, after several members of his shadow cabinet resigned.
Advertisement
Two new shadow cabinet members have defended Labour leader Jeremy Corbyn's involvement in the Remain campaign, saying his actions were anything but "half-hearted."
Pat Glass, MP for North West Durham, and Andy McDonald, MP for Middlesbrough spoke to our Political Correspondent Paul Brand following their appointments today.
Both have taken up roles in Labour's front bench team; Pat Glass as Shadow Education Secretary and Andy McDonald as Shadow Secretary of State for Transport.
Paul Brand asked them both 'Do you think Jeremy Corbyn put his whole heart into the EU Referendum Remain campaign?'
Pat Glass and Andy McDonald
So where next for the Labour party - in a region which holds many of its key seats?
We've been to Sedgefield - the former constituency of Tony Blair - which he served as MP, and during his time as Prime Minister.
But could the party achieve success, under Jeremy Corbyn? Our correspondent, Frances Read, has this report.
Sharon Hodgson, the MP for Washington and Sunderland West, is now the fifth North East MP to resign from Labour's front bench team.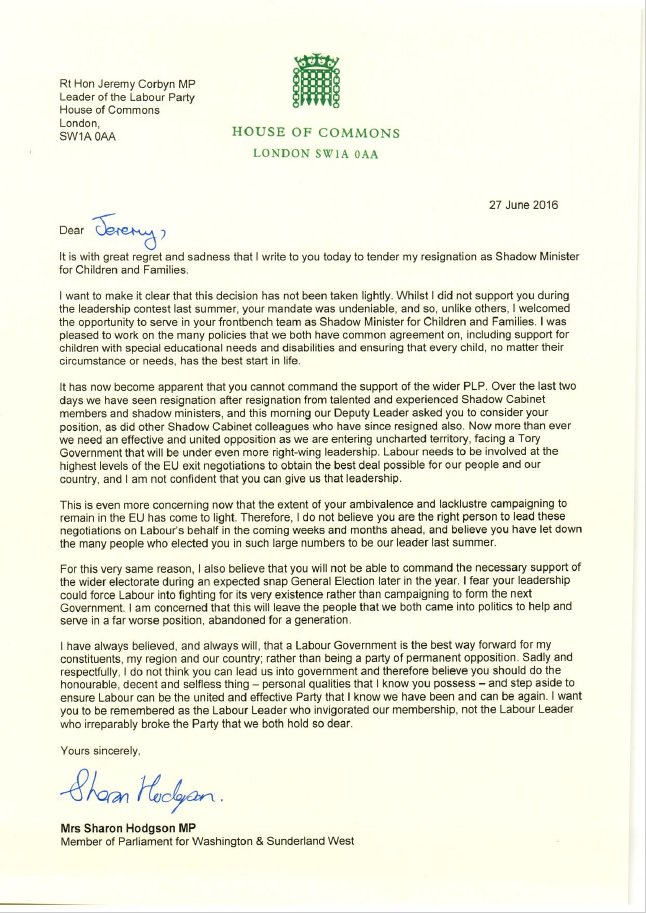 Load more updates