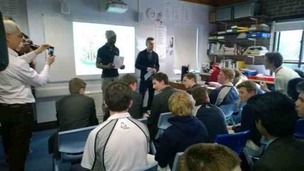 Dedenders Mapou Yanga-Mbiwa and Mathieu Debuchy helped take a class at Newcastle Sschool for Boys in Gosforth.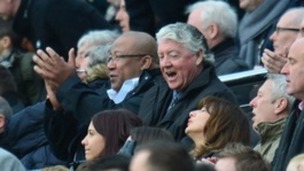 Newcastle boss Alan Pardew has insisted he was sad to see director of football Joe Kinnear leave the club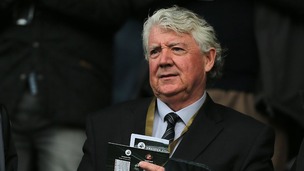 Joe Kinnear has resigned as Newcastle's director of football after a turbulent week on Tyneside.
Live updates
Newcastle United boss Alan Pardew has heaped praise on Southampton midfielder Adam Lallana ahead of Saturday's Premier League clash between the two clubs.
The England international was a regular starter under Pardew when he was Southampton manager in the 2009/2010 season. Now the 25-year-old is expected to be included in Roy Hodgson's England squad for this summer's World Cup.
Pardew said: "He [Lallana] has a beauty and grace on the ball that I would like to have here".
North East Premier League football
Crystal Palace manager Tony Pulis, whose side faces Newcastle United on Sunday, said he was "in no doubt" that Newcastle boss Alan Pardew would be in control of his team, despite a stadium ban.
Pardew was reprimanded by the FA following a headbutt on Hull midfielder David Meyler last month.
Pulis, though, does not believe that will have a major impact in getting Pardew's message across:
"Alan will have more control than people think, with technology today, you can always have your finger on the pulse.

"If he is watching the game from afar, as long as he has contact - which he will have with the coaching staff - then I am sure they would have sorted that.

"Obviously you want to be there, in the thick of the action when all the preparation finishes, and you want to be there with the players when you can.
"There are a lot of managers who sit on the bench and they don't move, there are others, and I am one of them, who get really involved in the game.

"It is different for horses for courses, is there a right way, is there a wrong way? No, there is not."
– Tony Pulis, speaking at a pre-match press conference
Advertisement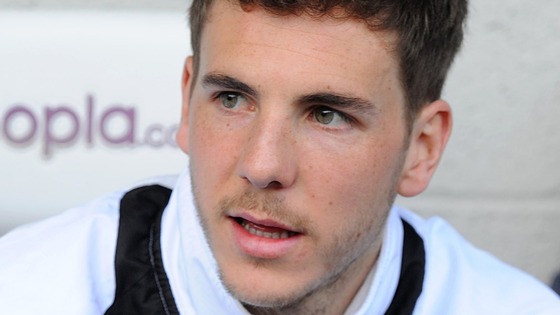 The Football Association has confirmed that Newcastle United midfielder Dan Gosling has been fined £30,000 for breaching betting rules following an Independent Regulatory Commission hearing.
The 24-year-old admitted to multiple breaches of FA Rule E8(b) for misconduct in relation to betting. The FA has also warned Gosling as to his future conduct.
Newcastle United's assistant manager, John Carver, will be the man in charge at Fulham tomorrow, because manager Alan Pardew is banned from the stadium after headbutting a player at Hull.
They knew it was coming, so the Magpies have planned for it. All the tactical work has been done and Pardew is allowed at the team hotel, where he will, essentially, deliver the team talk.
He said it could even work in Newcastle's favour.
Alan Pardew given seven-match ban
Calendar
Hull boss Steve Bruce has accepted a written apology from his Newcastle counterpart Alan Pardew over the head-butting incident which marred their Barclays Premier League clash at the KC Stadium two weeks ago.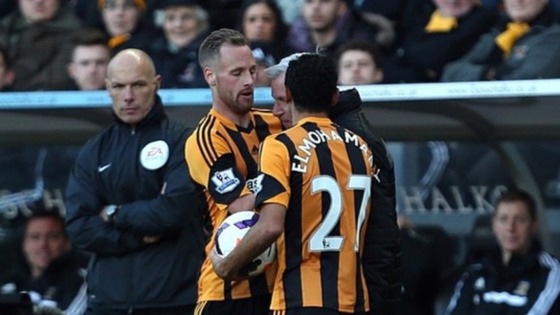 Pardew was handed a seven-match ban and a cumulative £160,000 fine after admitting an FA misconduct charge relating to a touch-line fracas with Tigers midfielder David Meyler.
The Newcastle boss revealed on Thursday he had sent a letter to Bruce apologising for his actions, and Bruce says he is now keen to draw a line under the incident.
Alan Pardew given seven-match ban
Alan Pardew has accepted his seven match ban and fine after head-butting Hull midfielder David Meyler.
It is the longest ban ever handed out to a Premier League manager, and not since Brian Clough was banned from the touchline - from February 1989 until the end of that season.
Pardew, who has also been fined £100,000 and given a formal warning by his club, will not appeal against the sanction.
"As I have made clear, I deeply regret the incident and again wholeheartedly apologise to all parties for my conduct, which I understand was not acceptable.

"I will accept the punishment handed down by the FA today. My focus now turns to preparing the team for this weekend's game against Fulham and finishing the season as strongly as possible."
– Alan Pardew statement

Pardew will be banned from Craven Cottage this weekend, and then from St James' Park for the home games against Crystal Palace and Everton.

The touchline bans will kick in for the games against Southampton (away), Manchester United (home), Stoke (away), Swansea (home).
Advertisement
Alan Pardew given seven-match ban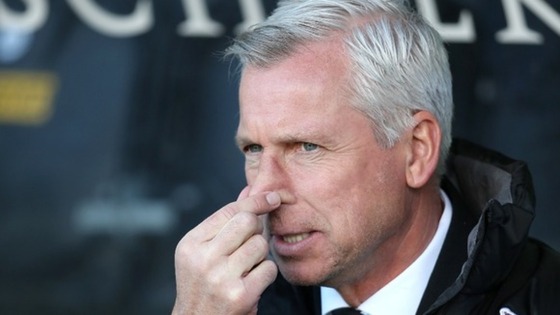 Alan Pardew will start his record seven-match ban by missing Newcastle's trip to Fulham this weekend.
The Newcastle manager was handed the seven-game ban - including a three-game stadium exclusion - for head-butting Hull midfielder David Meyler.
Pardew, who has accepted the punishment, has also been fined £60,000 and warned about his future conduct by an independent regulatory commission after admitting a misconduct charge.
It is the longest ban ever handed out to a Premier League manager, and not since Brian Clough was banned from the touchline - from February 1989 until the end of that season for hitting fans, who invaded the pitch - has a boss at a league club been given such a stiff punishment.
Alan Pardew given seven-match ban
Alan Pardew's seven match ban was not entirely unexpected. But some commentators say it could have been a lot worse.
There were some suggestions that the Newcastle manager could have received a stadium ban until the end of the season.
Lee Ryder, Chief Sports Writer for the Newcastle Evening Chronicle says that the ban will affect the club, especially in the three games where Pardew is banned from stadiums.
While former Newcastle and England striker Alan Shearer says the magpies boss has to take his punishment on the chin.
The incident at Hull City was the latest in a line of controversial moments that Pardew has been involved in. There are some who believer anger management could be something the Newcastle manager should consider.
Richard Cave runs a counselling service in Newcastle and says that anger is a good emotion, it's about how to channel it.
Alan Pardew given seven-match ban
Former Newcastle United striker Alan Shearer says Alan Pardew has apologised for his actions and will "take his punishment on the chin".
Speaking during his attempt to sit in every seat in Wembley Stadium to raise money for the Sports Relief, the former number nine said Pardew was aware he shouldn't have done what he did.
Alan Pardew given seven-match ban
Lee Ryder, the Evening Chronicle's chief sports writer said he believes the ban will be difficult for Pardew.
He said: " I think it will make life very difficult indeed for the manager.
"It makes game time decisions almost impossible for him."
Load more updates
Back to top