An eight-year-old boy is fighting for his life after being hit by a car in North Shields.
He suffered multiple injuries to his head and neck last night. The boy was treated at the scene by a paramedic and doctor before being flown to the RVI. He's said to be in a critical condition with life-threatening injuries. The incident happened at 6:20pm.
Advertisement
They took a vehicle from Newcastle before driving to North Shields, where they collided with a 72-year-old and left him for dead.
Read the full story ›
Campaigners who want a lasting memorial to North Shields fishermen lost at sea are inviting the public to see the designs for it.
Read the full story ›
Police are appealing for witnesses following an assault on two men in North Tyneside during which one man had a substance squirted into his eyes.
It happened at 11.30pm on Monday (July 11) on Tynemouth Road, near the entrance to Northumberland Park in North Shields.
A 38-year-old man was walking near the park when he saw a man being assaulted by a group of men.
He stopped to intervene and to try and help when he was attacked himself.
During the incident a noxious substance was thrown into his eyes.
He managed to run off and received medical treatment for an injury to his right eye.
Anyone who witnessed anything is being urged to come forward.
A man has died in a jet ski tragedy off the North East coast.
Emergency services were scrambled to the scene at around 3pm on Saturday after a number of people spotted the man, understood to be in his 30s, in difficulty in the sea.
The Great North Air Ambulance and Tynemouth RNLI were among the rescue teams called to North Shields Fish Quay and an unconscious man was found near Herd Sands in South Shields.
The man was placed in an inshore lifeboat and attempts were made to resuscitate him while the crew made their way back to base at the Fish Quay.
Paramedics and Air Ambulance teams also tried CPR but sadly the man could not be saved.
"Multiple 999 calls were made to Humber Coastguard, reporting a jet ski in difficulty near Herd Sands.

"Our lifeboat was launched and our volunteers found one casualty in the water. They lifted him into the lifeboat straightaway and started giving him CPR to try and revive him.

"The boat was brought back to the RNLI station and CPR was given until paramedics arrived and took over. An air ambulance was also there.

"Our volunteers and all the paramedics really tried to save him but unfortunately they couldn't. Our thoughts go out to his family."
– Adrian Don, Tynemouth RNLI
Advertisement
A new exhibition celebrating the work of young people with Special Educational Needs is open at the Low Lights in North Shields.
Read the full story ›
Two men have been jailed for more than 5 years after being caught dealing drugs hidden in a North Shields park.
Sean Cairns and Paul Miller, have been jailed for a total of five years eight months after pleading guilty to conspiring to supply heroin across North Tyneside.
25-year-old Sean Cairns of Broadacre, Wardley in Gateshead, and Paul Miller aged 35 and of Minton Lane in North Shields were both arrested after police became aware of suspicious activity in Linear Park in North Shields.
A Northumbria Police operation to crackdown on drug dealers across North Tyneside last May (2015), had led to the men hiding thousands of pounds worth of heroin inside the park, to try and avoid being found.
Miller's home had earlier been raided by police when officers recovered £1,900 in cash hidden in a pair of wellington boots.
Both Miller and Cairns were later stopped by police leaving Linear Park after collecting heroin they had hidden.
Police seized £500 worth of heroin from the car, and found Miller had £1,375 in cash and multiple mobile phones.
Officers went on to make a search of Linear Park and recovered £5,000 of heroin wrapped in plastic bags and left under rocks in the dene.
In total officers seized £5,442 in cash along with their Volvo car.
Miller has been sentenced to 38 months imprisonment and Cairns to 30 months imprisonment.
A proceeds of crime hearing is scheduled for September.
"We target dealers as we want to remove them from the community to prevent further harm.

It is of particular concern that these men were dealing drugs hidden in a park, these items could have been found by children who may have taken them or by pets or animals. Thankfully this did not occur.

"We are pleased with the sentences handed down and hope this sends a clear message that this type of behaviour will not be tolerated by the courts. Our main priority is to protect communities and get drugs off the streets. In this operation we have prevented thousands of pounds worth of drugs being sold in North Tyneside."
– Chief Inspector Jamie Pitt, Northern Area Command
Little Matilda Rusby has been very busy this morning (Sat 7th May) - picking litter up off her street - with the help of her Mum and Dad and friends of course!
The three-year old had pointed out litter and dog mess to her parents Frankie and Jake when they were out walking in their local area.
So - the family got gloves and bin bags - and went out onto their street picking up rubbish.
They didn't stop until the whole stretch of Tynemouth Road was clear.
Matilda's Mum then tweeted photos to her local ward councillor Karen Bolger of Matilda tidying the street.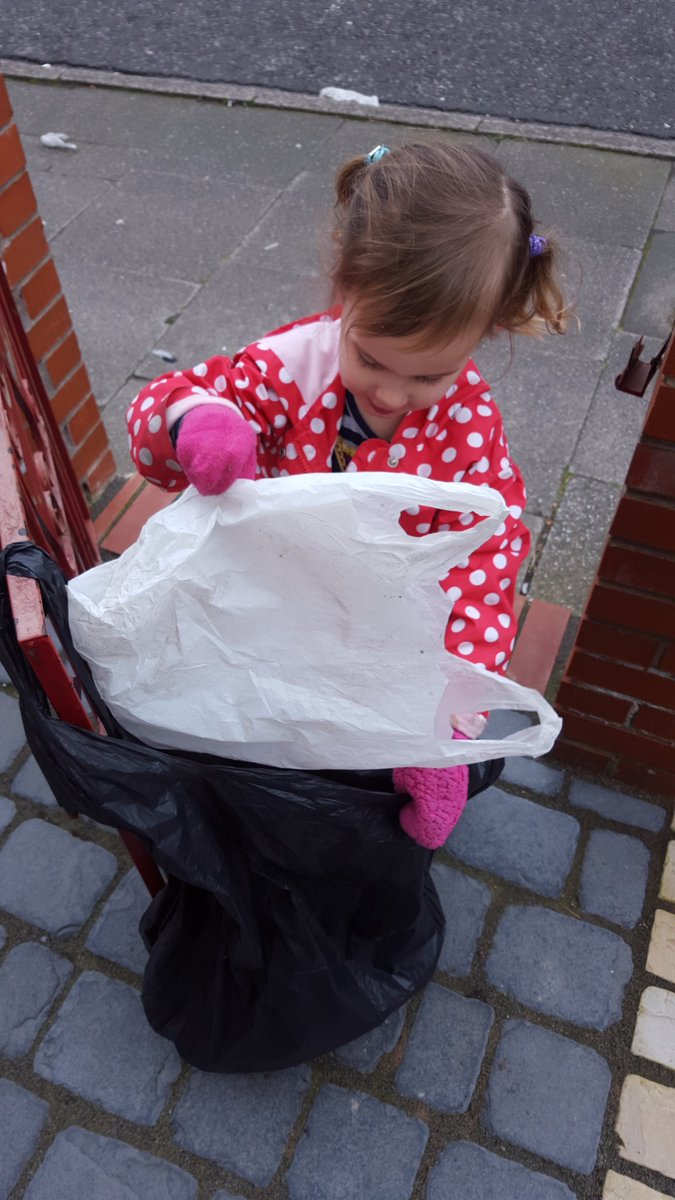 Cllr Bolger has since put up signs saying 'clean it up' and placed extra bins down a stretch of Tynemouth Road - as well as organising a painted sign on the path.
Matilda and her family say they hope this first Big Spring Clean won't be the last - with more events being organised in the future to get the whole community involved with.
A man has been arrested following a police raid at a North Tyneside shop.
Police executed a warrant at Lifestyle Express, on Netherton Avenue, North Shields on may 3.
A large quantity of prescription drugs were recovered including diazepam, Viagra, testosterone and nicotine aids.
"This day of action is an excellent example of community driven policing and was a direct result of the concerns expressed to us by local residents.

"Drugs cause misery in communities and the people targeting the vulnerable and most at risk with drugs supply will be identified and dealt with.

"The public are our eyes and ears and we will always act on what is passed to us, as this demonstrates.

"Anyone who has information about suspected crime and disorder in their community can speak with their local officers, anonymously if necessary so we can take appropriate action."
– Neil Armsworth, Neighbourhood Inspector for the area
A 36-year-old man has been arrested on suspicion of possession of a controlled drug with intent to supply. He has been released on bail pending further enquiries.
Anyone with concerns or information to help can contact police on 101.
Load more updates