Blaydon MP Dave Anderson has backed his under-fire leader Jeremy Corbyn after 172 MPs gave him a vote of no confidence
Read the full story ›
Advertisement
Jeremy Corbyn has refused to step down despite losing a no confidence vote from his party.
The Labour leader, who was elected nine months ago, said he would not resign and "betray" those who voted for him.
His full statement said:
In the aftermath of last week's referendum, our country faces major challenges. Risks to the economy and living standards are growing. The public is divided.

The government is in disarray. Ministers have made it clear they have no exit plan, but are determined to make working people pay with a new round of cuts and tax rises.

Labour has the responsibility to give a lead where the government will not. We need to bring people together, hold the government to account, oppose austerity and set out a path to exit that will protect jobs and incomes.

To do that we need to stand together. Since I was elected leader of our party nine months ago, we have repeatedly defeated the government over its attacks on living standards.

Last month, Labour become the largest party in the local elections. In Thursday's referendum, a narrow majority voted to leave, but two thirds of Labour supporters backed our call for a remain vote.

I was democratically elected leader of our party for a new kind of politics by 60% of Labour members and supporters, and I will not betray them by resigning. Today's vote by MPs has no constitutional legitimacy.

We are a democratic party, with a clear constitution. Our people need Labour party members, trade unionists and MPs to unite behind my leadership at a critical time for our country.
– Jeremy Corbyn
A North East Labour MP has announced that she will not be running as a candidate in the next General Election.
Pat Glass, the MP for North West Durham, revealed that a "bruising" EU Referendum is one of the reasons behind her decision.
Mrs Glass confirmed the news on twitter:
I have informed my CLP Chair that whenever the next General Election takes place, I will not be Labour's candidate. https://t.co/g3DADx57KF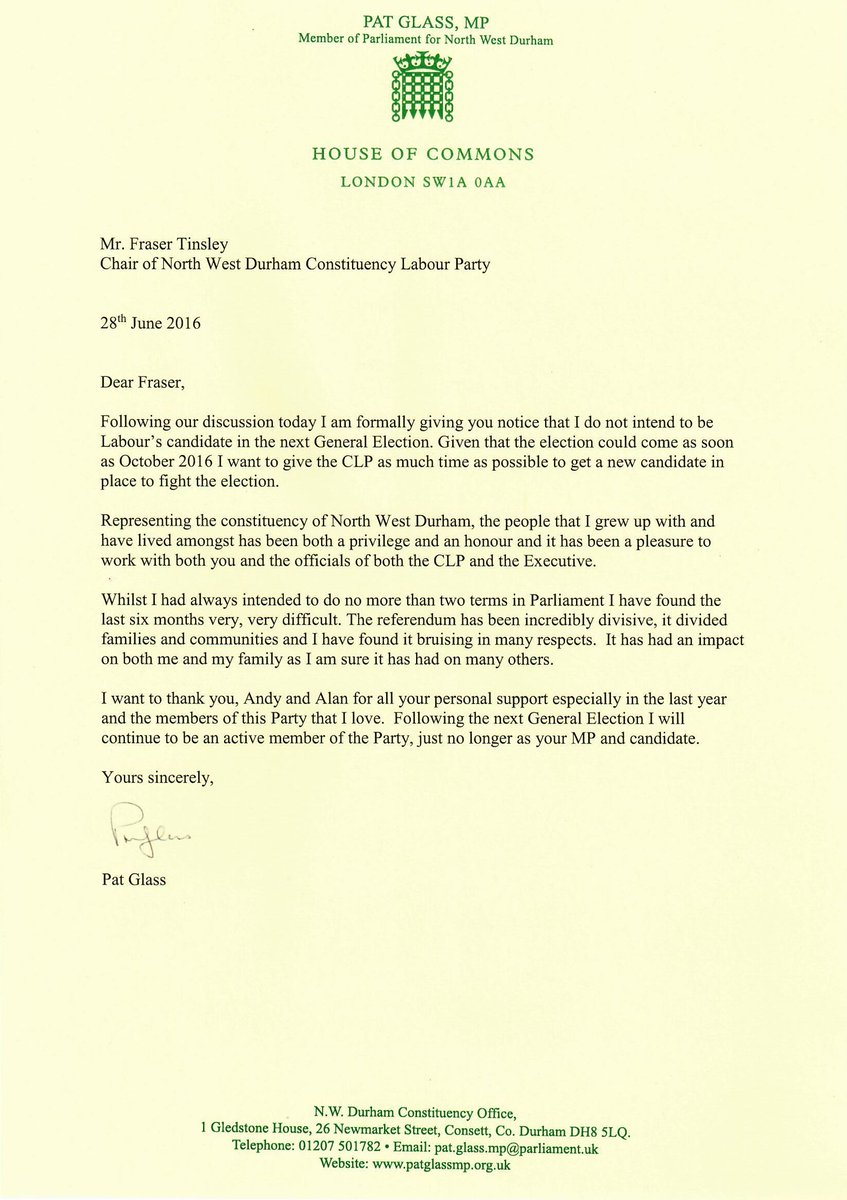 Thursday June 28 2012 was the day the rains came down across the North East.
Thunder Thursday: Your memories of that day in pictures
Advertisement
Cloud has been increasing through the morning with outbreaks of rain arriving from the southwest.
Some heavy bursts of rain are possible, especially this afternoon.
Maximum Temperature 19 °C.
After a dry start with some sunny spells, cloud will thicken from the west to bring outbreaks of rain across the region through the afternoon.
Maximum Temperature 17 °C.
Grahame Morris has been appointed as shadow secretary for communities and local government, and shadow minister for the constitutional convention.
Jeremy Corbyn has been fighting through a rebellion of his front bench MPs, after several members of his shadow cabinet resigned.
Load more updates