Thieves have stolen unique stone artefact, dating back 1,200 years, from a church in Hovingham, near Malton, North Yorkshire.
Some time between 23 May and 6 June 2015, offenders entered All Saints Church in Hovingham and stole a carved stone which was on display in the recess of a window.
The statue, originally part of a stone cross, dates from the late eighth or early ninth century, and is particularly notable for its ornate and accomplished carving.
It is very heavy and will have required a vehicle to remove it.
Experts have described the stolen sculpture as unique in its form, layout and the quality of its carving. We are making extensive enquiries to return this important historic artefact to its rightful location, and I would urge anyone who knows its whereabouts to get in touch straight away."
– PC Nick Durkin, North Yorkshire Police
A dry and pleasant day is expected with some sunshine breaking through the cloud at times - so often bright rather than sunny.
Light southwesterly winds with highs to 20°C.
Advertisement
The family of Lisa Burbidge, who was killed in the terror attack in Tunisia, has paid tribute to her, describing her as 'the most beautiful, amazing, caring and gentle person in our lives.'
The grandmother-of-four is one of 15 Britons now known to have died when a gunman opened fire in the holiday resort of Sousse.
"We have been left with a massive hole in our hearts. "She leaves behind many family members including four fantastic grandchildren who were her world and will miss her tremendously. "We would like to thank everyone for their kind words and condolences but now would ask that we are left to grieve privately to come to terms with our sad loss."
– Lisa Burbidge family statement
BMW racer Sam Tordoff has won Round 14 of the British Touring Car Championship at Croft.
Tordoff, from Bradford, came in ahead of Team BMR duo Jason Plato (2nd) and Colin Turkington (3rd).
Tordoff's BMW team-mate Andy Priaulx, winner of the Round 13 earlier this afternoon, came 4th with Honda's Gordon Shedden in 5th.
Round 15 of the BTCC gets underway at 5:06pm. The race will be shown live on ITV4.
BMW drivers Andy Priaulx (middle), Sam Tordoff (right) and Rob Collard (left) celebrating the team's 1st, 2nd and 3rd place finish in Round 13 of the British Touring Car Championship at Croft.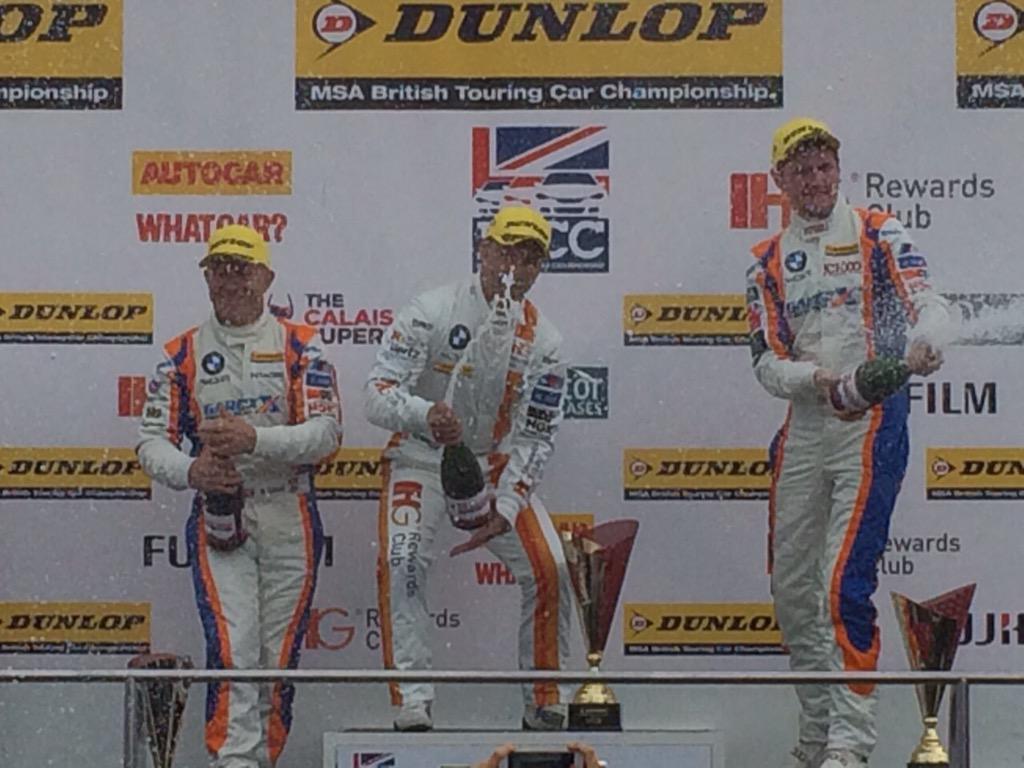 British Touring Car Championship bosses have highlighted how important the event is for North East motor racing fans.
Series Director Alan Gow, said:
It's obviously the only one up in the North East. So this is an area that really needs the BTCC to come to them.

It's a great circuit, it's a great atmosphere, good crowds, so we enjoy coming.
– Alan Gow, BTCC Series Director
Advertisement
Neighbours of a holidaymaker from Gateshead who was killed in a terrorist attack on a beach in Tunisia have described their 'shock' at the news of her death.
Lisa Burbidge, in her 60s, from Whickham, was one of 15 British people killed in Friday's terror attack on a beach in Sousse.
One neighbour, Paul Taylor, 45, said:
"Lisa was a lovely lady, absolutely beautiful.

"It was awful for Lisa's daughters when her husband Bill died so this will be especially hard for them.

"The family are very close and this will be devastating for them all.

"We are in total shock."
– Paul Taylor, neighbour of Lisa Burbidge
BMW driver Andy Priaulx has earned his first British Touring Car Championship win of the series in Round 13 at Croft.
Priaulx, 40, finished ahead of BMW team-mate Sam Tordoff, who had started on pole position.
Rob Collard finished 3rd, Gordon Shedden 4th and Matt Neal 5th.
Debutant Max Coates, from Scorton in North Yorkshire, finished 21st. While Nic Hamilton, younger brother of F1 World Champion Lewis Hamilton, finished 25th in his first BTCC race.
It's a BMW 1-2-3! Priaulx wins for the first time since his return to the #BTCC ahead of Tordoff and Collard
Not a good start to Round 13 of the British Touring Car Championship for Tyneside driver Jason Plato.
Drama already - Plato has entered the pit lane!
Load more updates