Swansea take the lead again with a goal from Wayne Routledge in the 50th minute.
Live updates on ITV Sport
Papiss Cisse equalised for Newcastle late in the first half after Swansea took an early lead.
Half time score Swansea 1 -1 Newcastle
Live updates on ITV sport
Advertisement
Swansea sent a 'get well soon' message to Jonas Gutierrez ahead of their match against Newcastle.
There was applause around the home side's Liberty Stadium for the Newcastle midfielder, who announced last month that he has testicular cancer.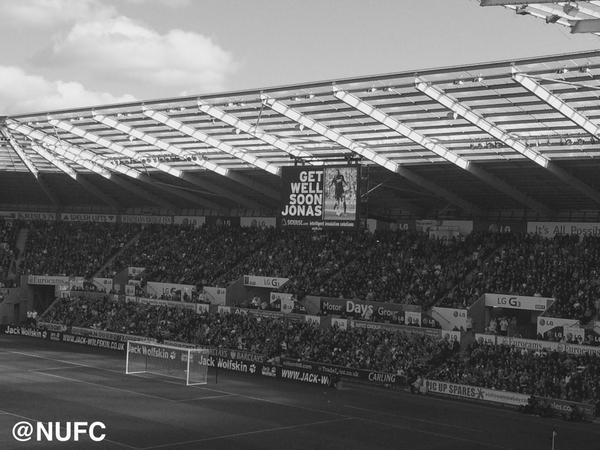 Mike Ashley, the Sports Direct tycoon and Newcastle United owner, has emerged as the mystery buyer behind the purchase of a 5.23% stake which was completed on his behalf by Paris-based BNP Paribas Arbitrage SNC.
According to share information on the Rangers International Football Club plc website, Ashley is now the third largest shareholder behind Laxey Partners (16.32%) and Artemis (9.95%), although football club director Sandy Easdale holds voting rights of more than 26% of the shares.
Ashley's move comes weeks after he stated to the London Stock Exchange that he was not taking part in a share offer which was open to all existing Rangers shareholders. The board had hoped to raise about £4million but fell almost £1million short, with half of the new income quickly going out of Ibrox to repay loans.
Ashley bought his latest batch of shares for 20p each - the same price at which they were on sale for in the open offer.
Speculation surrounding his intentions for Rangers, and the possible problems caused by football rules regarding influence at more than one club, forced Ashley to reaffirm his commitment to Newcastle last month.
A club statement on 12th September added: "For the avoidance of doubt, this means that for the remainder of this season and at least until the end of next season, Mike Ashley will not, under any circumstances, sell Newcastle United at any price."
Alan Pardew isn't ready to throw in the towel at Newcastle United. The Magpies Manager is under increasing pressure on Tyneside, with the team one place off the bottom of the premier league and many Newcastle fans openly calling for his head.
Today, as he looked forward to Saturday's vital game at Swansea, Pardew confirmed he's grateful for the continued support of Magpies Owner Mike Ashley and there are no plans for face to face talks before the weekend.
Pardew says he's totally focused on getting a win at the Liberty Stadium on Saturday, but he admits the personal nature of the criticism is hard to deal with.
'SackPardew' campaigners have handed out tens of thousands of leaflets, and taken banners into St James' Park to express their frustration with the Newcastle United manager.
The group planned to hold up banners and leaflets in the fifth minute of the game to highlight that manager Alan Pardew has only won five games this calendar year.
Advertisement
A campaign group calling themselves 'Sack Pardew' have been handing out thousands of leaflets in Newcastle city centre.
The protest is focused around the Magpies' Premier League clash with Hull, which kicks-off at 3pm at St James' Park.
Alan Pardew has been under particular pressure since watching his side lose 4-0 away to Southampton last Saturday (13 September).
Organisers from a campaign group called 'Sack Pardew' are staging a large-scale protest in and around St James's Park today.
The group say they will be distributing 30,000 leaflets and 100 banners from 10 pubs in Newcastle city centre.
The protest will centre on the Magpies' home game against Hull, which kicks-off at 3pm.
Alan Pardew has been under particular pressure since his side lost 4-0 away to Southampton last Saturday (13 September).
Newcastle manager Alan Pardew has spoken at a press conference today ahead of the Premier League encounter at home against Hull on Saturday.
He admits that results need to improve but says discussion about his own future at St James' Park was not mentioned and is not of "primary concern".
Looking ahead to the weekend, Pardew says he needs to show "resilience" to the players and "try and win as many fans back with our performance as we can".
See his comments at the press conference here:
Newcastle manager Alan Pardew has revealed he has not discussed his future with owner Mike Ashley following the Magpies poor start to the season.
Pardew's future has become the subject of fevered speculation after Newcastle's dismal start to the campaign, with the winless Magpies sitting bottom of the Barclays Premier League with just two points from their opening four fixtures.
Some Newcastle fans unfurled a 'Pardew Out' banner during Saturday's 4-0 loss at Southampton. Their frustration comes after their stuttering start to this season, and also after a dour end to the 2013-14 campaign, when they lost 14 of their last 20 league matches.
Pardew admits that results need to improve, starting with the Premier League encounter at home against Hull on Saturday, and that discussion about his St James' Park future is not of primary concern.
He said:
I have spoken to Mike, we had a long conversation on Sunday and obviously he was disappointed with the performance, as he has a right to as the owner, and he reflected that to me.

The one thing that we both agreed on was that we really need to focus on this Saturday and try and get a win for the football club.

I think that's very important. Certain issues, particularly the issue regarding me, have to somewhat take a bit of a back seat for the team because it's going to be a very difficult environment.
– Alan Pardew
The former West Ham, Southampton and Reading boss, who signed an eight-year deal in September 2012, expects a tough encounter when Newcastle welcome Hull to St James' Park at weekend.
Of course he (Mike Ashley) was upset about the performance and really we focused on that, and I never asked for any reassurance, but what I do know is that I signed a long contract here for good or bad.

We've had some great times, which seem to have been forgotten recently, and we've had some tough times as well.

This will be one of the toughest. I have been through some tough times as manager but the environment for the players this Saturday will probably be as tough as it's ever been.
– Alan Pardew
The Magpies face the Tigers for the first time since Pardew head butted David Meyler during their Premier League encounter at the KC Stadium in March.
Load more updates