'SackPardew' campaigners have handed out tens of thousands of leaflets, and taken banners into St James' Park to express their frustration with the Newcastle United manager.
The group planned to hold up banners and leaflets in the fifth minute of the game to highlight that manager Alan Pardew has only won five games this calendar year.
A campaign group calling themselves 'Sack Pardew' have been handing out thousands of leaflets in Newcastle city centre.
The protest is focused around the Magpies' Premier League clash with Hull, which kicks-off at 3pm at St James' Park.
Alan Pardew has been under particular pressure since watching his side lose 4-0 away to Southampton last Saturday (13 September).
Advertisement
Organisers from a campaign group called 'Sack Pardew' are staging a large-scale protest in and around St James's Park today.
The group say they will be distributing 30,000 leaflets and 100 banners from 10 pubs in Newcastle city centre.
The protest will centre on the Magpies' home game against Hull, which kicks-off at 3pm.
Alan Pardew has been under particular pressure since his side lost 4-0 away to Southampton last Saturday (13 September).
Newcastle manager Alan Pardew has spoken at a press conference today ahead of the Premier League encounter at home against Hull on Saturday.
He admits that results need to improve but says discussion about his own future at St James' Park was not mentioned and is not of "primary concern".
Looking ahead to the weekend, Pardew says he needs to show "resilience" to the players and "try and win as many fans back with our performance as we can".
See his comments at the press conference here:
Newcastle manager Alan Pardew has revealed he has not discussed his future with owner Mike Ashley following the Magpies poor start to the season.
Pardew's future has become the subject of fevered speculation after Newcastle's dismal start to the campaign, with the winless Magpies sitting bottom of the Barclays Premier League with just two points from their opening four fixtures.
Some Newcastle fans unfurled a 'Pardew Out' banner during Saturday's 4-0 loss at Southampton. Their frustration comes after their stuttering start to this season, and also after a dour end to the 2013-14 campaign, when they lost 14 of their last 20 league matches.
Pardew admits that results need to improve, starting with the Premier League encounter at home against Hull on Saturday, and that discussion about his St James' Park future is not of primary concern.
He said:
I have spoken to Mike, we had a long conversation on Sunday and obviously he was disappointed with the performance, as he has a right to as the owner, and he reflected that to me.

The one thing that we both agreed on was that we really need to focus on this Saturday and try and get a win for the football club.

I think that's very important. Certain issues, particularly the issue regarding me, have to somewhat take a bit of a back seat for the team because it's going to be a very difficult environment.
– Alan Pardew
The former West Ham, Southampton and Reading boss, who signed an eight-year deal in September 2012, expects a tough encounter when Newcastle welcome Hull to St James' Park at weekend.
Of course he (Mike Ashley) was upset about the performance and really we focused on that, and I never asked for any reassurance, but what I do know is that I signed a long contract here for good or bad.

We've had some great times, which seem to have been forgotten recently, and we've had some tough times as well.

This will be one of the toughest. I have been through some tough times as manager but the environment for the players this Saturday will probably be as tough as it's ever been.
– Alan Pardew
The Magpies face the Tigers for the first time since Pardew head butted David Meyler during their Premier League encounter at the KC Stadium in March.
Newcastle United received a number of complaints from supporters regarding the conduct of its coaching staff during and after the defeat to Southampton on Saturday, 13th September.
The club has now said "this matter has been dealt with internally."
Assistant Manager John Carver, has apologised to fans for his behaviour:
My sole focus on Saturday, as it always is, was on trying to gain three points for Newcastle United and preparing the players to the best of my ability.

This included keeping them focussed on their roles and duties in the upcoming 90 minutes. In the warm up, I was disappointed to see banners that could, in my opinion, distract the players and take focus away from the job in hand - namely winning the match.

I went over to our fans to ask them to help us and requested that they take the banners down. The vast majority of supporters back the team through thick and thin and I am very proud to be one of them.

I was met with abuse from one supporter and I regret that I responded inappropriately. I sincerely apologise for any offence caused by my reaction. Every fan is entitled to an opinion, positive or negative, and I respect that. I hope fans will understand that I, like them, only wanted what was best for the team.

I am proud to work for my home town club and would ask every supporter to back the players and all staff, as they really can make a difference.
– John Carver
Goalkeeping Coach Andy Woodman has also apologised:
I am very sorry for the ill-advised comment I posted privately on Twitter on Sunday morning, which was subsequently made public. It was never my intention, of course, for my response to enter the public domain.

My response was a reaction to significant personal abuse I received from a number of fans which I felt exceeded that which was fair and balanced.

That said I understand my response was unacceptable and I regret my actions and apologise for any offence caused.
– Andy Woodman
Advertisement
'Sack Pardew' protestesters have announced plans for a large scale protest at St James' Park this Saturday, during Newcastle United's home match against Hull City.
The protesters have secured indoor locations at Central Station, The Gate, Haymarket and St James' between 12pm and 2:30pm, where they will be handing out large banners adorned with their black and white logo.
The protesters claim the aim of this is to "display a united front against Alan Pardew and the current malaise at the club, for which we believe he has not assumed an acceptable level of responsibility."
We are protesting against his increasingly poor results over the past two years. We are protesting against his deceit and empty promises. We are protesting against his mismanagement of the club and the playing staff. We are protesting against his misrepresentation of our hopes and expectations. We are protesting against his decision to continue on in what is now an untenable position.
– 'Sack Pardew' protesters
Newcastle United have spoken of their sadness at the death of former Magpies goalkeeper Chris Harker earlier this month at the age of 77.
One of the Club's young stoppers during the mid-1950s, Harker remained at St. James' Park for a long period into the early 1960s.
Within the tribute, Newcastle United said: "The sympathies of everyone at Newcastle United go out to Chris' family and friends at this time."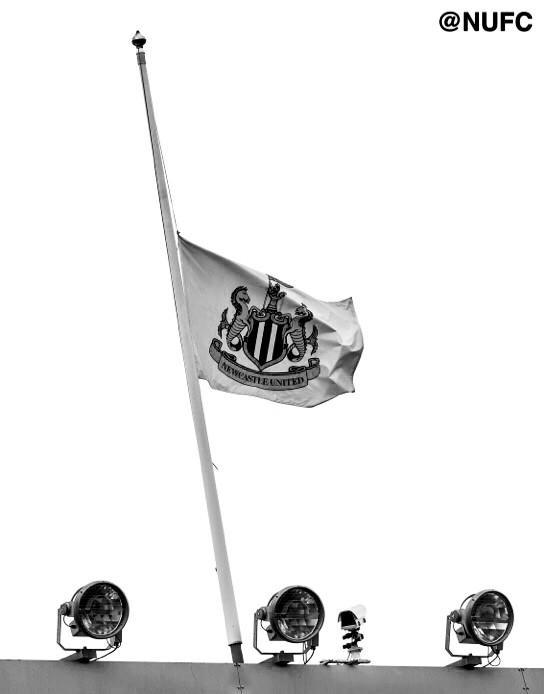 Newcastle forward Siem de Jong could be out for "a number of months" with a thigh injury sustained in training earlier this week, the club have announced.
The Foreign Office has confirmed that the body of Newcastle United fan John Alder, who died when flight MH17 came down over Ukraine, has now been formally identified.
He died last month alongside fellow fan Liam Sweeney.
They were on their way to a pre-season friendly in New Zealand.
We can confirm positive identification of another British victim of flight MH17, John Alder. His family has been informed and our thoughts are with them at this difficult time. We continue to provide consular assistance to the family.
– Foreign Office spokeswoman
Load more updates