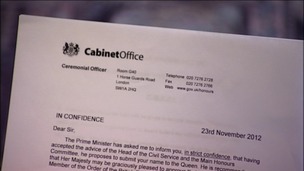 Olympic and paralympic gold medalists are among those given awards in the New Year's Honours' List.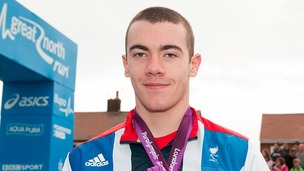 The 2013 New Year Honours list has been announced, including many from the North East and North Yorkshire.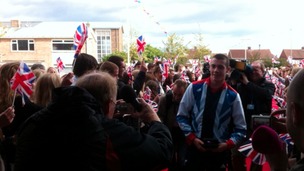 The gold-medal-winning Paralympian Josef Craig has returned home to his South Sheilds school to a hero's welcome
Live updates
What would you do if you were born with only one arm - would you take up climbing?
That is just what one young woman from North Yorkshire did and now she is the first one-armed member of Britain's Paraclimbing team.
In our latest update from Fixers - the campaign that gives young people a voice - she is encouraging other disabled youngsters to give it a go.
Paralympian opens disability sport project
Paralympian Stephen Miller has started a disability sport organisation. The three-time gold medalist has launched the project with his wife Rachel.
The couple founded a community interest company called 'SMILE Through Sport' to inspire disabled people to get into sport. He is well placed to advise too - Stephen is currently training for the 2016 Rio Paralympics.
Video credit: SMILE Through Sport
Advertisement
Paralympian opens disability sport project
Paralympian Stephen Miller has started a disability sport organisation as a way of giving back to the North East.
Miller, who is a three-time gold medal winning Paralympian, is starting the project after a very busy 2013. He tied the knot to his partner Rachel, had a hip operation and there was a World Championship too. He is now training for the 2016 Rio Paralympics.
The couple have founded a Community Interest Company; SMILE Through Sport. This organisation aims to inspire and educate the North East through disability sport.
Paralympics anniversary
Tomorrow marks the anniversary of the Paralympic Games in London, which saw athletes from across our region come home with a haul of medals.
London was praised for raising the profile of the Paralympics with the highest-ever ticket sales.
But a year on, a survey in the region shows that the vast majority of disabled people here believe attitudes towards them haven't improved.
Teenage Paralympic climber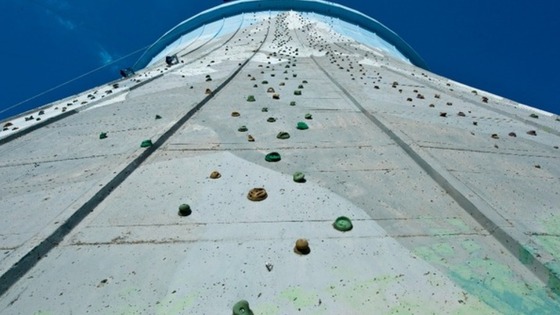 Europe's only one armed climber has accepted a place in Team GB. 16-year-old Sianagh Gallagher from York will compete in the world championships next month.
Sunderland University is celebrating its 21st anniversary by honouring two local Paralympians. The sprinter Hazel Robson and the sailor John Robertson are both from Wearside. They will receive honorary fellowships alongside other students graduating this week.
Advertisement
Gateshead honours Paralympian
Our three times Paralympic Champion Stephen Miller has been honoured for his sporting achievements - by the town that has adopted him as its own.
There are only 20 Freemen of Gateshead - today Stephen became the 21st.
The ceremony was held at the International Stadium which has been his training base for almost 20 years.
You can watch the full report from Lucy Taylor below.
Gateshead honours Paralympian
Very humbled and proud that I'm being made an honourary Freeman of Gateshead today - going to be a great afternoon
Gateshead honours Paralympian
Stephen Miller will become the 21st Freeman of the Borough Gateshead at a ceremony later. He joins a select group of people judged to have made a "significant" contribution to the town, including:
1978: Sister Winifred Laver, missionary who helped the poor in Gateshead, including arranging trips to the seaside for children
2004: Brendan Foster, athlete who broke the 3,000m world record at Gateshead International Stadium in 1974 and went on to found the Great North Run
2006: Mike Neville, television presenter who read the news for both Tyne Tees television and the BBC in the North East
2011: Sir John Hall, businessman who built the Metro Centre in Gateshead and is former owner of Newcastle United, Newcastle Falcons and Newcastle Eagles
2012: Anthony Gormley, artist who designed the Angel of the North
For a full list of Freemen of Gateshead, see the Gateshead Council website.
Gateshead honours Paralympian
Paralympian Stephen Miller will become an Honorary Freeman of the Borough of Gateshead.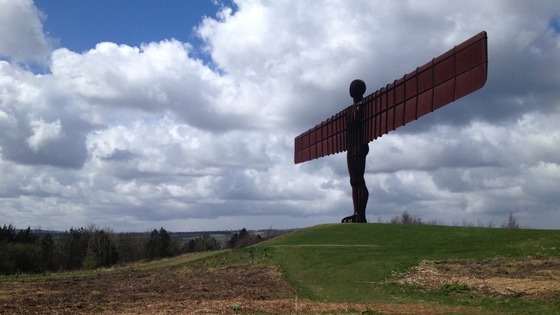 As the name suggests, the position is now a ceremonial role, although it originated as a Roman tradition to protect civic security. In Gateshead, unlike in other towns and cities, there are no historic rights or privileges associated with being granted Freedom of the Borough.
Instead, it is considered the highest honour to be among the select group considered to have made a significant contribution to Gateshead - and to be leaving a lasting legacy. Freemen are asked to become ambassadors for the town.
Stephen Miller trained in Gateshead for 15 years and is a lifetime member of the Gateshead Harriers.
Load more updates
Back to top