Paul Gascoigne has attended the funeral of his nephew Jay Kerrigan, who was found dead at a flat in Gateshead on May 30.
Read the full story ›
It is understood that Paul Gascoigne's 22-year-old nephew Jay Kerrigan has been found dead at a block of flats in Gateshead.
Police say a man's body was found at Warwick Court in the early hours of Saturday morning.
No one else is thought to be involved and police are preparing a report for the coroner.
Friends and family, including Paul Gascoigne, have posted emotional messages and tributes to the 22-year-old on social media.
Advertisement
Former Newcastle United and England star Paul Gascoigne has revealed he receives text messages asking if he's dead, because of his well-publicised battle with alcoholism.
The 48-year-old was recently pictured battered and bruised after suffering a relapse.
Gascoigne told Good Morning Britain that seeing the front-page images were a stark reminder of "how bad" he is when he suffers what he calls "a blip" in his fight with drink.
Watch: Kris Jepson's full report:
A close friend of Paul Gascoigne said he was concerned it may have been too soon for the former Newcastle footballer to give interviews on his 'blip' with his recovery from alcoholism.
The football Newcastle United and England legend, who has had a drink problem for more than twenty years, gave an exclusive interview to Good Morning Britain about the support he has dealing with the illness.
Gascoigne said he is back to his best after he was recently pictured looking battered and bruised while suffering a relapse.
But his friend Steve Wraith, who is managing director of sporting promotion company Newcastle Legends, said although Gazza looked well he is worried that mentally he is still very raw.
Watch his interview:
Speaking exclusively to ITV's Good Morning Britain, former Newcastle and England star Paul Gascoigne admitted recent pictures of him with cuts to his face were the result of him having suffered a 'blip' in his battle against alcoholism.
He said other that that he was 'really good' and the public has been 'brilliant' with him.
He joked that some people can't believe he is still alive, and he even gets text messages asking him if he's dead.
Advertisement
The former Newcastle and England footballer Paul Gascoigne has been speaking to Good Morning Britain live this morning, and says he is "doing alright".
He appeared on the sofa just after 8.10am (WED).
Talking about recent photos of him in the papers, which showed him clutching a bottle of alcohol with cuts to his face, he admitted they were the result of a recent "blip" in his battle against alcoholism.
He went on to admit he found it hard to come to terms with the fact that he is "never allowed to get on with his illness" due to attention from the press.
He said he really wanted to stop drinking, and no longer blamed other people for his relapses as he tries to beat his addiction.
Talking to presenters Susanna Reid and Piers Morgan on the sofa, he said sometimes the temptation to drink was so overwhelming he just had to have "a drink" and "get it over with".
The 48-year-old went on to say that it was sometimes helpful to see pictures of him in the press after a relapse, as it "helps him realise how bad he is".
Speaking about the public's support he said they were 'brilliant' with him, and he even feels 'embarrassed' as a result of the all the support he has received.
He said there are "lots of people out there facing this battle on the streets that don't get the help and support that I do".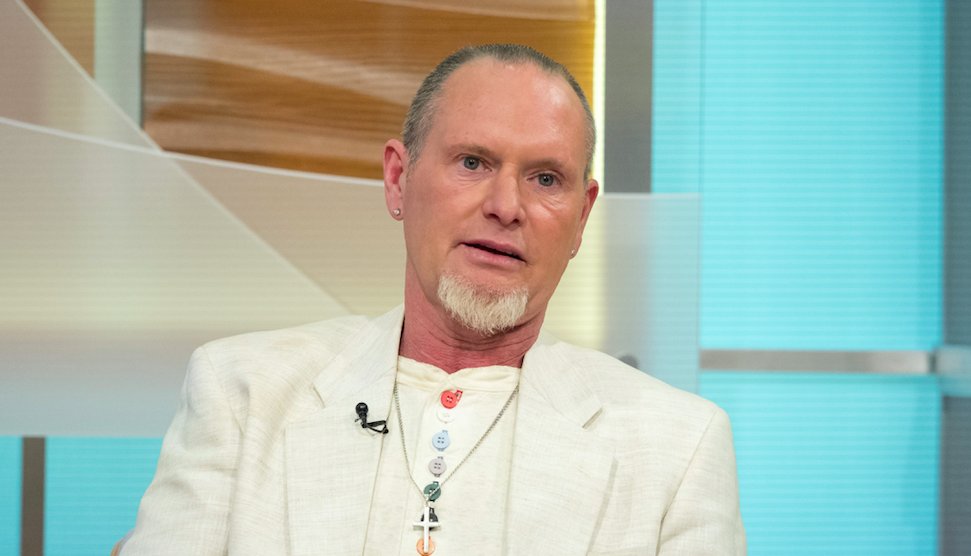 The 48-year-old was said to have had "a bad week" as pictures emerged of him with cuts to his face and accompanied by a police officer.
Read the full story ›
Former footballer Paul Gascoigne has been fined and given a restraining order for sending abusive tweets and messages to his ex-girlfriend.
Read the full story ›
Gascoigne is alleged to have sent abusive tweets, text messages and telephone calls to Amanda Thomas in March this year.
Read the full story ›
Load more updates