Live updates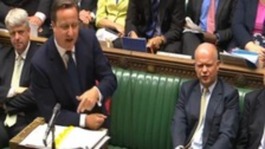 The Foreign Secretary William Hague has been criticised after he appeared to mouth "you stupid woman" at a Labour MP.
Read the full story
MP's 'stupid woman' comment
Calendar
Richmond MP William Hague is coming under fire after appearing to call a Labour MP a "stupid woman" during Prime Minister's Questions.
The Foreign Secretary's remarks followed questions from Cathy Jamieson about his links with Conservative donors and private companies. Hague has said he did not intend any offence.
Watch the video below.
Advertisement
Calendar
David Cameron has faced questions from the region's MPs during PMQs
Including Andrew Jones (Harrogate and Knaresborough) on council debt, Sir Peter Tapsell (Louth and Horncastle), on the cost of borrowing, Julian Smith (Skipton and Ripon), on the Yorkshire economy and Paul Blomfield (Sheffield Central), on carbon targets.
Greg Mulholland (Leeds North West), also raised the Paralympic legacy and Edward Leigh (Gainsborough), asked about an EU referendum.
Back to top