Police in Richmond believe they have identified the mother of a baby found dead in a wheelie bin on Monday (December 1).
Preliminary findings of a post mortem examination suggest the baby girl was stillborn.
We thank the local community and the media for their continued support and sensitivity regarding this tragic case.

We ask residents to remain patient and calm while the police enquiries continue. I particular please avoid any unhelpful or harmful speculation on social networking sites.

To provide further reassurance for residents, extra police patrols are being carried out in the local area.
– Inspector Mark Gee, of Richmond Safer Neighbourhood Team
Police are continuing their enquiries to establish the full facts in this incident.
The head of midwifery at Darlington Memorial Hospital has spoken to Tyne Tees and urgently appealed for the mother of a new born baby girl who was found dead in Richmond to come forward.
Anne Holt, head of midwifery at Darlington Memorial has asked the mother or anyone who knows anything to "think of the baby, who is here with us...think about the baby and come forward."
We are appealing for mum, or family members, to come forward so that we can treat her baby with the dignity and respect that she deserves.

If she comes forward all of our midwives have training in support and have dealt with women previously who may have given birth in similar circumstances. They are used to dealing with difficult emotional circumstances.

We have specialist midwives who have specific counselling skills. So there's lots of help available and the staff will be very understanding and sympathetic towards what this mother has gone through.
– Anne Holt, Head of midwifery at Darlington Memorial Hospital
She also has a message for anyone who has any suspicions about coming forward to the police:
First of all from the mother's point of view, in these types of circumstances, there could be very serious health issues and that is one of the reasons why we would urge the mother to come forward, to get the medical help and support that she requires.

But also, from the emotional point of view, the fact that her baby is here with us and the fact that that baby needs her mother, we would encourage them to think about the baby and come forward.
– Anne Holt, Head of midwifery at Darlington Memorial Hospital
If anyone wants to get in touch, staff at the hospital are encouraging anyone to call the Darlington Memorial switchboard and they will put them through to the relevant people.
Advertisement
North Yorkshire Police is continuing its efforts to locate the mother of a new born baby girl who was found dead in Richmond on Monday, 1st December.
To assist the public appeal for information and to stress the serious medical concerns for the mother, Anne Holt, Head of Midwifery, has said that the mother may be in a fragile state and in need of immediate medical care.
Specialist nurses remain on hand to offer the mother physical and emotional care.
This is where the body of a baby girl was discovered yesterday. Police sealed off a rubbish area in Richmond and urging anyone with information to contact them immediately.
Following the discovery of a dead baby girl in a wheelie bin, police are stressing to anyone who may know the mother to come forward and help her get the medical care she needs.
Searches were carried out last night in Richmond using thermal imaging cameras in a stretch of woodland near to where baby was found.
Police say their greatest fear is that the mother may be alone in the cold and in need of medical care.
Heavy police presence still where dead new born baby girl found in wheelie bin in Richmond. Search goes on for mother http://t.co/ZYOys0AgQ6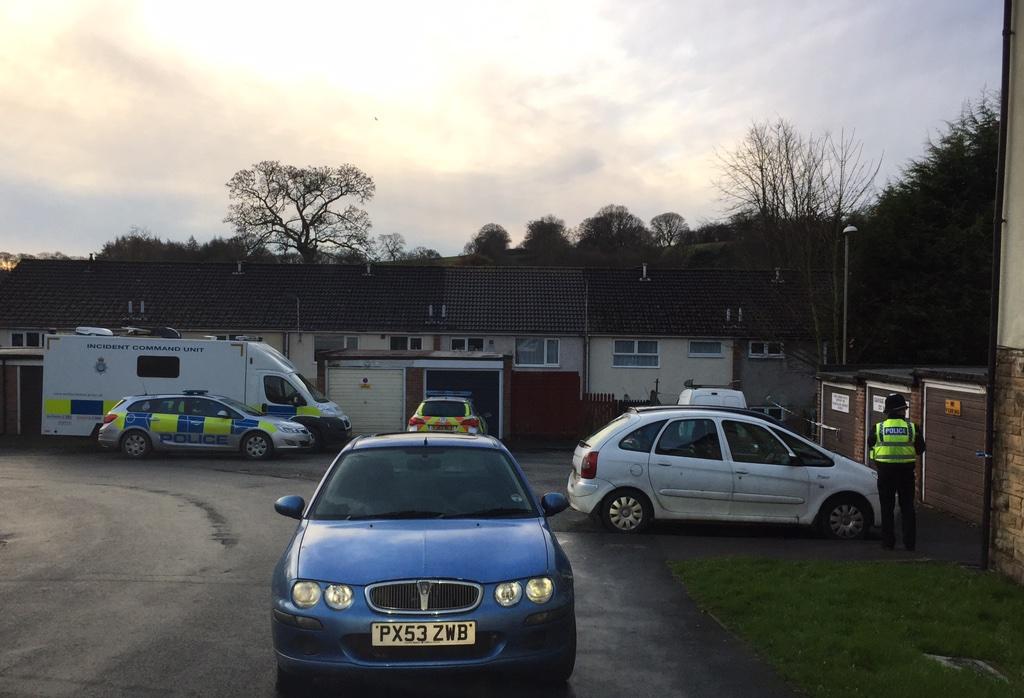 North Yorkshire Police have issued an urgent appeal to locate the mother of a new born baby girl who was found dead in Richmond
Officers were called at around 2.40pm on Monday 1 December 2014, after a member of the public discovered the baby's body in a wheelie bin in a communal waste area on Whitcliffe Grange.
Paramedics attended the scene but sadly the baby girl could not be revived and was pronounced dead.
Enquiries are at a very early stage and our primary concern is to locate the mother of the new born baby girl to ensure that she receives urgent medical care.

It is highly likely that the mother is in a very distressed state and needs professional support.

We urge her to contact the police or medical staff as a matter of urgency as her health and wellbeing is the priority.
– Inspector Mark Gee, of Richmond Safer Neighbourhood Team
Advertisement
William Hague jokingly dismisses going straight to the Lords, when he stands down as MP for Richmond.
Read the full story ›
Princess Anne is visiting North Yorkshire this morning
Princess Anne will take the salute as the Royal Corps of Signals exercises it's freedom of the town of Richmond for the first time in 50 years.
The 250 soldiers from 2nd Signal Regiment and 21 Signal Regiment both based in York, 22 Signal Regiment based in Stafford, and 309 Signal Regiment based in Nuneaton, will enter the Market place in the town led by the band of the Royal Armoured Corps. Two soldiers will receive medals from Princess Anne, one for operational service and the other for campaign service.
The Royal Corps of Signals will then march through the town with weapons and fixed bayonets. The Princess Royal will then take the salute.
Load more updates