Fire investigators are attempting to establish the cause of a fire in Richmond, North Yokrshire, which spread through several roofs of a terraced row of shops.
A delivery driver discovered the fire, at Finkle Street, at 5.15am Saturday.
The fire spread to adjacent properties.
Fire crews have dealt with a large fire at a terraced commercial property on Finkle Street in Richmond, North Yorkshire.
A delivery driver discovered the fire, and emergency crews from Richmond and Colburn attended the scene.
The fire spread to the roof void in an adjacent property and a further six fire engines were sent Leyburn, Reeth, Bedale, Northallerton, Darlington, Ripon and Masham.
Two aerial ladders are in attendance from Middlesbrough and Harrogate, along with other support appliances from Malton and Northallerton.
Advertisement
Rishi Sunak has been elected as the Conservative MP for Richmond, replacing former foreign secretary William Hague. Sunak has said that he has "impossible boots to fill." He also responded to claims that he missed the count, saying that he arrived late so that he wouldn't disturb the counters.
Sunak won the seat by a clear majority; UKIP candidate Matthew Cooke came second with 8,194 votes, taking 15.7% share of the vote after standing for the first time.
Cooke thanked his supporters and said he was proud to have "come second in the safest Conservative seat in the country."
Richmond result breakdown with number of votes and percentage of the vote:
Rishi Sunak (Con) – 27,744 (51.38%)
Matthew Cooke (UKIP) – 8,194 (15.17%)
Mike Hill (Lab) – 7,124 (13.19%)
John Harris (Lib Dem) – 3,465 (6.42%)
John Blackie (Ind) – 3,348 (6.20%)
Leslie Rowe (Green) – 2,313 (4.28%)
Robin Scott (Ind) – 1,811 (3.35%)
Counting is underway tonight in the safe Conservative seat of Richmond.
William Hague, the former Foreign Secretary, has represented the seat for the Conservatives since a by-election in 1989 but he is now standing down.
Rishi Sunak is the Conservative candidate hoping to be elected tonight.
Richmond is a geographically huge constituency that covers a vast amount of rural North Yorkshire.
Read the full story ›
Police in Richmond believe they have identified the mother of a baby found dead in a wheelie bin on Monday (December 1).
Preliminary findings of a post mortem examination suggest the baby girl was stillborn.
We thank the local community and the media for their continued support and sensitivity regarding this tragic case.

We ask residents to remain patient and calm while the police enquiries continue. I particular please avoid any unhelpful or harmful speculation on social networking sites.

To provide further reassurance for residents, extra police patrols are being carried out in the local area.
– Inspector Mark Gee, of Richmond Safer Neighbourhood Team
Police are continuing their enquiries to establish the full facts in this incident.
Advertisement
The head of midwifery at Darlington Memorial Hospital has spoken to Tyne Tees and urgently appealed for the mother of a new born baby girl who was found dead in Richmond to come forward.
Anne Holt, head of midwifery at Darlington Memorial has asked the mother or anyone who knows anything to "think of the baby, who is here with us...think about the baby and come forward."
We are appealing for mum, or family members, to come forward so that we can treat her baby with the dignity and respect that she deserves.

If she comes forward all of our midwives have training in support and have dealt with women previously who may have given birth in similar circumstances. They are used to dealing with difficult emotional circumstances.

We have specialist midwives who have specific counselling skills. So there's lots of help available and the staff will be very understanding and sympathetic towards what this mother has gone through.
– Anne Holt, Head of midwifery at Darlington Memorial Hospital
She also has a message for anyone who has any suspicions about coming forward to the police:
First of all from the mother's point of view, in these types of circumstances, there could be very serious health issues and that is one of the reasons why we would urge the mother to come forward, to get the medical help and support that she requires.

But also, from the emotional point of view, the fact that her baby is here with us and the fact that that baby needs her mother, we would encourage them to think about the baby and come forward.
– Anne Holt, Head of midwifery at Darlington Memorial Hospital
If anyone wants to get in touch, staff at the hospital are encouraging anyone to call the Darlington Memorial switchboard and they will put them through to the relevant people.
North Yorkshire Police is continuing its efforts to locate the mother of a new born baby girl who was found dead in Richmond on Monday, 1st December.
To assist the public appeal for information and to stress the serious medical concerns for the mother, Anne Holt, Head of Midwifery, has said that the mother may be in a fragile state and in need of immediate medical care.
Specialist nurses remain on hand to offer the mother physical and emotional care.
This is where the body of a baby girl was discovered yesterday. Police sealed off a rubbish area in Richmond and urging anyone with information to contact them immediately.
Following the discovery of a dead baby girl in a wheelie bin, police are stressing to anyone who may know the mother to come forward and help her get the medical care she needs.
Searches were carried out last night in Richmond using thermal imaging cameras in a stretch of woodland near to where baby was found.
Police say their greatest fear is that the mother may be alone in the cold and in need of medical care.
Heavy police presence still where dead new born baby girl found in wheelie bin in Richmond. Search goes on for mother http://t.co/ZYOys0AgQ6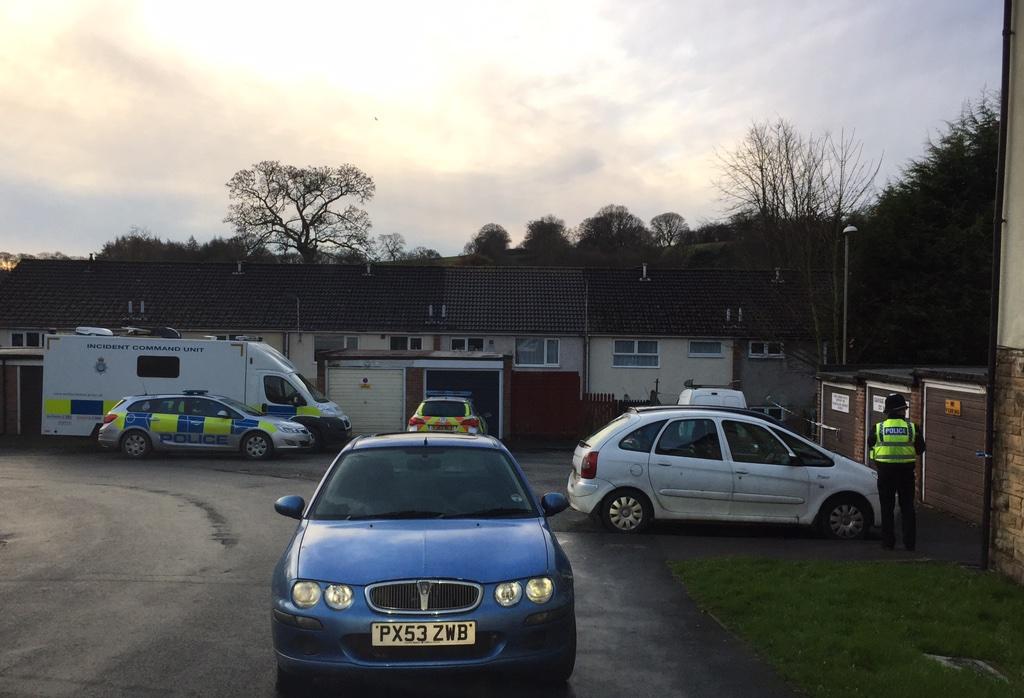 Load more updates