North Yorkshire Police is continuing its efforts to locate the mother of a new born baby girl who was found dead in Richmond on Monday, 1st December.
To assist the public appeal for information and to stress the serious medical concerns for the mother, Anne Holt, Head of Midwifery, has said that the mother may be in a fragile state and in need of immediate medical care.
Specialist nurses remain on hand to offer the mother physical and emotional care.
This is where the body of a baby girl was discovered yesterday. Police sealed off a rubbish area in Richmond and urging anyone with information to contact them immediately.
Advertisement
Following the discovery of a dead baby girl in a wheelie bin, police are stressing to anyone who may know the mother to come forward and help her get the medical care she needs.
Searches were carried out last night in Richmond using thermal imaging cameras in a stretch of woodland near to where baby was found.
Police say their greatest fear is that the mother may be alone in the cold and in need of medical care.
Heavy police presence still where dead new born baby girl found in wheelie bin in Richmond. Search goes on for mother http://t.co/ZYOys0AgQ6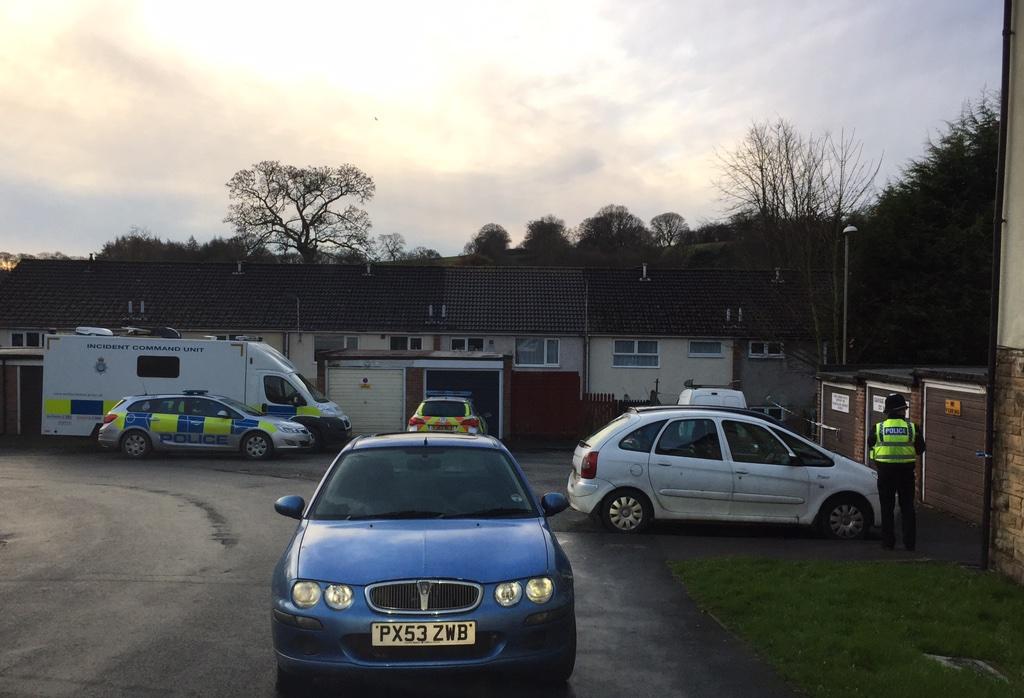 North Yorkshire Police have issued an urgent appeal to locate the mother of a new born baby girl who was found dead in Richmond
Officers were called at around 2.40pm on Monday 1 December 2014, after a member of the public discovered the baby's body in a wheelie bin in a communal waste area on Whitcliffe Grange.
Paramedics attended the scene but sadly the baby girl could not be revived and was pronounced dead.
Enquiries are at a very early stage and our primary concern is to locate the mother of the new born baby girl to ensure that she receives urgent medical care.

It is highly likely that the mother is in a very distressed state and needs professional support.

We urge her to contact the police or medical staff as a matter of urgency as her health and wellbeing is the priority.
– Inspector Mark Gee, of Richmond Safer Neighbourhood Team
William Hague jokingly dismisses going straight to the Lords, when he stands down as MP for Richmond.
Read the full story ›
Advertisement
Princess Anne is visiting North Yorkshire this morning
Princess Anne will take the salute as the Royal Corps of Signals exercises it's freedom of the town of Richmond for the first time in 50 years.
The 250 soldiers from 2nd Signal Regiment and 21 Signal Regiment both based in York, 22 Signal Regiment based in Stafford, and 309 Signal Regiment based in Nuneaton, will enter the Market place in the town led by the band of the Royal Armoured Corps. Two soldiers will receive medals from Princess Anne, one for operational service and the other for campaign service.
The Royal Corps of Signals will then march through the town with weapons and fixed bayonets. The Princess Royal will then take the salute.
It's being reported that former TV presenter Selina Scott has been approached by the Conservative Party to put her name forward to replace William Hague as MP for Richmond in North Yorkshire.
William Hague, the MP for Richmond in North Yorkshire, has resigned his post as Foreign Secretary and says he will stand down as an MP at next year's general election. The shock news emerged last night as details of a major Cabinet reshuffle were made public.
He said there "plenty of things" that he would like to do outside politics before he is "too old".
Load more updates