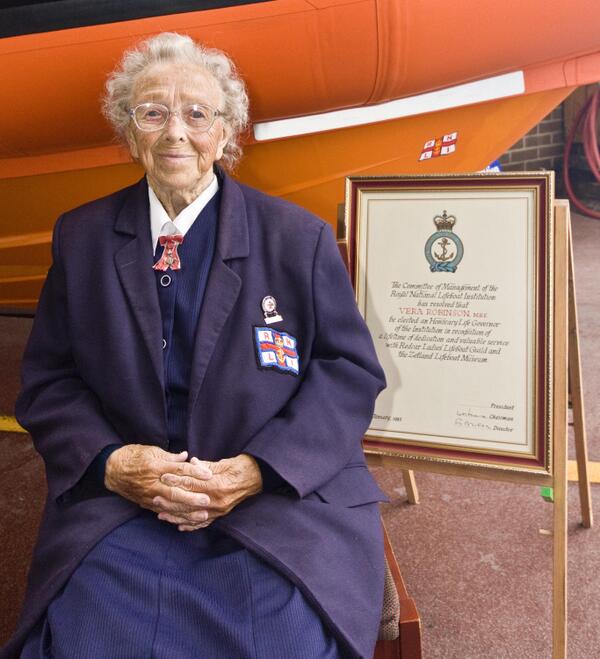 One of the RNLI's oldest fundraisers, and president of the Redcar Lifeboat Ladies Guild, celebrates her centenary today.
Vera Robinson MBE began raising funds for the Redcar RNLI in 1930.
Advertisement
New recruits are needed for 'Britain's best summer job' - beach lifeguarding for the Royal National Lifeboat Institution (RNLI).
Candidates need to prove they are courageous, selfless, trustworthy and dependable to make the grade.
Recruitment is now open for this summer's crop of beach lifeguards to be stationed around the UK and Channel Islands.
Successful applicants will receive world-class training in search and rescue, lifesaving and casualty care techniques, as well as boosting their CVs.
Recruits will also be trained in using lifesaving equipment including rescue boards, tubes and defibrillators.
RNLI lifeguards patrol over 200 beaches. Last year they saved 100 lives, rescued 1,567 people and responded to more than 19,500 incidents.
To find out more, visit www.rnli.org.uk/jobs.
"Working as a lifeguard has got to be Britain's best summer job.

"Of course it's incredible to be able to call the beach your office but far more importantly than that, you could save a life this summer. And the skills you'll learn will benefit you for the rest of your life.

"But make no mistake, this is a demanding job requiring commitment, skill and a clear head.

"We want people with the courage, determination and good sense to draw on their training and make the right decision if someone's life is in danger."
– RNLI lifeguard manager Brett Shepherd
The Tyne Lifeboat, the world's second oldest lifeboat in existence, is back in South Shields. She has been away for six months undergoing renovation work.
Coastguards were called out to reports of a teenager threatening to jump in the rough sea at Saltburn after playing the "neknomination" drinking game.
The RNLI Lifeboat based in Redcar was also sent to Saltburn Pier after being alerted by Cleveland Police, but the teenager was later found to be at home.
After going to the pier, Redcar Coastguard Rescue Team found the male had posted his intention to jump from it on social media after taking part in the online game.
"The craze of neknominate is spreading virally through Facebook but before accepting your mission please just stop and think about what you are doing.

"If you have been drinking, your judgement will be impaired and you will be more likely to be overcome by the cold, dark sea. Your acceptance of the dare is highly likely to be life threatening.

"Alcohol is a contributory factor in a significant number of coastal drownings every year. Alcohol and sea water really don't mix."
– Humber Coastguard watch manager Bev Allen
Two teenagers were rescued by a Sunderland RNLI lifeboat team after becoming cut off by the tide in a small cave near Castletown. The coastguard received a 999 call from a friend of the two stranded teenagers, who were stuck on rocks on the North bank of the River wear.
"After the alarm was raised the lads made the right decision to wait for our assistance, had they tried to swim or climb up the rock they could have got into a lot more trouble.""It is worth bearing in mind that the river is tidal just as the coastline is, certain areas that are accessible at one part of the day can become a trap later."
– Luke McGill Crewman at Sunderland RNLI
Advertisement
Two teenagers were rescued by a Sunderland RNLI lifeboat team after becoming cut off by the tide in a small cave near Castletown. See the video of their rescue:
Police and mountain rescue teams in Scarborough have joined the search for an angler who hasn't been seen since he went fishing yesterday (January 30).
The man was reported missing last night when he failed to return home. His two dogs were found by the cliffs near the village of Burniston.
Officers and volunteers have moved the search inland, along an area known as Clifftop Pass, while lifeboat crews were stood down earlier.
Jon Hill has been at the scene.
A massive land and sea search is taking place off the North Yorkshire coast to find a missing angler.
The man had been angling at Hundale Point, near Scarborough, but failed to return home at 9:30pm Thursday when planned.
Humber Coastguard is currently coordinating a search and rescue operation after the man's wife informed police.
A search and rescue helicopter from RAF Boulmer, RNLI inshore and offshore lifeboats from Scarborough, along with Coastguard rescue teams, are currently on scene.
Mike Green, Watch Manager at Humber Coastguard, said: "The search has been taking place since 4am and we are focussing on searching an area of coastline two miles either side of Hundale Point and two miles out to sea.
"It is quite a complex operation, as the local coastline has very steep, craggy cliffs."
The missing man's two dogs are alive at the scene and are being recovered by coastguard rescue teams.
A lifeboat and helicopter have been deployed to search for a missing angler near Burniston, just north of Scarborough in North Yorkshire.
Load more updates