A horse rider is recovering in hospital after she was thrown from her horse on Redcar beach.
A member of the public spotted the horse on the loose around 10am this morning.
The 48-year-old woman from Yarm was found unconscious about half a mile up the beach towards South Gare by a police helicopter.
Due to the location of the woman and the tide coming in the decision was made to utilise the police helicopter to airlift her hospital using the police helicopter.

Luckily she has no broken bones and had only suffered bruising.
– Inspector Ashley Harvey
As RNLI lifeguards return to the region's beaches this weekend, Sandy Kerr explains how the organisation is getting its safety message across.
Advertisement
The weather may be far from warm but RNLI lifeguards begin their summer patrols on North East beaches this weekend.
They will operate at stretches of beach on Tyneside and Wearside, as well as Redcar and Saltburn.
RNLI lifeguards are back on the beaches for the summer season.
Patrols will operate on seven beaches on Tyneside and three beaches on Wearside from today (Saturday May 24) until September. Saltburn and Redcar are also covered by the lifeguards.
Last summer, RNLI lifeguards in helped and aided almost two thousand people across the North East
Carl Harris, RNLI Lifeguard Manager, said: "We'll be there to offer extra peace of mind to beach users.
"The team will be happy to provide safety advice such as always to swim between the red and yellow flags and information on tide times.
"Ninety five percent of the role is preventative but RNLI lifeguards are highly trained and are equipped to deal with everything from locating missing children and treating minor cuts and grazes through to performing major first-aid and lifesaving rescues."
One of the RNLI's longest serving fundraisers has no plans to retire, even though she's celebrating her 100th birthday.
Read the full story ›
RNLI volunteer Vera Robinson is presented with flowers by the Mayor of Redcar and Cleveland on her one hundredth birthday.
Advertisement
Vera Robinson MBE is one of the RNLI's oldest fundraisers, and today she is celebrating her centenary.
Vera began raising funds for the Redcar RNLI in 1930.
She is now president of the Redcar Lifeboat Ladies Guild.
Her one hundredth birthday party was hosted by the Mayor of Redcar and Cleveland.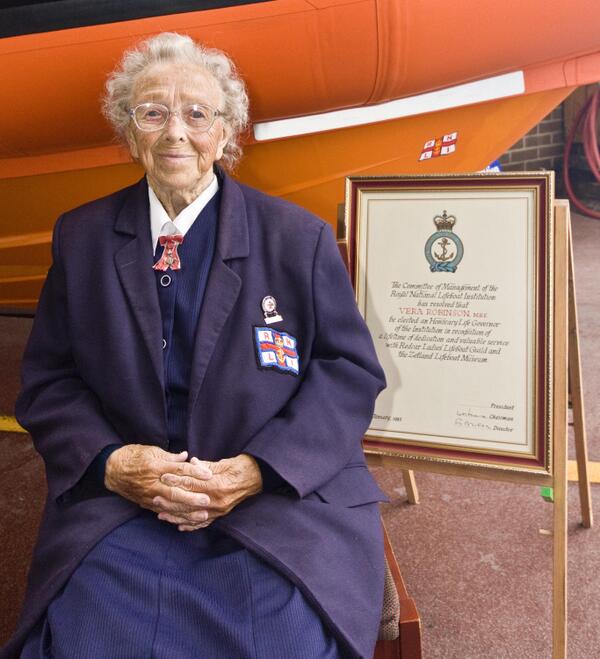 One of the RNLI's oldest fundraisers, and president of the Redcar Lifeboat Ladies Guild, celebrates her centenary today.
Vera Robinson MBE began raising funds for the Redcar RNLI in 1930.
New recruits are needed for 'Britain's best summer job' - beach lifeguarding for the Royal National Lifeboat Institution (RNLI).
Candidates need to prove they are courageous, selfless, trustworthy and dependable to make the grade.
Recruitment is now open for this summer's crop of beach lifeguards to be stationed around the UK and Channel Islands.
Successful applicants will receive world-class training in search and rescue, lifesaving and casualty care techniques, as well as boosting their CVs.
Recruits will also be trained in using lifesaving equipment including rescue boards, tubes and defibrillators.
RNLI lifeguards patrol over 200 beaches. Last year they saved 100 lives, rescued 1,567 people and responded to more than 19,500 incidents.
To find out more, visit www.rnli.org.uk/jobs.
"Working as a lifeguard has got to be Britain's best summer job.

"Of course it's incredible to be able to call the beach your office but far more importantly than that, you could save a life this summer. And the skills you'll learn will benefit you for the rest of your life.

"But make no mistake, this is a demanding job requiring commitment, skill and a clear head.

"We want people with the courage, determination and good sense to draw on their training and make the right decision if someone's life is in danger."
– RNLI lifeguard manager Brett Shepherd
Load more updates